How to Test for Gynecomastia
Dr Rajat Gupta
Gynecomastia or male breasts refers to a common condition affecting men all over the world. It involves breast gland and tissue development in men due to an adolescent hormonal imbalance. As a result, many men mistake gynecomastia for chest fat. Especially considering there is no answer to how to test for gynecomastia, this misunderstanding is entirely understandable.
However, an easy way to understand if you have gynecomastia is to look at the appearance of your breasts. If you are not overweight and have been regularly working out and eating well, chances are your enhanced chest is due to gynecomastia and not chest fat. You can visit an expert plastic surgeon like Dr Rajat Gupta for more insights into your condition and how to treat it.
You should also note that the only way to treat gynecomastia is through surgery. Since it involves gland and tissue development, you cannot burn it through diet and exercise. Only surgery can remove the excess gland and tissue.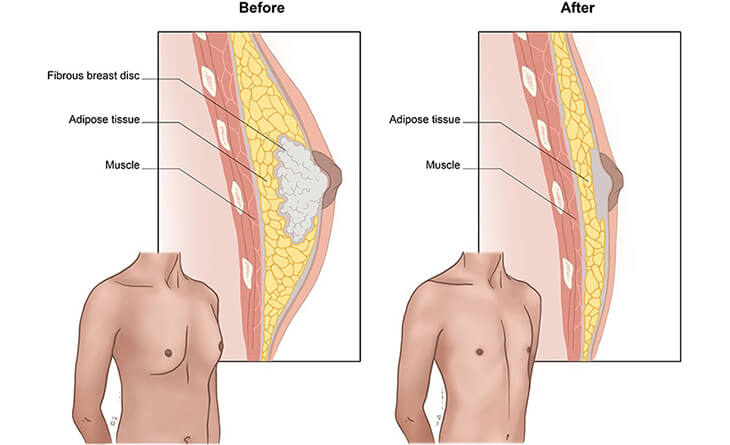 Have questions or want to get started? We are ready to help you with a smile!
The Complete Gynecomastia Surgery
At advanced centres like RG Aesthetics, treating gynecomastia is safe with guaranteed results and a speedy recovery. It is mainly due to the state-of-the-art MicroAire and VASER technology available to surgeons at the centre.
MicroAire and VASER are power-assisted (PAL) and ultrasound-assisted (UAL) liposuction devices, respectively. When wondering how to test for gynecomastia and treat it, approaching a centre with these facilities ensures a minimally invasive procedure with natural-looking results.
The surgery begins with a 3-4mm lateral incision made on the side of your chest, under the arm. This technique hides the resulting scar for better results. Through this, your surgeon enters the breast gland with the PAL cannula, breaks up the excess gland and tissue into tiny pieces, and suctions them out.
Dr Gupta then uses VASER to tighten the remaining skin over the new pectoral contours. As a UAL device, VASER emits heat that makes the skin shrink without requiring excision. Hence, there is no scarring on the front of the chest.
As a board-certified plastic surgeon in Delhi, Dr Rajat Gupta understands the importance of high-quality, natural-looking results after gynecomastia treatment. Using the latest technologies at RG Aesthetics allows him to maintain international standards of patient care while ensuring you know how to test for gynecomastia and treat it effectively. Therefore, you get excellent, toned results that follow your natural contours with no visible scarring under his expert hand!

Dr. Rajat Gupta
MBBS, MS, DNB(Gen. Surg.),
DNB (Plastic Surgery)
Dr. Rajat Gupta is a board certified plastic surgeon in India with 12 years of experience to back his expertise in the domain of aesthetic surgeries.
Having completed his training from Maulana Azad Medical College and equipped with a thorough understanding of aesthetic needs of people, Dr. Gupta strives to offer the best remedies and cosmetic procedures outfitted with the latest technology to the aspirants in India and across the globe. To book an appointment, call: +91-9251711711 or email: contact@drrajatgupta.com