Innovation are mostly a boon, especially scientific innovation that help mankind to achieve a better life.
One of such innovation is Crisalix 3D Simulation technology, brought to you for the first time in Delhi, only at RG Aesthetics. The state of the art technology backed by the most sophisticated equipment that is helping people to make right decisions about their cosmetic and plastic surgery procedures.
Now you do not have to wait to see how you would look post your breast implant or a lip job or a nose job or any other reconstructive procedure. With the innovative Crisalix 3D simulation and imaging technology, now available at RG Aesthetics, you no longer have to rely on your imagination or other patients' before-and-after photos to guess at your results. Now you can see for yourself how you'll look before your surgery!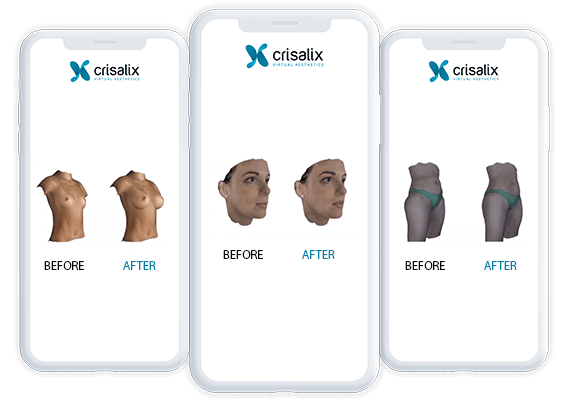 It actually helps you "Try On" your look before surgery
Just like you try on a new dress or a new piece of jewelry to see how they look on you, you would definitely want to try on your new appearance post a surgery you are willing to undergo. You would love to try on your bosom post breast implant or a smoother looking nose post-nose job, or you would like to try on your fuller lips after you have had a dermal filler done.
All this and more is made possible to you by Crisalix 3D simulation, which has revolutionized the world of cosmetic, invasive and non-invasive reconstruction procedures.
What is the technology behind Crisalix 3D simulation?
The technology is simple. During consultation session, our surgeon will use a 3D camera to capture your current images from different angles and then upload it into the advanced Crisalix 3D imaging software.This helps to create the base for further specifications to be added to your body structure, which becomes visible in the enhanced 3D images. The software is programmed to accept the specifics and add to your figure and show the results of your chosen procedure on your very own 3D model.
Thus, it is easy and sensible to have a look at self before investing a lot of time, money and effort in a cosmetic procedure. With Crisalix, you can see your likely results within minutes. And if you want to change something about your appearance as seen in 3D image, you can work with our expert Dr. Rajat Gupta, to tweak the details of the procedure until your 3D image matches the results desired by you post surgery.
What all results can be simulated by Crisalix 3D?
There are a number of procedures that fall within the radar of Crisalix 3D imaging:

Breast Augmentation — Simulates different implant sizes, shapes and projections of breasts.
Rhinoplasty — Simulates redefined nose from all angles.
Facelift Procedures — Simulates the new look without wrinkles and sagging skin.
Botox — Simulates the disappearing of fine lines and wrinkles before the patient's eyes.
Eyelid Surgery — Simulates a younger version of the patient, without droopy or puffy eyelids.
Chin Treatment — Simulates a new, sleeker jaw-line.
Lip Augmentation — Simulates a new natural-looking pout
Why should you ask for a Crisalix 3D simulation during your consultation?
A Crisalix 3D simulation should be an imperative part of your pre-consultation because:
This advanced imaging system uses photos of your own face and body instead of a simulation model, giving you a clear idea on how you would look post-surgery.
It gives you the freedom to "try on" different options until the 3D image matches your desired look.
It gives you peace of mind. After a consultation using Crisalix 3D, you can go into surgery with confidence, knowing what kind of results you can expect.
You can tweak your 3D image to alter the end-results you want. You exact surgery goals are met with ease.
You can compare before-and-after images side by side, easily, and from every angle, and get ready for the new beautiful look that you want.
You can access your results from anywhere because the web-based software used in Crisalix allows you to access your simulated results wherever you are.
Looking for 3D simulation in Delhi? It is time to schedule your personal consultation with Dr. Rajat Gupta today and get the benefits of Crisalix 3D simulation without any apprehensions!