What Is Breast Lift?
A breast lift or Mastopexy is a procedure performed to tighten the breasts. Whether due to age or gravity, a woman's breasts start sagging and lose their youthful look. A breast lift corrects this by restoring the per-kiness of the breasts. There are a lot of steps that go into making this lift complete.
At RG Aesthetics, we take the utmost care to explain the procedure and provide complete consultation to breast lift surgery aspirants. This helps them to understand the intricacies of the surgery. During the dis-cussion, the surgeon will also understand your goals and ambitions related to the procedure and give you an honest and complete picture.
We also use Crisalix 3D Simulation, which is a breakthrough technology to help you visualize your post-surgery breast contour on your own digitized images. This helps you to define your goals better and know how would you look after the surgery.
Breast Lift Best Results / Before & After
1 Slide Result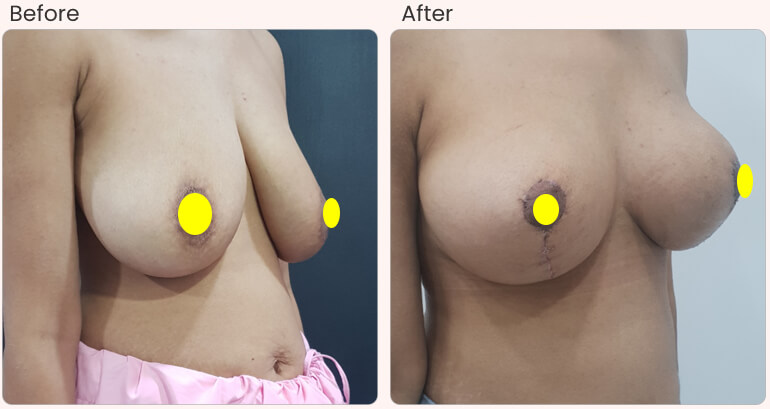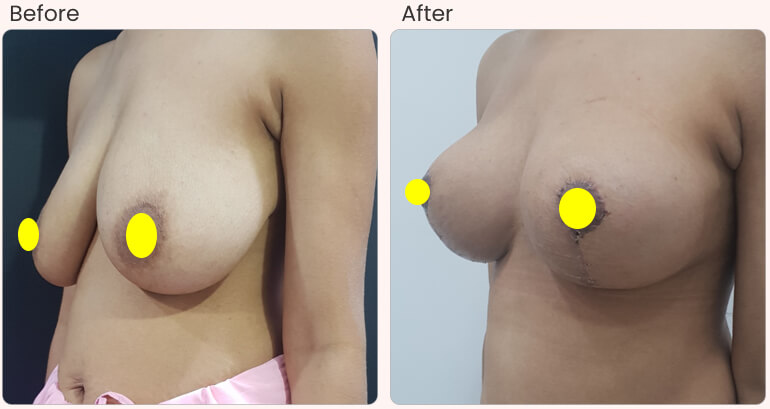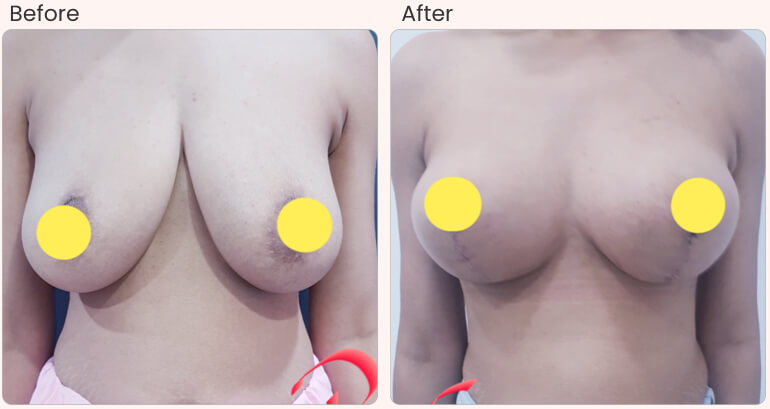 This 36 years old IT professional had sagging breasts after her second kid. She visited us after she finished breast feeding her child and we did for her short scar breast lift surgery (mastopexy)

Age: 36 years
Weight: 65
Height: 5'4"
1 Slide Result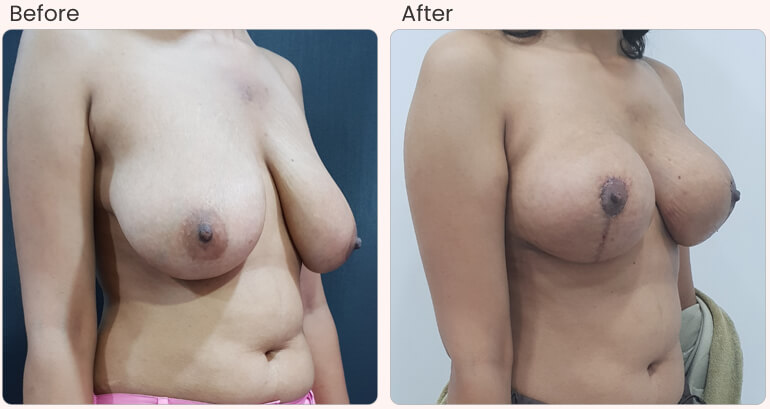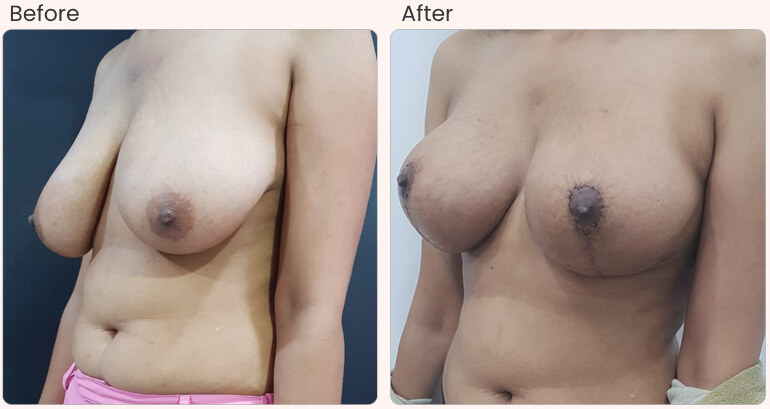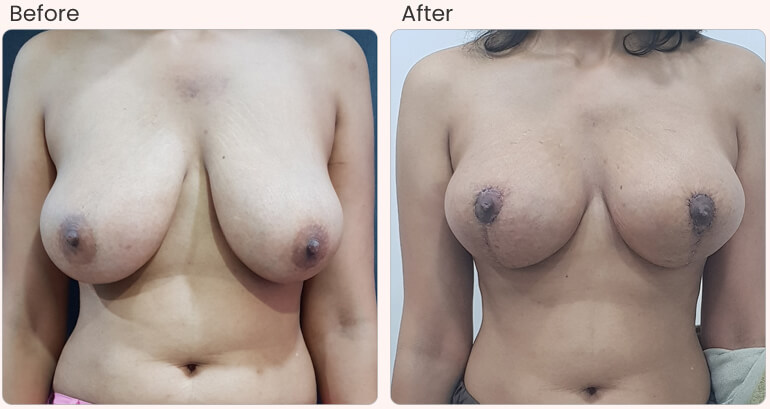 This 38 year young lady is mother of two and visited us to lift her sagging breasts after her breast feeding was completed

Age: 38 year
Weight: 72
Height: 5'5"
Type: Short Verticle Scar Superior Pedicle Technique
1 Slide Result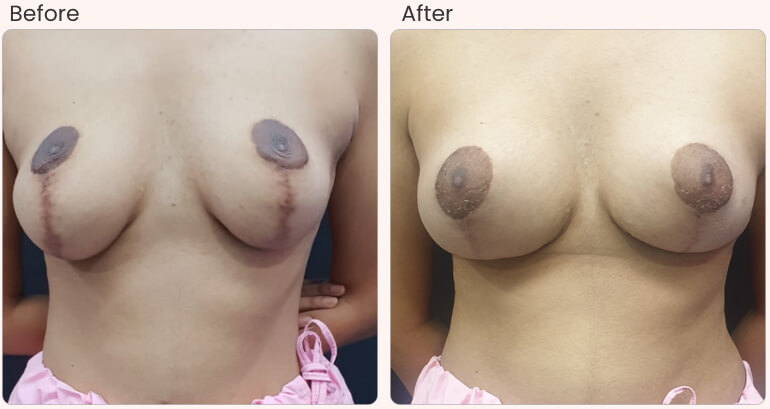 This 25 yr old medical student had lost substantial weight and had her breast sagging. She had her breast lift (mastopexy) surgery from somewhere else. After 3 months of her surgery she suffered from Bottoming Out and sagging of breasts again. Her other problems were high riding nipple and areola complex and ugly scar.

We did her Redo Breast Lift surgery. Her final shape after 10 months of surgery with us, looks better, rounder and perkier breasts with good position of Nipple areola complex on her breasts and much less visible scares
Why Breast Lift Is Done?
Breast Lift procedure is done if:
You have loss of youthful breast contour
Your breasts have started to sag due to pregnancy or breastfeeding
Your breasts have started looking droopy due to weight fluctuations, natural ageingor any other heredity reasons.
Your breasts are flatter, have an elongated shape or look pendulum shaped when hanging freely.
When you are not wearing a bra, your nipples fall under the breast crease.
The areolas and nipples point downwards.
You have stretched skin and extremely large areolas.
One of your breasts falls lower than other.
What Breast Lift Can / Can't Do
---
Increase fullness and roundness of your breasts
Rejuvenate sagging breasts
Reorient nipple and areola, so they are positioned higher
Provide an aesthetic curve
Make your breasts look perkier and younger
Change the shape of your breasts completely
Make your breasts bigger (you need breast augmentation for this)
Position your nipple and areola unnaturally high
Don't take biggest decision of life
Without getting complete information!
How You Should Prepare For Breast Lift?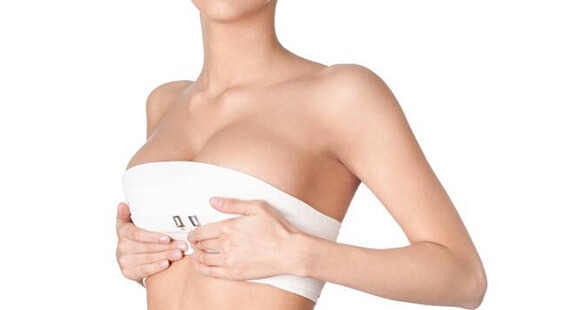 Consult a board certified plastic surgeon
The surgeon will prescribe some blood tests
The surgeon will prescribe medications or adjust your current medications
Stop smoking
Avoid any medication not prescribed by the surgeon, like aspirin or any anti-inflammatory drugs. They can increase bleeding during the surgery
Stop taking any recreational drugs, such as cocaine
Arrange for a driver to take you back home post the surgery or someone to stay with you in case one night admission is required
What is the Procedure of Breast Lift?
During the procedure, after administering general or local anesthesia, incisions are made in the areolar region. These could be around the areola – a periareolar incision, or vertically down from the areola to the breast crease- inframammary incision. The choice and placement of the incisions hide the resulting scar considerably. The incisions are strategically placed. They are either hidden in the point where the light skin meets the dark skin (periareolar) or underneath the breast (inframammary). Inframammary is also the safest incision, which is why we prefer this incision over the others.
After the incisions are made, the underlying excess tissue is removed. This reduces the size, making it more manageable. For natural results, we reshape the rest of the tissue and reposition the nipple and areola. These measures allow us to place them at a more youthful height, making your breasts look perkier.
If need be, the enlarged areola is also reduced by removing some areola skin at the perimeter. The loss of elasticity in the skin is also addressed by removing extra skin. The remaining skin is tightened as the incisions are closed with the help of sutures or skin adhesives.
Recovery After Breast Lift?
Although the patient feels a slight tightness, this is normal during recovery.
You can resume all your daily activities the very next day onward.
We give you massaging techniques and a fitted compression garment to make your recovery smoother, better, and more permanent!
Risk involved in Breast Lift?
Like every surgery, there are risks and potential complications of breast lift. Common risks involved in breast lift include, anesthesia risks, bleeding, hematoma, a chance of infection, less sensation in nipple or breast, scarring, asymmetrical breasts, deep vein thrombosis and persistent pain.
However, if performed by a board-certified plastic surgeon the complications are avoidable.
We Provide Very Transparent Pricing To Our Patients !
Breast Lift –
2000 to 3400