"The Best Patient Care Is Caring For Patient"
RG Aesthetics is proud to cater to approximately 150 international patients every year. Patients from all over the world come for plastic surgery in India with Dr. Rajat Gupta. He is one of the most reputed & experienced plastic surgeon in India and is the top choice of few of the well-known celebrities in India.
At RG Aesthetics, our pricing is very transparent and is same for every patient across the globe. We are definitely not the cheapest in Delhi, but quality comes with a price and our quality is not compromised at any point. Click here to see our rate list for top cosmetic procedures.
We have a great team that looks after the accommodation (paid by the patient); airport transfers (USD 16 one way from airport to any location in Delhi) and also helps you plan your itinerary in India if you wish to visit The Taj Mahal, Goa, Jaipur etc. Before planning a trip to India, read the travel guidelines.
Read our reviews from many of our Patients
Click here to see the facilities and rooms at our various centers.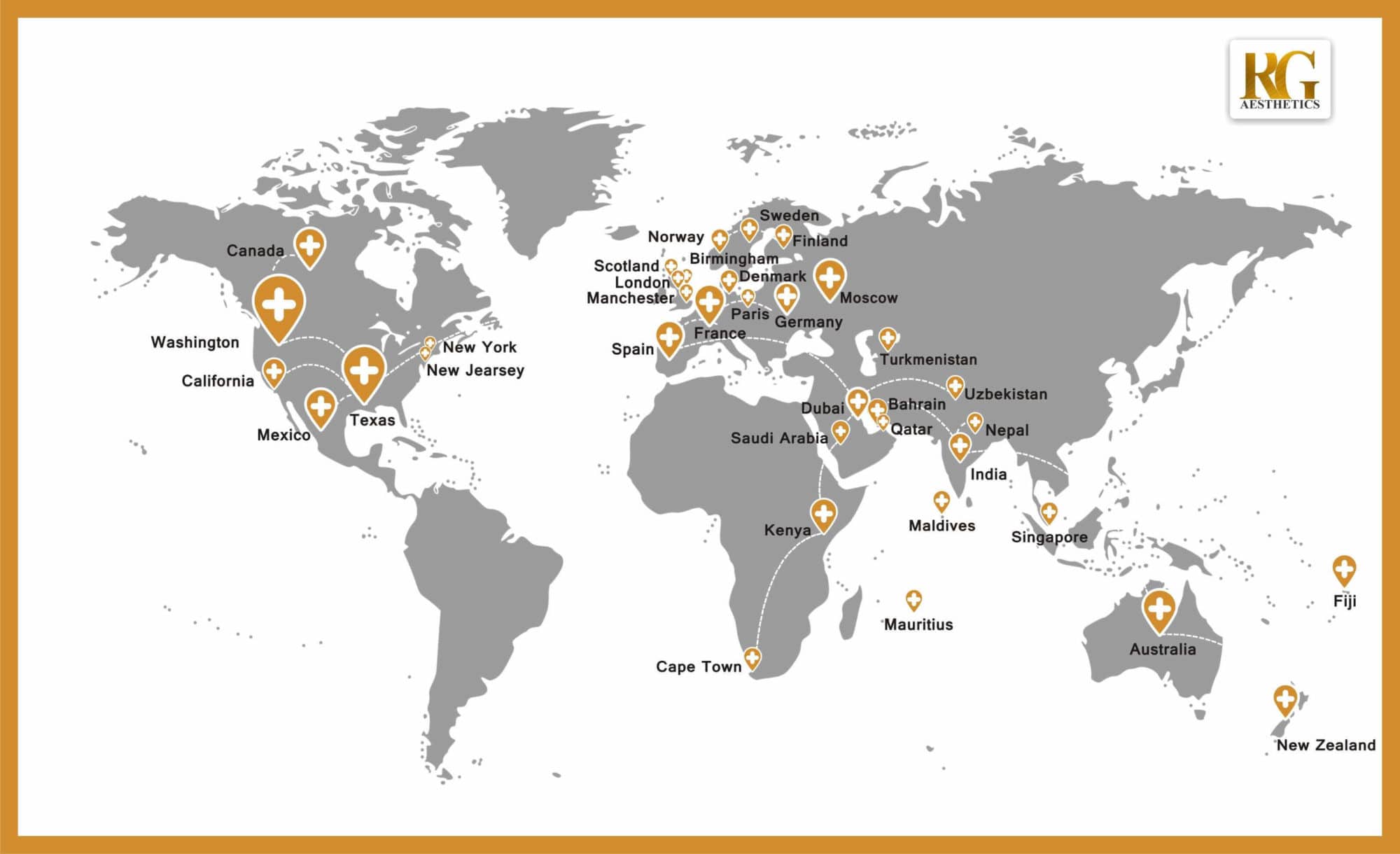 Travel Guidelines
From Your Country
To plan your visit to India for any treatment, you must procure a VISA. There may be even some immunization formalities as well. In case you require a prior letter from us for obtaining your VISA, you can request us for the same. After obtaining your VISA, you may book your ticket to Delhi with any airlines. Indira Gandhi International Airport is the closest to us. Once you have booked your tickets, please inform us of the travel schedule so we can arrange a taxi for your airport pick up (USD 16, one way to the hotel or clinic).
In case you are new to India and want personal assistance for your travel needs, taxi arrangements, hotel stay, city travel and travel within India, our team can assist you. Please inform us your date of travel & flight details, so we can arrange a taxi for you if needed. We shall email you the taxi details, number & mobile number. The escort shall receive you at Indira Gandhi International Airport, New Delhi holding up your name placard at the reception lounge. He shall have you transferred to a hotel or the clinic as per your convenience.
Little About India
India is a beautiful and diverse country of panoramic vistas. The weather is mild to moderate, with long summers and short winters. The landscape varies wildly from region to region–from rainforest, to desserts, to beach locales to mountains up north. The culture from state to state differs a lot. The food is absolutely delicious and there are a lot of options for the vegans here. Many travelers are attracted to India for all these reason.
Recently, the medical tourism industry has begun to bloom in India. This is because, you can get quality medical care here at far lower price than other countries.
Getting to explore the natural beauty of India, along with your medical trip is also definitely a bonus. It is an understatement to say that international travel can be difficult. This is especially when you are traveling to get a medical procedure. Paper work, formalities, a new terrain, and many more such dilemmas are associated with medical travel.
To ease the burden of travel, we are here to help you:
To organize all the documentation needed for the trip, including the visa, and the tickets, etc
If there are any necessary documents that you are having a problem with, we will be there to help sort out the issues.
A taxi will be sent to you at the airport for a timely pickup and drop to your hotel or clinic (at USD 16 one way)
Recommendations regarding hotel bookings, transport choice, sightseeing in Delhi, will always be offered.
If you wish to combine a small holiday with your treatment, other tourist destinations in India, like Taj Mahal in Agra, serene and beautiful Himachal Pradesh, beach beauty Goa and many more; all the assistance will be provided to organize the holiday and planning the itinerary
Train or air tickets for domestic travel, hotel booking, local transportation, everything will be taken care of, by our efficient team.
The cost in actual shall be borne by the patient or the family, while all the assistance that we provide is out sheer love and concern.
We will take all of the hassle out of traveling, and as soon as you finish with your medical procedure, you can treat it like any other holiday. The whole time you are here, we will make sure there are no inconveniences at all.
Keeping all of this in mind, we look forward to having you here!
Have questions or want to get started? We are ready to help you with a smile!