Chest Fat and Gynecomastia – Differences Explained
Dr Rajat Gupta
Male breasts are a central point of contention in many men's lives, affecting their mental health and self-esteem. However, their chests may develop for different reasons. They may have a hormonal condition called gynecomastia, or they may have excess chest fat. Understanding chest fat and gynecomastia's differences are essential to treat them effectively.
The emotional burden of an enhanced chest can cause severe mental health problems in men. Especially if they have gynecomastia, they may find that no amount of exercise or diet seems to change their condition. This then brings us to our first point of distinction.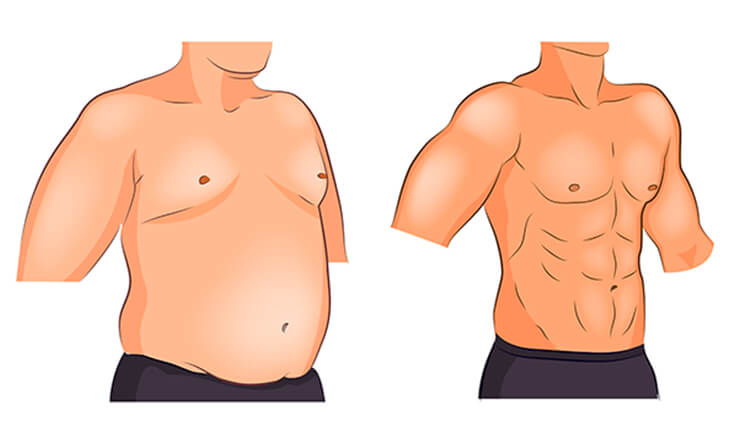 Have questions or want to get started? We are ready to help you with a smile!
Chest Fat and Gynecomastia: Differences in Cause and Treatment
Chest fat happens due to the collection of excess fat on the chest. It is subcutaneous fat located right under the skin's top layer. While you can use liposuction to remove this, a rigorous diet and exercise can also help you achieve the same results. With cardio, push-ups, and a healthy, nutritious diet, you can effectively reduce your chest's size.
However, like with fat in any other area of the body, if you stop your regimen for any reason, you risk the fat returning. Your breasts can develop again. Thus, it is not a permanent solution.
Gynecomastia, on the other hand, happens due to gland and tissue development. The imbalanced hormones in adolescence cause your chest to develop while balancing out as you reach adulthood.
Unlike chest fat, you cannot solve male breasts with diet and exercise since your body does not burn gland and tissue when you work out. Instead, you need gynecomastia surgery. Luckily, with recent advancements in surgical technology and techniques, you can get a minimally invasive procedure with no visible scarring.
At RG Aesthetics, our board-certified plastic surgeons use the latest MicroAire and VASER technology to remove excess gland and tissue from your chest. With MicroAire's power-assisted cannula, they break up and suction out the gland and tissue. Then they use VASER's ultrasound-assisted heating device to shrink and tighten your skin over your exposed pectoral muscles.
As a board-certified expert plastic surgeon in Delhi, Dr Rajat Gupta believes that highlighting chest fat and gynecomastia's differences is essential for men to make the right decision. Mistaking gynecomastia for chest fat can have lasting implications for how a man's life and mental health progresses. Through the RG Community, Dr Gupta and his patients spread accurate information about gynecomastia and its treatment.

Dr. Rajat Gupta
MBBS, MS, DNB(Gen. Surg.),
DNB (Plastic Surgery)
Dr. Rajat Gupta is a board certified plastic surgeon in India with 12 years of experience to back his expertise in the domain of aesthetic surgeries.
Having completed his training from Maulana Azad Medical College and equipped with a thorough understanding of aesthetic needs of people, Dr. Gupta strives to offer the best remedies and cosmetic procedures outfitted with the latest technology to the aspirants in India and across the globe. To book an appointment, call: +91-9251711711 or email: contact@drrajatgupta.com