Bras for severe gynecomastia
Dr Rajat Gupta
When breasts develop in girls at puberty, it is awkward for them but expected. When a hormonal imbalance causes the same to happen with men, it becomes a cause for potential embarrassment, social consciousness, and a severe dip in self-esteem. 
Men often tend to avoid seeking help for such a situation, not fully understanding the underlying cause, and sometimes confusing the development of breast tissue and gland with the deposit fat on the chest. They try to shrug this off as a body weight issue, explore diet and exercise, and in some cases, also seek to understand bras for severe gynecomastia – in cases where the development of the breast gland is so advanced that it gives the appearance of well-formed breasts like women.
Can bras treat severe forms of gynecomastia?
Bras are not a treatment or cure for gynecomastia. They can do what they were designed to do – keep the breasts in position and shape. They will not lead to reduction in breast size – if that were the case, women would find themselves with a reducing breast size over time. Does that happen without surgical intervention? No, it does not.
Gynecomastia has only one treatment – surgery. Bras for severe gynecomastia can help give them shape but not cure them.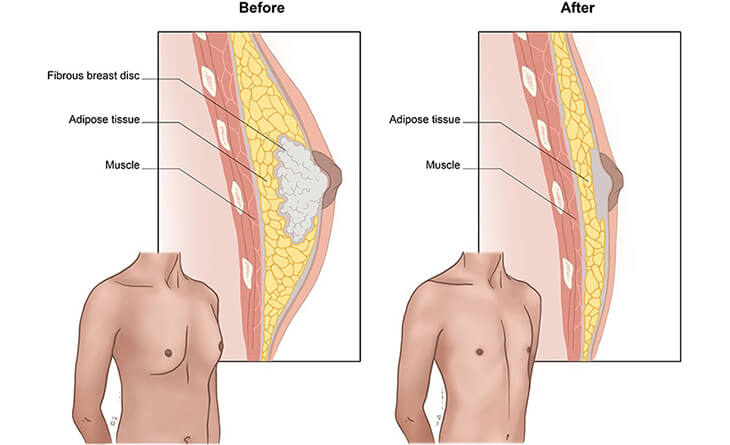 Have questions or want to get started? We are ready to help you with a smile!
How to Treat Severe Gynecomastia?
Gynecomastia can be treated by a board-certified plastic surgeon. It involves a day care procedure which may be performed under local or general anaesthesia. This is determined both by the surgeon's assessment of the case and the patient's requirement. Therefore, while consulting with your board-certified surgeon, it is important for you to share your complete medical history and requirement. This enables them to plan for the surgery to minimise any risks and complications, while achieving natural and desired outcome.
Gynecomastia surgery comprises the following steps –
Liposuction to remove any excess fat present in the male chest. Small incisions are made in the lateral chest wall.

PURE Contouring – this is Dr Rajat Gupta's own invention and combines the use of power assisted liposuction using MicroAire and ultrasound assisted liposuction using Vaser to break the breast gland down and remove it through a tiny incision. After that, radio frequency enhanced contouring is done in cases where skin excision is not required to give a chiselled and toned appearance.
Probability of Scarring – Will surgery take me from one social embarrassment to another?
Absolutely not! Dr Rajat Gupta understands the importance of scarless procedures for self-esteem. In most cases, small incisions are made for the surgery, that too along the lateral chest wall. In such cases, the scars are usually less than 3-4mm in size and fade away over time or are hidden.
Dr Rajat Gupta is an experienced, board-certified plastic surgeon with a proven track record. He is highly respected and trusted by his patients, who come to him from all over the globe.

Dr. Rajat Gupta
MBBS, MS, DNB(Gen. Surg.),
DNB (Plastic Surgery)
Dr. Rajat Gupta is a board certified plastic surgeon in India with 12 years of experience to back his expertise in the domain of aesthetic surgeries.
Having completed his training from Maulana Azad Medical College and equipped with a thorough understanding of aesthetic needs of people, Dr. Gupta strives to offer the best remedies and cosmetic procedures outfitted with the latest technology to the aspirants in India and across the globe. To book an appointment, call: +91-9251711711 or email: contact@drrajatgupta.com