How Much Glandular Gynecomastia Surgery Costs
Dr Rajat Gupta
Gynecomastia is a hormonal condition causing the development of breast tissue in men. It refers explicitly to glandular tissue development and not the accumulation of excess chest fat. This means that exercise cannot reduce gynecomastia – surgery is the only answer. When prospective patients hear this, their immediate first thought is about how much glandular gynecomastia surgery costs.
This is an excellent query to be open about before your procedure. Having a healthy financial life is essential, and surgery of any kind can drain your wallet. Thus, choosing a centre transparent about its costing like RG Aesthetics is a good idea. We put all our prices on the website for every patient to see before making a concrete decision.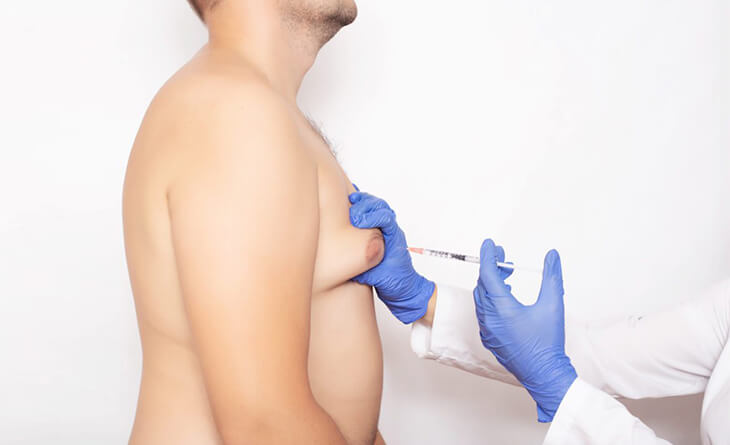 Have questions or want to get started? We are ready to help you with a smile!
What Determines Glandular Gynecomastia Surgery's Cost
Many factors go into determining the cost of gynecomastia treatment. Due to the variety of technologies and techniques available, there is no single cost that we can provide. Your surgeon's technique and qualification generally determine your surgery's cost.
Dr Gupta also has access to the state-of-the-art, minimally invasive technology at RG Aesthetics like the MicroAire and VASER liposuction devices. These technological advancements make his procedures much safer, with reliable results. Additionally, he uses techniques like the lateral chest incision, hiding the incision and resulting scar for your gynecomastia surgery on the side of your chest, under your arm. This technique ensures no scar on the front of your chest that may impede you from further enjoying shirtless activities.
With such careful thought behind the techniques, Dr Gupta can guarantee far superior results. It shows his deep understanding of his patients' needs. Additionally, RG Aesthetics has no difference in price for Indian and international patients. Since we employ international standards of patient care for every patient, we do not need to make such a distinction.
Again, these considerations can drive up the cost, but the results speak for themselves. The devices and techniques minimise trauma, making recovery faster and more comfortable for every patient. What's more, these results are permanent.
So is it not better to choose a board-certified plastic surgeon in Delhi like Dr Gupta and get your desired results on the first try, even if the procedure is more expensive than surgery at the hand of someone less qualified?

Dr. Rajat Gupta
MBBS, MS, DNB(Gen. Surg.),
DNB (Plastic Surgery)
Dr. Rajat Gupta is a board certified plastic surgeon in India with 12 years of experience to back his expertise in the domain of aesthetic surgeries.
Having completed his training from Maulana Azad Medical College and equipped with a thorough understanding of aesthetic needs of people, Dr. Gupta strives to offer the best remedies and cosmetic procedures outfitted with the latest technology to the aspirants in India and across the globe. To book an appointment, call: +91-9251711711 or email: contact@drrajatgupta.com