Gynecomastia in thin males
Dr Rajat Gupta
Weight gain and obesity are accompanied by development of fat pockets at different parts of the body, including but not limited to abdomen, thighs, hips, arms, and chest. Yes, chest included. However, this fatty deposit is different from development of tissue and glands.
Therefore, when thin males exhibit the development of breasts, they are often confused as to why they have developed breasts, since they are not struggling with weight issues. It is important to understand that gynecomastia in thin males refers to the development of breast tissue and breast gland. This happens due to hormonal imbalance during puberty, and it has nothing to do with body weight.
Gynecomastia or male boobs is a common condition affecting many men all over the world, and it has nothing to do with body weight or obesity. A thin or overweight male has equal chances of suffering from gynecomastia, it all depends upon how the body hormones behave around puberty. In some men, the imbalance causes the development of the breast gland, much the same as what happens with girls during puberty. This causes breast development which cannot be treated with diet or exercise.
Gynecomastia in thin males has only one course of treatment – surgery, which is performed by a board-certified plastic surgeon.
What is Gynecomastia Surgery and What does it Do?
Gynecomastia surgery is a plastic surgery which uses a combination of liposuction and body contouring to remove excess breast fat and the breast gland in men. Dr Rajat Gupta uses state-of-the-art techniques and his patented PURE procedure to use a combination of power assisted liposuction using MicroAire, ultrasound assisted liposuction using Vaser, and radio frequency enhanced contouring using Aravati. These are internationally used techniques which lead to minimally invasive and painless procedures. Dr Rajat Gupta also marks incisions in a manner which causes minimal visible scarring.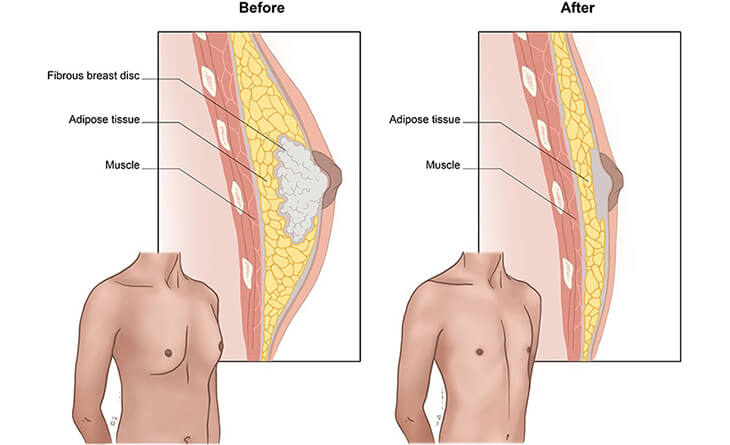 Have questions or want to get started? We are ready to help you with a smile!
What the procedure does –
Remove the excess fat from the chest and the breast gland.

Give a chiselled and toned appearance to the chest.

Lead to an increase in self-esteem and confidence to wear what you want and go where you want to.

Make the body look more proportionate.

Make you look more athletic.
It is important to understand though what the procedure does not do –
It does not change the natural contours of the body.

It does not create perfectly toned pectorals.

It does not prevent the formation of any future fat deposits. Even if you are a thin male suffering from gynecomastia, future weight gain may cause formation of fat pockets, including on the chests. These are different from the breast tissue or breast gland.

It does not give you a new body.
Dr Rajat Gupta is a board-certified plastic surgeon with many years of experience behind him. He is constantly upskilling and innovating in the field of plastic surgery to give his patients the best yet natural looking outcomes. Visit Dr Gupta to understand more about gynecomastia and how the procedure can help a male – thin or otherwise – lead a normal life, free from social embarrassment.

Dr. Rajat Gupta
MBBS, MS, DNB(Gen. Surg.),
DNB (Plastic Surgery)
Dr. Rajat Gupta is a board certified plastic surgeon in India with 12 years of experience to back his expertise in the domain of aesthetic surgeries.
Having completed his training from Maulana Azad Medical College and equipped with a thorough understanding of aesthetic needs of people, Dr. Gupta strives to offer the best remedies and cosmetic procedures outfitted with the latest technology to the aspirants in India and across the globe. To book an appointment, call: +91-9251711711 or email: contact@drrajatgupta.com