How Gynecomastia Glandular Tissue Removal is Done
Dr Rajat Gupta
Gynecomastia is a breast tissue disorder in men. It involves the development of male breast tissue and gland due to a hormonal imbalance. This imbalance usually happens in adolescence and is sorted out by the time the man reaches adulthood. However, the developed breasts are here to stay. Once diagnosed with gynecomastia, glandular tissue removal is only possible through surgery.
Unlike chest fat, exercise cannot burn gynecomastia. This can have significant mental health repercussions for many men, who believe that consistently working out will reduce their chest, only to see no difference. Luckily, patients can get high-quality results from advanced centres like RG Aesthetics with today's advanced technologies and techniques.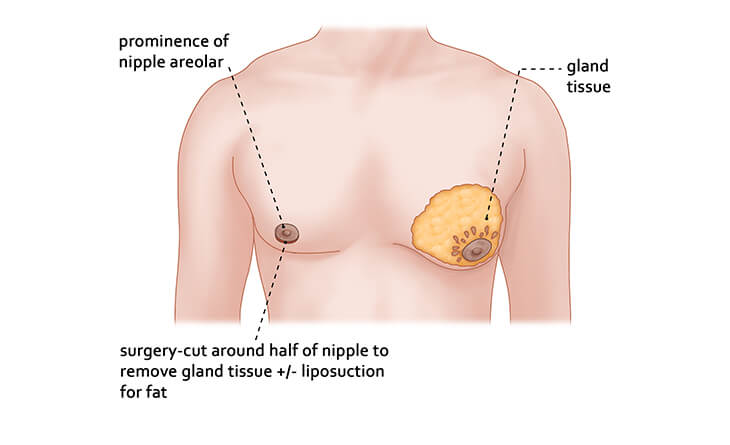 Have questions or want to get started? We are ready to help you with a smile!
Treating Gynecomastia – Glandular Tissue Removal
While gynecomastia and chest fat are entirely different, the removal process is broadly similar. Both procedures use state-of-the-art MicroAire and VASER liposuction technology. MicroAire and VASER are power-assisted (PAL) and ultrasound-assisted (UAL) liposuction devices, respectively. They ensure minimally invasive procedures through tiny 3-4mm lateral chest incisions.
Therefore, your gynecomastia treatment begins with your surgeon placing you under general or local anaesthesia. After this, they make the incision on the side of your chest, under your arm. The resulting scar is tiny and off to the side, keeping it entirely inconspicuous.
Your surgeon then uses MicroAire to break up the excess tissue and gland. This PAL device is fitted with a cannula that moves back and forth rapidly, breaking up the excess. It is also connected to a suction, allowing for glandular tissue removal during gynecomastia surgery.
The VASER device used after this serves a double purpose. Apart from removing any other excess, it also emits heat. This makes the skin shrink, negating the need for any additional skin excision. As a result, there is no possibility of a scar on the front of the chest.
Using such sophisticated technologies ensures minimal downtime after your procedure. Your surgeon fits you with a compression garment to keep your new pectoral contours in place, and you see the results improve over several weeks as the swelling and bruising reduce.
Getting excellent results from your gynecomastia procedure is only possible under the practised hand of a board-certified plastic surgeon in Delhi like Dr Rajat Gupta. Dr Gupta, a pioneer of the lateral chest incision, ensures that his patients see stunning transformations, boosting their confidence and self-image after every gynecomastia treatment at RG Aesthetics!

Dr. Rajat Gupta
MBBS, MS, DNB(Gen. Surg.),
DNB (Plastic Surgery)
Dr. Rajat Gupta is a board certified plastic surgeon in India with 12 years of experience to back his expertise in the domain of aesthetic surgeries.
Having completed his training from Maulana Azad Medical College and equipped with a thorough understanding of aesthetic needs of people, Dr. Gupta strives to offer the best remedies and cosmetic procedures outfitted with the latest technology to the aspirants in India and across the globe. To book an appointment, call: +91-9251711711 or email: contact@drrajatgupta.com