Gynecomastia surgery recovery pictures
Dr Rajat Gupta
Gynecomastia is the development of breast tissue among men, or male boobs as they are more popularly known. A common condition affecting men not just in India, but worldwide, it can cause embarrassment and consciousness – men suffering from gynecomastia tend to avoid wearing fitted clothes and an outing to the beach or the swimming pool! While the condition itself develops on account of hormonal imbalance during puberty, it may be visibly apparent by the time a man is 20 years and in some cases, even sooner. So even though the hormone levels may present as normal at that time, the appearance of breast tissue may leave them with an added feeling of confusion.
Gynecomastia may sometimes be confused with development of fatty tissue instead of breast tissue. Gynecomastia surgery recovery pictures can help one understand what the male breast tissue looks like before and after the surgery. Looking at these pictures can also help one assess whether they are suffering from gynecomastia.
Gynecomastia presents itself as a soft lump behind the nipple – if you feel that in your hands, then you should visit a board-certified plastic surgeon who can accurately diagnose your condition. They will be able to rule out the presence of fatty tissue as opposed to breast tissue and gland, and vice versa. If you feel the presence of a hard lump, then it is imperative to consult a doctor to rule out a tumour.
Understanding the Condition and Procedure
Some people often approach a general surgeon to get rid of male breasts. This is because general surgery is typically more economical. However, it may have serious repercussions as they lead to a higher degree of physical trauma. Nor will there be the right infrastructure to take care of the procedure.
Consulting a board-certified plastic surgeon will give you a clear picture. A plastic surgeon will make the right diagnosis and address all your queries regarding male breasts and their treatment. It is important to understand that since gynecomastia is the presence of breast tissue, not fat, plastic surgery is the only treatment, exercise will not make it go away.
A board-certified plastic surgeon will also share gynecomastia surgery recovery pictures for you to understand the condition, as well as the procedure outcome. Please remember that gynecomastia is quite a common condition with nothing to be embarrassed about. Gynecomastia surgery is a simple, outpatient procedure to correct what is a hormonal imbalance in your body.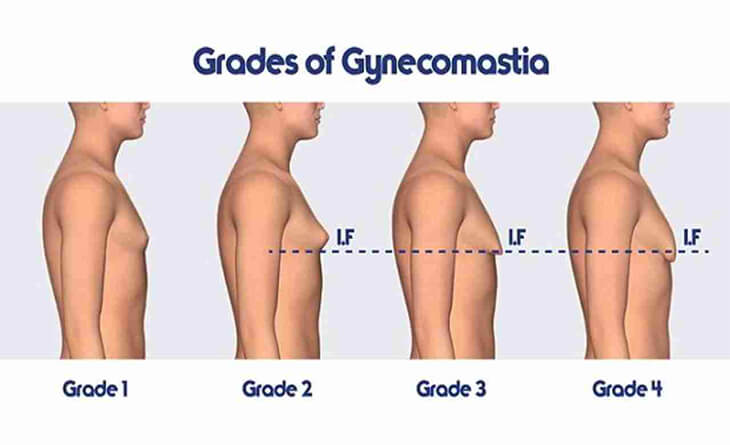 Have questions or want to get started? We are ready to help you with a smile!
Concerns regarding the visible outcome
Dr Rajat Gupta is a board-certified plastic surgeon who has created the roadmap of plastic surgery in India, which other surgeons follow. He makes use of advanced PURE technology, his own invention, for gynecomastia procedure. PURE combines Power Assisted Liposuction using MicroAire, Ultrasound Assisted Liposuction using Vaser, and RF Enhanced Contouring using Arvati for minimally invasive and painless surgery, while also leading to natural outcome. 
Gynecomastia surgery recovery pictures shared by Dr Rajat Gupta will also show that his techniques and expertise leave the patient with no visible frontal scarring.
Visit Dr Rajat Gupta for your consultation.

Dr. Rajat Gupta
MBBS, MS, DNB(Gen. Surg.),
DNB (Plastic Surgery)
Dr. Rajat Gupta is a board certified plastic surgeon in India with 10 years of experience to back his expertise in the domain of aesthetic surgeries.
Having completed his training from Maulana Azad Medical College and equipped with a thorough understanding of aesthetic needs of people, Dr. Gupta strives to offer the best remedies and cosmetic procedures outfitted with the latest technology to the aspirants in India and across the globe. To book an appointment, call: +91-9251711711 or email: contact@drrajatgupta.com