Can Exercise Reduce Gynecomastia?
Dr Rajat Gupta
Many men all over the world suffer from male breasts or gynecomastia. This prevalent condition happens due to breast tissue and gland development after an adolescent hormonal imbalance.
However, many men mistake male breasts for chest fat. Therefore, they approach the internet with the same question.
Can exercise reduce gynecomastia?
To answer immediately: No.
Exercise is only helpful in burning chest fat; it cannot get rid of breast tissue. No matter how much cardio or how many push-ups you do, surgery remains the only option for male breast reduction.
Luckily, with the sophisticated technology available at RG Aesthetics, this procedure is very safe and easy. When performed by an expert surgeon like Dr Rajat Gupta, you get excellent results with no visible scarring and minimal downtime.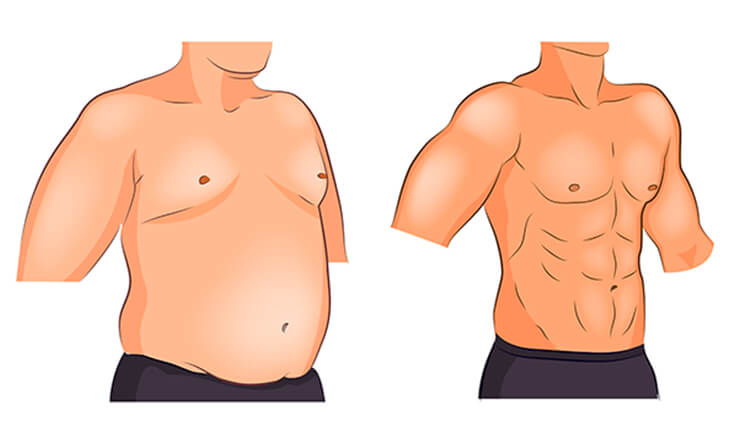 Have questions or want to get started? We are ready to help you with a smile!
The Procedure to Get Rid of Gynecomastia
The goal of male breast reduction surgery is to give you entirely natural-looking results. Part of this is ensuring there is no scar on the front of your chest. Male breasts often cause insecurity, and replacing them with a scar will have the same result.
Due to this understanding of patient needs, Dr Rajat Gupta uses a lateral chest incision. He makes the incision under your arm, on the side of your chest. This method hides the resulting scar, ensuring you feel secure enough to go out into public. When he combines this with the smooth, toned contours you get after your procedure, the results automatically become much more desirable.
Additionally, the incision is also tiny, only 3-4mm. Through this, Dr Gupta uses the minimally invasive MicroAire and VASER technology at the centre for precision and minimal trauma. The power-assisted MicroAire tool breaks up the excess gland and tissue, allowing your surgeon to remove it. After this, Dr Gupta uses VASER's ultrasound-assisted cannula to release heat and make the skin shrink and tighten over the new contours. This device eliminates the need for any incision to remove excess skin.
Such measures make the procedure safer and the recovery much more comfortable. As long as you wear the prescribed compression garment, your new pectorals will stay in place and heal well into new, attractive contours.
Dr Rajat Gupta and the Gynecomastia Community at RG Aesthetics are committed to debunking myths by answering important questions like "can exercise reduce gynecomastia" honestly. Patients deserve to have complete information before opting for any procedure, which we aim for.

Dr. Rajat Gupta
MBBS, MS, DNB(Gen. Surg.),
DNB (Plastic Surgery)
Dr. Rajat Gupta is a board certified plastic surgeon in India with 12 years of experience to back his expertise in the domain of aesthetic surgeries.
Having completed his training from Maulana Azad Medical College and equipped with a thorough understanding of aesthetic needs of people, Dr. Gupta strives to offer the best remedies and cosmetic procedures outfitted with the latest technology to the aspirants in India and across the globe. To book an appointment, call: +91-9251711711 or email: contact@drrajatgupta.com