Gynecomastia surgery scar tissue
Dr Rajat Gupta
Opting for a surgery is a major decision – there are always concerns about risks, complications, infections and several other factors. These factors play an even bigger role when the surgery is elective – such as the surgery for gynecomastia.
What is Gynecomastia?
Gynecomastia is a condition which leads to the development of breast tissue and gland among men. It is the result of hormonal imbalance during puberty, which leads to the development of the breast gland, like it happens with pre-teen girls.
A hormonal issue which causes the development of a gland, gynecomastia has only one course of treatment – surgery. This procedure is performed to remove the gland while contouring the chest skin to give a more chiselled and toned appearance. It also helps men gain self-confidence as they resume a normal life, wear what they want, and go where they want to, without feeling awkward or embarrassed.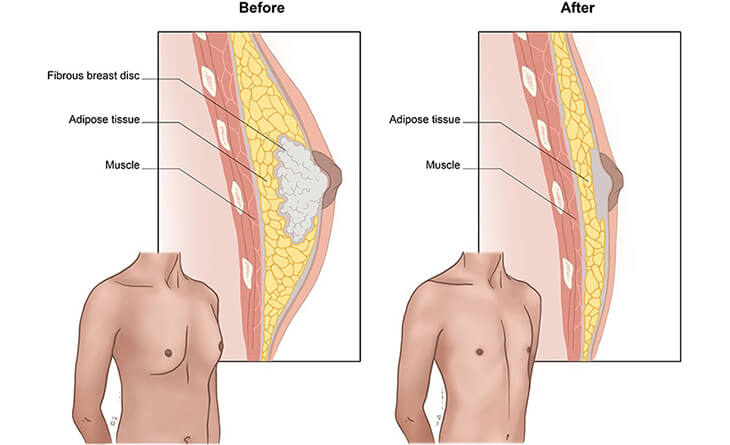 Have questions or want to get started? We are ready to help you with a smile!
Gynecomastia Surgery Scar Tissue – the Concern
Gynecomastia is a medical condition which is very common among men across the world. Yet, it comes associated with a set of body-image issues – men suffering from gynecomastia often avoid social settings, wear loose clothes to hide the breast development, and avoid going to beaches and pools. 
Once it is understood that surgery is the only treatment plan available, it is natural to ask about gynecomastia surgery scar tissue – could this surgery potentially lead from one aesthetic concern to another?
There are two factors which govern this –
Expertise of the Surgeon
Consulting the right surgeon with the right set of surgical skills is crucial to determining the surgical outcome. A board-certified surgeon comes with the right set of qualifications, access to the world-class facilities and the use of the best and latest techniques while performing gynecomastia surgery.
Dr Rajat Gupta is a board-certified surgeon, performs this procedure by making tiny incisions (no more than 4mm in size), along the side of the chest wall (or lateral chest wall) instead of the front. This ensures that the surgical scar is small and not visible from the front.
Techniques Used for the Procedure
Advances in medical science and technology has led to the invention of technologies like MicroAire for Power assisted liposuction (leads to minimally traumatic procedures) and Vaser for Ultrasound assisted liposuction (this helps break down the gland, making it easier to remove from a smaller incision). Dr Rajat Gupta combines both these techniques along with radio frequency enhanced contouring (allows for heat control to counter potential burns caused by Vaser) in his patented PURE procedure for minimally invasive and painless procedures. This combined with the placement of the incision leads to no visible scarring in most cases. 
In cases with more severe forms of gynecomastia, where potential scarring could be visible, the incision is placed so that the scar forms on the skin around the areola, which is darker, therefore less visible.

Dr. Rajat Gupta
MBBS, MS, DNB(Gen. Surg.),
DNB (Plastic Surgery)
Dr. Rajat Gupta is a board certified plastic surgeon in India with 12 years of experience to back his expertise in the domain of aesthetic surgeries.
Having completed his training from Maulana Azad Medical College and equipped with a thorough understanding of aesthetic needs of people, Dr. Gupta strives to offer the best remedies and cosmetic procedures outfitted with the latest technology to the aspirants in India and across the globe. To book an appointment, call: +91-9251711711 or email: contact@drrajatgupta.com