What are the Gynaecomastia Surgery Scars Like?
Dr Rajat Gupta
When it comes to treating gynecomastia or male breasts, surgery is the only answer. Why? Because gynecomastia involves the development of breast tissue and gland. No matter how much cardio or how many push-ups you do, this tissue will not go away. However, when prospective patients hear that surgery is the only answer, they are immediately apprehensive about the procedure and gynaecomastia surgery's scars.
We understand this apprehension. After all, many surgeons make incisions on the front of the chest to remove the excess breast tissue. When they do this, there is a visible scar across the front of the chest. If the conspicuous scar previously hindered patients from going shirtless, the pronounced scar now performs the same role.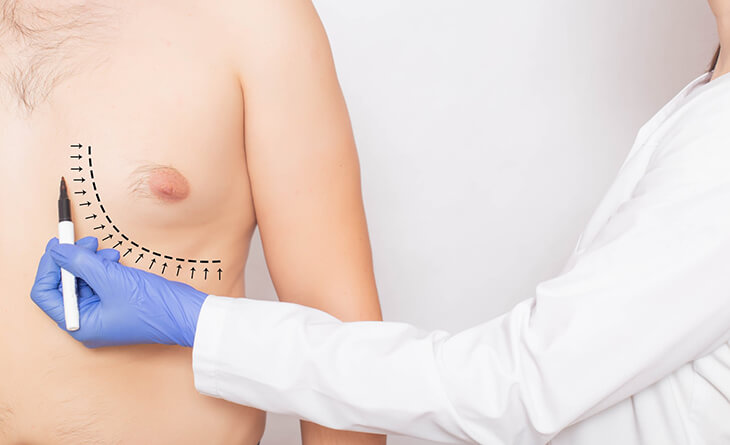 Have questions or want to get started? We are ready to help you with a smile!
Can you have no gynaecomastia surgery scars?
Well, no and yes. Let us explain.
Removing excess breast tissue and gland requires an incision. There is no other, non-invasive method to access the pectoral structures. However, as we mentioned, a prominent scar on the chest front prevents patients from swimming, enjoying beach holidays, or wearing well-fitting clothes. They do not feel attractive in their bodies, and a scar will continue this mental burden.
But if you have a board-certified expert like Dr Rajat Gupta performing your gynaecomastia surgery, he can circumvent this problem. How?
Dr Gupta specialises in the lateral chest incision. This is an incision technique where he makes a tiny 3-4mm incision on the side of your chest, under your arm. The incision's size and placement make it entirely inconspicuous. As it heals after your procedure, the scar fades beautifully and becomes almost invisible. Thus, there is no scar on the front of your chest. It stays hidden on the side, and you can confidently wear whatever you want or go shirtless at the swimming pool and beach to your heart's content.
The rest of the procedure is equally gratifying, with Dr Gupta using the latest MicroAire and VASER liposuction technology. The VASER device uses an ultrasound-assisted cannula that emits heat, shrinking your skin in the process. This further negates the need for any incision on the front of your chest to remove excess skin.
As a board-certified plastic surgeon in Delhi, Dr Rajat Gupta has access to the latest technology and techniques, delivering high-quality, natural-looking results. Ensuring precision with minimally invasive procedures, Dr Gupta minimises downtime with safe, successful recoveries and massive confidence boosts in every patient!

Dr. Rajat Gupta
MBBS, MS, DNB(Gen. Surg.),
DNB (Plastic Surgery)
Dr. Rajat Gupta is a board certified plastic surgeon in India with 12 years of experience to back his expertise in the domain of aesthetic surgeries.
Having completed his training from Maulana Azad Medical College and equipped with a thorough understanding of aesthetic needs of people, Dr. Gupta strives to offer the best remedies and cosmetic procedures outfitted with the latest technology to the aspirants in India and across the globe. To book an appointment, call: +91-9251711711 or email: contact@drrajatgupta.com