Can You Treat Gynecomastia With Liposuction Only?
Dr Rajat Gupta
Gynecomastia or male breasts is a hormonal condition affecting men in their adolescence. It involves a hormonal imbalance during which the breast gland and tissue develop. This development causes an enlarged chest, which can become a huge source of insecurity for many men. Luckily, through surgery, you can treat gynecomastia with liposuction only.
The sophisticated MicroAire and VASER liposuction technology available at advanced centres like RG Aesthetics allow for much better and safer results.
These minimally invasive techniques allow board-certified plastic surgeons like Dr Rajat Gupta to perform the liposuction procedure with minimal scarring and excellent results.
How to Treat Gynecomastia with Liposuction Only
Since gynecomastia involves gland and tissue development, you can only counter it surgically. Experts today use high-quality power-assisted and ultrasound-assisted liposuction technology (PAL and UAL, respectively) for the best results.
Beginning with a 3-4mm incision on the side of the chest, your surgeon enters the breast gland with MicroAire – a PAL device with a power-assisted cannula. This cannula moves back and forth rapidly, breaking up the excess gland and tissue, allowing it to be suctioned out.
This procedure is followed with VASER – the UAL device with an ultrasound-assisted cannula. Dr Gupta can target the areas where excess gland and tissue were removed and heat the skin from underneath with this cannula. The heat makes the skin shrink over the new pectoral contours, creating natural-looking, gorgeous results after your gynecomastia surgery.
PAL and UAL allow for an unprecedented level of precision and safety. Thus, recovery is also a breeze. However, they are most effective in treating gynecomastia during the first three stages of severity.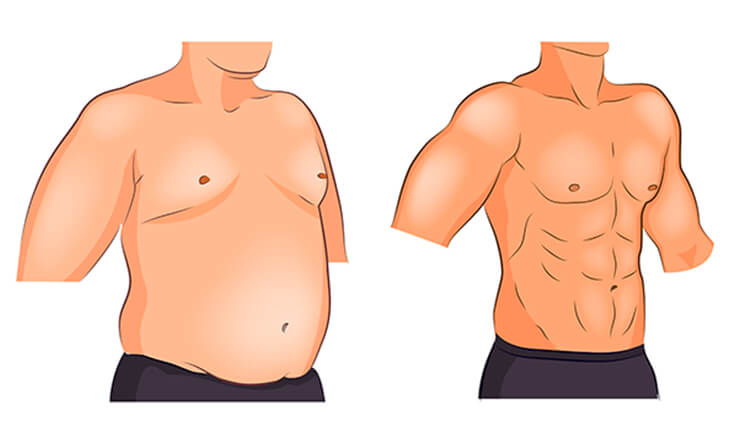 Have questions or want to get started? We are ready to help you with a smile!
Can you treat severe gynecomastia with liposuction only?
For more severe cases where there is excess skin, skin excision may also be necessary. For many severe cases, Dr Gupta also uses advanced radiofrequency tightening technology. This device produces more heat than VASER with much more control, allowing the skin to shrink further.
However, if the male breast development is so severe that it nearly resembles female breasts, excision is necessary.
Dr Gupta tries to avoid making a scar on the front of the chest as far as possible. As a leading plastic surgeon in Delhi, he understands that replacing breasts with a scar would equally hinder his patients, preventing them from going shirtless. Thus, he uses the latest technology and techniques to minimise scarring and trauma, optimising recovery, and enabling excellent, aesthetic results.

Dr. Rajat Gupta
MBBS, MS, DNB(Gen. Surg.),
DNB (Plastic Surgery)
Dr. Rajat Gupta is a board certified plastic surgeon in India with 12 years of experience to back his expertise in the domain of aesthetic surgeries.
Having completed his training from Maulana Azad Medical College and equipped with a thorough understanding of aesthetic needs of people, Dr. Gupta strives to offer the best remedies and cosmetic procedures outfitted with the latest technology to the aspirants in India and across the globe. To book an appointment, call: +91-9251711711 or email: contact@drrajatgupta.com