Understanding Gynecomastia in Your 30's
Dr Rajat Gupta
Many teenage boys experience hormonal imbalances during puberty. While these are completely normal and harmless, they may cause some bodily changes. One such change is the development of breast tissue – a condition known as gynecomastia or male breasts. In India, up to 60% of men are affected by some level of male breasts.
Male breasts are caused by hormonal changes leading to breast tissue development. The goal of male breast reduction is to remove this excess tissue and breast gland.
Can you get gynecomastia in 30's?
The short answer? Yes.
It is possible to develop breast enlargement at 30, but it typically is a symptom of an underlying problem. Male breasts usually develop in adolescents or men over 60. While hormone imbalances can happen between those ages, male breasts may also result from thyroid problems or pituitary gland cancer.
Additionally, alcohol and recreational drug consumption can increase the likelihood of developing male breasts.
Hormonal imbalances are commonplace in adolescence, and the chest usually flattens out by 20. Therefore, if you develop male breasts in adulthood, you should visit your healthcare specialist and find out why it is happening.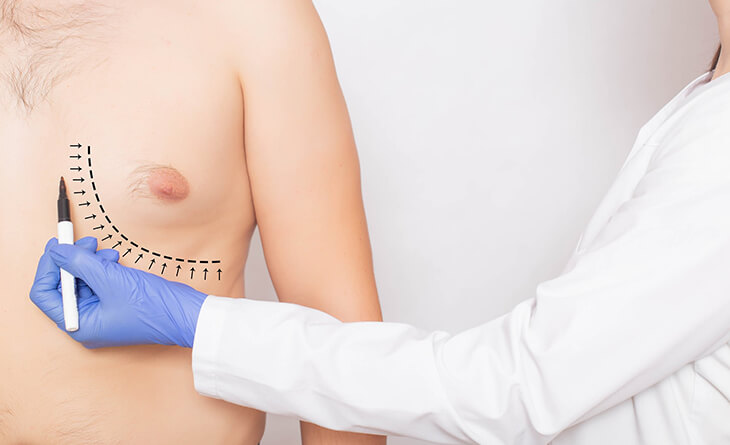 Have questions or want to get started? We are ready to help you with a smile!
Why treat gynecomastia in 30's?
Breasts are associated with femininity and are not supposed to be part of the male experience. Hence, when men have male breasts, they get very self-conscious. They feel the need to hide their bodies under oversized clothing and cannot enjoy vacations at the beach or swimming pool. This is often coupled with other areas of weight gain around the age of 30.
Like all other cosmetic surgery, male breast reduction is less about the physical body and more about mental and emotional peace. Gynecomastia in the 30's affects men's psyche and emotional well-being by hitting their self-esteem. They do not feel proud of themselves or their bodies when they look in the mirror.
They may exercise for months and never see results since male breast reduction can only happen surgically. Therefore, they turn to cosmetic surgery for solace. Board-certified, qualified and experienced surgeon Dr Rajat Gupta helps such aspirants achieve their ideal body with entirely natural-looking results.
Male breast reduction, therefore, highlights the immeasurable and positive impact cosmetic surgery can have. With access to state-of-the-art technology like MicroAire and VASER, Dr Gupta imparts excellent, scar-free results with minimal invasion and a swift recovery period.

Dr. Rajat Gupta
MBBS, MS, DNB(Gen. Surg.),
DNB (Plastic Surgery)
Dr. Rajat Gupta is a board certified plastic surgeon in India with 12 years of experience to back his expertise in the domain of aesthetic surgeries.
Having completed his training from Maulana Azad Medical College and equipped with a thorough understanding of aesthetic needs of people, Dr. Gupta strives to offer the best remedies and cosmetic procedures outfitted with the latest technology to the aspirants in India and across the globe. To book an appointment, call: +91-9251711711 or email: contact@drrajatgupta.com