Gynecomastia surgery bruising
Dr Rajat Gupta
Gynecomastia or development of breasts in men is a very common problem, affecting many men not just in India, but worldwide. It happens due to hormonal imbalance during the teen years, which leads to visible development of breast tissue (the extent of development depends upon the grade of gynecomastia). This may potentially lead to self-esteem issues with men suffering from gynecomastia avoiding social gatherings, feeling conscious of what they wear, and perhaps avoiding visiting beaches and pools altogether.
Only surgery can help to correct gynecomastia, since it involves the removal of breast tissue and gland from the body. This must be performed by a board-certified plastic surgeon to minimize any potential complications and surgery risks like bleeding, hematoma, anaesthesia risk, seroma and more.
While men often find it difficult to seek medical health in cases of gynecomastia, at times due to lack of knowledge, and at times out of sheer embarrassment, once they understand the condition and its treatment, they may have concerns regarding gynecomastia surgery bruising.
There are potentially two aspects to this which must be understood –
Short Term or Temporary Gynecomastia Surgery Bruising
Like any other surgery, gynecomastia involves some trauma to the body, no matter how minimal it is. Some bruising and/or swelling is normal for the first few days after the surgery. This is temporary, and normally subsides on its own. In some cases, the surgeon may prescribe anti-inflammatory drugs for the discomfort and swelling and bruising, but typically, the bruising and swelling disappears altogether after a month.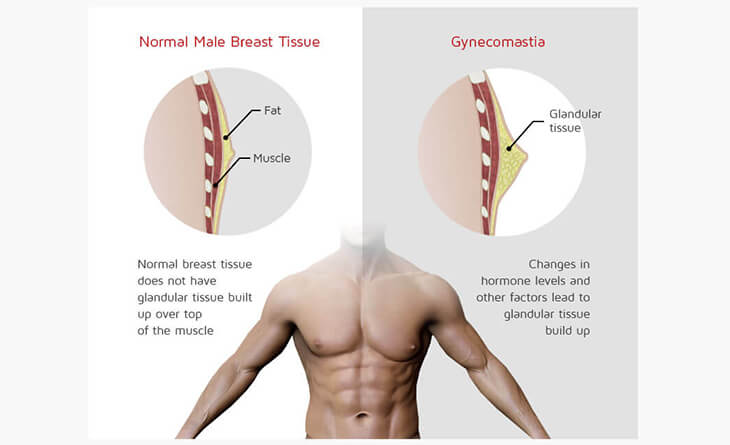 Have questions or want to get started? We are ready to help you with a smile!
Long Term Gynecomastia Surgery Bruising or Scarring
Potentially permanent bruising or scarring is a major concern among men when opting for gynecomastia surgery. A plastic surgeon's skill and the techniques that they use to perform the surgery are instrumental to ensuring that there is no visible scarring as a consequence of gynecomastia surgery. Dr Rajat Gupta is a board-certified plastic surgeon with many years of experience behind him. He has incorporated international exposure as part of his training and experience and is responsible for many surgical innovations to make sure that patients do not have to worry about long-term bruising.
Placement of the incision – a surgeon has to mark and make incisions from which the excess fat and the breast gland is removed. The placement of these incisions determines the nature of scarring. Dr Rajat Gupta prefers to make these incisions along the lateral chest wall to ensure that there is no frontal scarring. In cases where that is not an option, he tries to make these incisions near the areola, where the skin is darker, therefore the scarring and bruising is less visible.

Use of PURE technology – Dr Gupta's own patented procedure, PURE combines MicroAire and Vaser to minimally invasive and painless procedures, while minimising pain for the patient. Once the gland is removed, radio frequency enhanced contouring is used to close the wound while contouring the area for a more chiselled and toned look. This also ensures that there is negligible bruising as these procedures lead to minimum physical trauma on the body.
Dr Rajat Gupta understands a patient's need to understand a procedure and its outcomes. Visit him to get your queries addressed before taking any decision.

Dr. Rajat Gupta
MBBS, MS, DNB(Gen. Surg.),
DNB (Plastic Surgery)
Dr. Rajat Gupta is a board certified plastic surgeon in India with 12 years of experience to back his expertise in the domain of aesthetic surgeries.
Having completed his training from Maulana Azad Medical College and equipped with a thorough understanding of aesthetic needs of people, Dr. Gupta strives to offer the best remedies and cosmetic procedures outfitted with the latest technology to the aspirants in India and across the globe. To book an appointment, call: +91-9251711711 or email: contact@drrajatgupta.com