The Procedure of Chin Augmentation
Dr Rajat Gupta
Everybody desires that perfect facial structure, which enhances their look. A perfect nose, contoured jaw line, a beautiful chin are some of the beauty notions that one looks for. Although real beauty is what you truly have, there are ways to uplift those features.
The procedure of augmentation is what makes this possible! If you have decided or are planning to get chin augmentation in Delhi, there are certain points that you need to know. When you settle on your decision to get a chin augmentation done, you approach a permanent solution.
This procedure is more effective and amazing and reveals results that you will fall in love with. How? Let's find out!
What is chin augmentation?
Not many people realize that chin augmentation in Delhi is more than just surgery. It's a complete procedure. Chin augmentation, also known as genioplasty, is a surgical procedure that enhances the recessed chin. At RG Aesthetics, we use implants and injections to achieve this perfection.
This procedure enhances your chin, making the face look much fuller and the jawline more symmetrical. Depending on your needs and requirements, our team of board-certified plastic & cosmetic surgeons decide whether implants are a perfect option or fillers. In this way, you can get a nice, robust, and perfect chin matching the aesthetics of your facial features.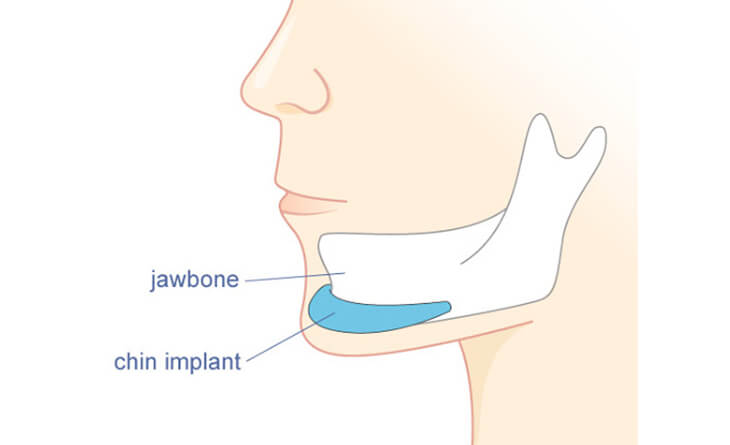 Have questions or want to get started? We are ready to help you with a smile!
Why choose chin augmentation?
There are non-surgical techniques to enhance the recessed chin, however, the long lasting impact that the surgery has is unmatched with any other procedure. At RG Aesthetics, we believe in a permanent solution that leaves lasting impacts and that is the reason why you can trust our board-certified cosmetic surgeons for chin augmentation in Delhi.
The ideal candidates for chin augmentation procedure would be the ones:
Who have a proportionate chin size and structure as per face proportions
Who have a recessed chin.
Who want a better contoured jawline that looks impressive and compliment worthy.
A chin augmentation procedure corrects the most common problem of the one-third bottom of the face of not being symmetrical to the top two-thirds of the face.
You can totally depend on RG Aesthetics practices as we follow the best procedural guidelines and have a team of experts. Moreover, our chin augmentation in Delhi is trusted by real-life clients who have found content and satisfaction in their treatment. Chin augmentation gives you the perfect results that you desire to meet your aesthetics goals.
Who can have this procedure?
If you are not happy with your chin and feel that it needs some perfection, then chin augmentation is apt for you. This treatment is open for everyone, male and female, who feel they need chin lifting or perfecting. Chin augmentation in Delhi is a safe procedure.
Always make sure that you get chin augmentation done from a well-reputed, board-certified plastic surgeon. As our in-house board-certified expert Dr. Rajat Gupta states, the surgeon and the center the surgeon operates defines the quality of the final result. Thus, at RG Aesthetics, we follow all the ethical practices binding by the rules and international standards of care.
Many people who are not aware of the procedure, their requirements, ethics, and standard practices make the mistake of either trusting a bad aesthetic center or go for a temporary solution. The danger here is that complications could persist after the treatment or during recovery.
At RG Aesthetics, we make sure to stay with our patients right from the beginning of helping them clear the doubts, if any, preparing them with pre-surgery requirements, explaining the procedure, getting physical examination done, and even support them post the surgery with any queries they have. During the surgery, we use certified and tested implants and fillers, which are completely safe for the body.
Even after the surgery, we advise our patients about the pros and cons and take care of them. We provide them with the correct list of dos and don'ts. In any rarest of rarest case of any infections or after surgery inflations, we prescribe the right set of antibiotics as well.
How should you prepare for a chin augmentation procedure?
Whenever you decide to go through the procedure, there are certain guidelines that you need to follow. You can discuss the chin augmentation process in detail with your surgeon if in doubt. After doing so, there are a series of steps that you will have to go through.
There will be a pre-surgery preparation for the lift, which includes:
Reviewing your medical background and history.
Undergoing physical examination.
Discussing your expectations.
Discussing your expectations with the genioplasty procedure and what results you are expecting.
Stopping unhealthy practices like drinking, smoking at least two weeks before surgery.
Preparing your body for the surgery completely.
These steps are important to follow as they prepare you mentally and physically for the treatment. Your body should be in perfect condition and healthy before performing surgery for post-surgery relaxation.
We guide each step to our patients to ensure that they are completely ready for the treatment and satisfied during and after the treatment.
How is the procedure of chin augmentation accomplished?
Chin augmentation in Delhi at RG Aesthetics uses an artificial implant method along with fillers if needed. In this method, we place artificial implants under the skin that boosts the chin's definition. This technique of augmentation provides a well-proportioned look to patients' face that looks completely natural.
The incision
This procedure takes 45 minutes to an hour, depending on the surgeon's and patients' preferences. The incision is placed inside of the mouth, making scars look invisible. At RG Aesthetics, we use silicone implants for chin augmentation in Delhi. It defines and lifts the chin complimenting the complete structure of the face.
Implants vs. Fillers
There is a taboo or concern associated when it comes to introducing foreign materials in your body like silicone implants. Implants are tried and tested substances that are introduced in a patient's body only after medical permissions. They are genuine and completely safe.
There are two basic kinds of implants; anatomical implants and U-shaped implants.
Anatomical implant is large in size and have a crescent shape. It provides a much broader chin and fit the jawline completely.
U-shaped implant on the other hand is a conical and give you a sharper and more pointed chin.
Both of these implant types are customized once and curated to fit well into the jawline, making the after surgery look natural yet beautiful.
If the surgeon chooses hyaluronic acid fillers for your jawline, these fillers are administered through injections into specific locations to achieve the desired results. At RG Aesthetics, we at times advice fillers even after the implants to make the chin look proportionate and natural and to match the other facial features.
The basic difference between implants and fillers is that implants have a permanent and lasting result. In contrast, fillers are temporary and have results that last for only for a few months to a year or so.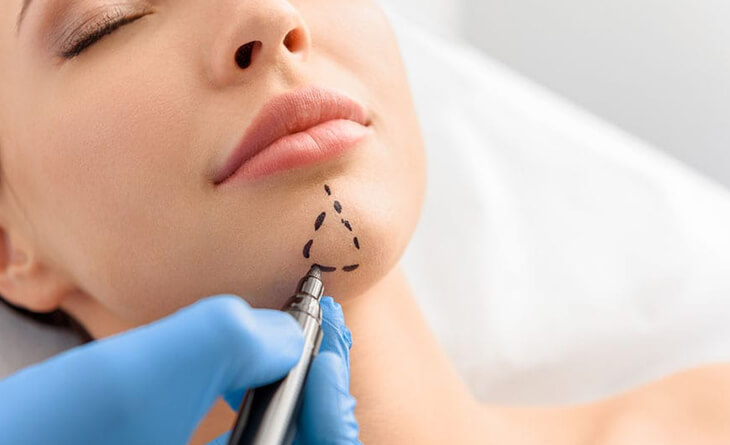 Care standards at RG Aesthetics
At RG Aesthetics, we pledge to provide the best of augmentation practices to our patients. For this, we maintain strict international standards of care
Depending upon your current face structure, features, condition, and formation our team of board-certified cosmetic surgeons suggests the required changes that come from years of experiences and practice ethics.
At RG Aesthetics, we pay holistic attention to every detail of your face. Beginning from the projections to contours and the lifted structures, we suggest the best treatment and change that would meet your aesthetic goals.It is achieved through a direct physical examination using imaging computers and x-rays of the face. We put in a lot of effort to finally provide you with the best, perfect fitting chin augmentation in Delhi.
Recovery procedures after chin augmentation
We stand with our patients, even after surgery, for post-treatment care. For this, we have made important post-treatment exercises and habits that the patients must follow.
In case of visible bruising or swelling, do not scratch the chin. It is normal.
Chin implants are safe; hence there is no side effects of it.
In the case of infections, antibiotics are given for cure and control.
You might feel slight numbness over the lip and chin area, so no need to fear.
Avoid consuming solid food, which requires rigorous chewing after a chin augmentation treatment.
Consume any solid edibles only after 72 hours of surgery.
Stay on a liquid and semi-solid diet.
Avoid smoking and give your chin some rest.
Do not perform any rigorous activities on your chin like pressing, scratching.
Conclusion
The dream of achieving a perfectly defined and fuller chin is no more a dream now! With RG Aesthetics you can get the chin upliftment of your dreams. With the team of expert surgeons, RG Aesthetics provides the best chin augmentation surgery in Delhi for perfectly sized and natural looking chin. Consult RG Aesthetics today to witness the change yourself.

Dr. Rajat Gupta
MBBS, MS, DNB(Gen. Surg.),
DNB (Plastic Surgery)
Dr. Rajat Gupta is a board certified plastic surgeon in India with 10 years of experience to back his expertise in the domain of aesthetic surgeries.
Having completed his training from Maulana Azad Medical College and equipped with a thorough understanding of aesthetic needs of people, Dr. Gupta strives to offer the best remedies and cosmetic procedures outfitted with the latest technology to the aspirants in India and across the globe. To book an appointment, call: +91-9251711711 or email: contact@drrajatgupta.com