Chin augmentation surgery at RG Aesthetics uses silicone implants placed under the skin, boosting the definition of the chin. This augmentation gives a well-proportioned look to the patient's face that seems entirely natural.
The Incision
The procedure usually takes 45 minutes to an hour and a half, depending on the surgeon's and the patient's preference. The incision is placed inside of the mouth, making the scars completely invisible. This contributes to the naturalness of the results.
Have questions or want to get started? We are ready to help you with a smile!
Implants vs. Fillers
There is often a concern with introducing foreign materials like silicone into your body even via implants. That said, implants have been tried and tested. Therefore, they genuinely guarantee results.
There are two types of implants: anatomical Implants and U-shaped implants. Anatomical implants are large and crescent-shaped. They give you a much broader chin and fit in the complete jaw. Meanwhile, U-shaped implants are conical, giving you a sharper, more pointed chin. Both implants are customized to fit your jaw, depending on your needs.
You may also choose hyaluronic acid fillers in your jaw. Fillers are administered by injecting hyaluronic acid into specific locations. But these results only last for 10-15 months.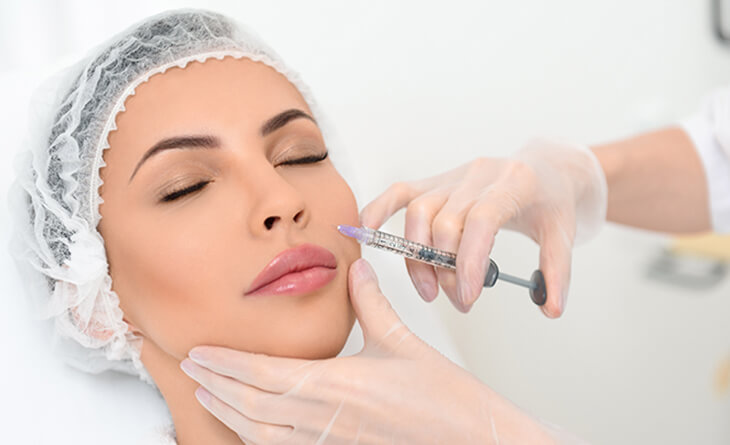 International Standards of Care
There are many objectives and quantitative standards applied to facial analysis when planning an operation to change facial features. Depending upon your face's formation and condition, Dr. Rajat Gupta would suggest the required mathematical analysis of the projections and contours of the face. This is done by direct physical examination, using an imaging computer, and occasionally x-rays of the face.
This way, you get a perfect face with a proportionate chin!

Dr. Rajat Gupta
MBBS, MS, DNB(Gen. Surg.),
DNB (Plastic Surgery)
Dr. Rajat Gupta is a board certified plastic surgeon in India with 10 years of experience to back his expertise in the domain of aesthetic surgeries.
Having completed his training from Maulana Azad Medical College and equipped with a thorough understanding of aesthetic needs of people, Dr. Gupta strives to offer the best remedies and cosmetic procedures outfitted with the latest technology to the aspirants in India and across the globe. To book an appointment, call: +91-9251711711 or email: contact@drrajatgupta.com