Complete Guide to Chin Augmentation
Dr Rajat Gupta
Retruded chin?
Want a defined jawline?
Read this guide to help you better understand the chin augmentation procedure if you are searching for information on how it can benefit you.
As a general rule, plastic surgeons agree that the bottom one-third of the face should be symmetrical to the top two-thirds for an aesthetic appearance. In other words, the distance from your hairline to the root of your nose (first third) should be equal to the root of the nose to the upper lip (second third), which is equivalent to the distance from your base of the nose to the chin (lower third). Some people, however, are not born with flawless faces. It is possible for small undesirable facial features to significantly impact how an individual is socially perceived.
Often, people have a retruded or short chin, which creates an unattractive facial appearance. Patients with retruded chins have their jawbone behind their lower lips, making the appearance of a false double chin or a disproportionate face. As per the patient's requirements, chin augmentation in Delhi enhances the chin and gives the patient a more youthful-looking face. Both males and females can benefit from the surgery if they are over 18 and live a healthy lifestyle.
Chin augmentation procedure, medically known as genioplasty, enhances the chin using implants, fat grafting, or other techniques relevant to the patient's profile. You should remember that the cosmetic surgery mentioned above will not completely alter your appearance. The chin augmentation process improves and defines the jaw by working on the natural structural anatomy of the face.
What is the Ideal Chin Shape?
A person's chin proportions might vary according to factors such as:
Age
Gender
Heredity
Hormones
Physiological Development
Luckily, you won't have to live with your current chin for the rest of your life. There are methods for enhancing or changing the appearance of your bottom half of the face. Advances in plastic surgery have made surgeons capable of giving the most aesthetic results of a chin augmentation procedure. To begin with, let's define an ideal chin.
Ideal facial proportions have always been susceptible to individual interpretation. Chins are no exception. The perfect chin is well-balanced and harmonises with the rest of the face, and it should not be too little, too broad, or too far back. From a profile perspective, the ideal chin should line up with the facial plane. A chin that does not do so is deemed inadequate and requires cosmetic surgery intervention.
A weak chin might interfere with the symmetry of the face. In such cases, the characteristics appear to be dominating and massive. Some people who complain about having square or broad features really have an aesthetic deformity in the chin. Chin augmentation in Delhi using implants might help you get a more pronounced jawline.
When it comes to the procedure, chin augmentation surgery corrects the most common problem of the bottom one-third of the face being out of proportion to the top two-thirds. Few individuals understand that chin augmentation is more than simply surgery. It is a comprehensive procedure beginning from the preoperative phase to the recovery period, which is why it is known as the best plastic surgery in India.
A patient can benefit from a chin augmentation procedure in the following ways:
Improve the appearance of a recessed chin.
Proportionate look to the face.
Make one look more youthful and attractive.
Give long-lasting results.
It can be done using the fat grafting approach as well.
The board-certified plastic surgeons attain this perfection at RG Aesthetics with implants and injections. Patients who have had their chin augmentation in Delhi performed at RG Aesthetics have provided positive feedback and their utmost satisfaction with the aesthetic results. The augmentation surgery gives you the best results for achieving your facial cosmetic goals in a safe way.
Have questions or want to get started? We are ready to help you with a smile!
Choosing A Facial Cosmetic Surgeon
When it comes to the chin augmentation procedure, selecting the right surgeon is key to a successful surgery. As the procedure is performed on the face, only a qualified plastic surgeon with experience can provide superior aesthetic results without any permanent scarring.
One way of verifying the quality standards of the cosmetic surgeon is by checking if they are board certified or not. Plastic surgeons are granted board certification after they have completed 1-2 years of intense training in the field of plastic and reconstructive surgery. The certificate is not given to surgeons who just meet minimum standards. A board-certified plastic surgeon is uniquely qualified to make the best surgical decision for you since they have extensive knowledge and received training in the field.
Make sure to check their social media profiles and websites when looking for your ideal surgeon. Your plastic surgeon's website and social media pages will provide biographical information about their schooling and qualification and the treatments they specialise in. This can help you assess whether the plastic surgeon is a suitable fit for the procedure you want. Before booking a consultation, go through a surgeon's work photo galleries. This way, you get a sense of how much experience they have with the chin augmentation procedure. It will also help you determine their "style" and previous patients' results.
Choosing a plastic surgeon with at least 6 years of experience will ensure they have the skill and expertise to perform the procedure. If you want chin enhancement surgery to be safe and painless, it is recommended that you select a more experienced plastic surgeon with more than 10 years of experience.
For the final decision, it is recommended that you schedule a one-on-one consultation with the surgeon. The major purpose of the consultation for chin augmentation in Delhi is to assist patients in determining whether cosmetic surgery is the best option for them. It also attempts to assist patients in evaluating various plastic surgeons in order to discover the perfect match for them. Patients considering chin augmentation surgery should speak with at least three different cosmetic surgeons, arranging one consultation with each, so they may confidently pick a practitioner they can trust.
During the consultation with Dr Rajat Gupta, you will meet the surgeon, discuss your concerns and desired outcomes, and understand what they can do for you. The surgeon will thoroughly examine the face and understand the essential anatomy. After discussing your individual requirements for the surgery, Dr Gupta will select an appropriate genioplasty approach based on the patient's medical profile.
In order to create a more symmetrical and youthful appearance, plastic surgery increases the projection of the chin and its aesthetic features. To get the best outcomes from a chin augmentation procedure, the cosmetic surgeon must have a thorough grasp of anatomy and be familiar with different surgical techniques. Genioplasty is about creativity as technical expertise, so you must find someone who can accomplish your desired appearance.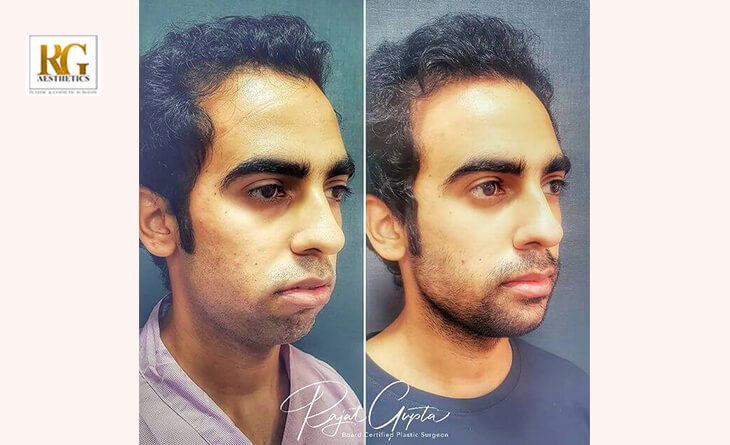 How Is Chin Implant Surgery Performed?
Best chin augmentation in Delhi is performed at RG Aesthetics using artificial implant technology and fillers if necessary. In this treatment, the surgeon carefully places the artificial implants beneath the skin to improve the definition of the chin. The silicone implants define and raise the chin, enhancing the overall structure of the face. However, alternative methods using fat grafting and jaw fillers do exist.
Performing the surgery by a board-certified plastic surgeon reduces the risk of permanent scarring and increases surgical safety. Depending on the surgeon's and patient's preferences, the chin augmentation procedure takes 45 minutes to an hour. Scarring is hidden when the incision is made inside the mouth or using an intraoral approach. This augmentation treatment gives patients' faces a well-proportioned, natural-looking appearance.
​​Once the patient is determined to be a candidate for alloplastic implant and the kind and size of the implant are determined, the course of surgery is decided upon. The deteriorating chin is augmented and repositioned to be more proportionate. The surgeon will use tiny plates to secure the chin in its new position. A piezotome, a sophisticated tool for precise bone cutting, reduces the danger of nerve and soft facial tissue injury during surgery. The incision is properly cleansed and closed with a few absorbable sutures to minimise the risk of postoperative infections.
In chin augmentation surgery, implants are widely used. A silicone implant is placed on top of the deteriorating chin bone, customised to the contour of the patient's natural chin. Your surgeon will help you choose which implants are most suited to your requirements. Expert and competent genioplasty surgeons in Delhi use 3D simulation software to help you select the appropriate implant size and forecast the outcome after surgery. However, chin implants need to integrate as a foreign body into your face structure, which may or may not be an issue for certain individuals. A surgeon can potentially reduce the risk of implant rejection by taking appropriate measures during the chin augmentation procedure.
The fat grafting technique involves harvesting fatty tissues from the patient's own body. This technique has grown in popularity for chin augmentation procedure and repair surgery, as the body is unlikely to reject the native fat fillers. In addition to correcting lateral chin hollowing, it is also used to adjust minor asymmetry of the face. Although this is a less invasive and less difficult surgical treatment, it is not the ideal option for persons seeking long-term stability and considerable improvement. More likely, a corrective procedure is needed due to fluctuating amounts of transplanted fat loss.
The main difference between implants and fillers is that implants provide permanent and long-term results. In contrast, fillers are only temporary, with results lasting only a few months to a year. Often dermal fillers such as hyaluronic acid are used along with the implant to enhance the contour of your chin. Combining the two approaches creates a natural-looking chin and complements other facial features.
The goal of the chin augmentation in Delhi is not to look overdone, and Dr Rajat Gupta can achieve a natural improvement in the condition of the chin without being excessively protrusive. With over 12 years in chin enhancement surgery, he is considered as one of the leading plastic surgeons in India.
What Does A Chin Implant Look Like?
Chin implants are small, solid flexible items made of a biocompatible substance, generally silicone, that has been individually sculpted to fit over the chin bone of a patient. The implants feel remarkably similar to a natural chin bone when put, and the chin augmentation procedure is typically undetectable when performed by a trained cosmetic surgeon.
The implants used in chin augmentation in Delhi are made of malleable material that comes in various sizes and shapes to suit the face anatomy of the patient and the cosmetic surgeon's goal. Anatomical implants and U-shaped implants are the two main types of chin implants. In addition to extending the jawline, chin augmentation can improve the facelift results by creating a strong foundation for repositioning the facial soft tissues.
Anatomical implants are crescent-shaped and big. They offer you a considerably wider chin and suit the whole jaw. U-shaped implants, on the other hand, are conical, giving you a sharper, more pointed chin. Depending on your demands, both implants are tailored to match your jaw. In your jaw, you can also use hyaluronic acid fillers. However, as mentioned earlier, these effects only endure for 10-15 months approximately. The cost of chin implants is determined by the kind and grade you select.
Cosmetic facial surgeries such as chin augmentation procedure is an art form that involves natural skill as well as anatomical understanding. Board-certified Dr Rajat Gupta possesses the aesthetic vision and surgical expertise required to offer his patients pleasing outcomes. As a result of prioritising patient care and discussing surgical expectations with his patients, he uses his sense of beauty and innovative surgical techniques to produce each patient's perfect outcome.
You can schedule a consultation today with gold medallist Dr Rajat Gupta if you have more questions.

Dr. Rajat Gupta
MBBS, MS, DNB(Gen. Surg.),
DNB (Plastic Surgery)
Dr. Rajat Gupta is a board certified plastic surgeon in India with 13 years of experience to back his expertise in the domain of aesthetic surgeries.
Having completed his training from Maulana Azad Medical College and equipped with a thorough understanding of aesthetic needs of people, Dr. Gupta strives to offer the best remedies and cosmetic procedures outfitted with the latest technology to the aspirants in India and across the globe. To book an appointment, call: +91-9251711711 or email: contact@drrajatgupta.com