Complete Guide to Chin Augmentation
Dr Rajat Gupta
Although beauty is indeed in the eyes of the beholder, certain aspects make a face more appealing than others. Some beautiful features include a proportionate nose, a thin chin, a smooth jawline, and so on. Since these characteristics vary based on gender, age, and other factors, face symmetry and proportion are universal. The total look may suffer if one feature is misplaced or out of balance.
Many people are concerned about having a weak chin, which makes their faces seem uneven. Assistance is merely a surgeon's visit away because of modern science.
Keep reading to learn about the chin augmentation procedure.
Chin augmentation is indeed a very versatile and adaptable treatment. Your surgeon can place various size implants in different segments of your chin and jawline to fill up your lower face. Depending on your face contour and cosmetic surgery demands, they can even relocate your lower jawbone forward in chin augmentation.
Different Options to Enhance The Chin And Jawline
Chin augmentation is a cosmetic surgery used to relocate or reshape the chin to improve facial harmony and give the whole face a more symmetrical and attractive appearance. If you are struggling to achieve the perfect jawline, have sagging and loose skin, or are trying to conceal your jawline, worry not! Modern plastic surgery provides nonsurgical and surgical options to enhance your chin and jawline.
Surgical Options
A surgical chin augmentation procedure is available for people having mild to severe amounts of fat and loose skin around the neck and jawline. The major procedures are neck liposuction, neck lifts or facelifts and chin augmentation.
Neck liposuction: Neck liposuction is performed to remove a double chin. Extra fat under the chin and jaw obscures the natural structure and contours of the jawbone. Cutting this excess fat might expose the concealed shapes. Patients near their desired weight and have elastic skin are the greatest candidates for liposuction.
Chin augmentation: People with weak jawlines might benefit from chin augmentation in Delhi. Chin implants are inserted into the mouth with a tiny incision, leaving no visible scars. These custom-made implants are composed of bio-compatible silicon and are tailored to each person's jawbone to guarantee a secure fit. The implant feels like real bone and produces a natural-looking jaw structure when the implant is in place.
Facelifts or neck lifts: A facelift or neck lift strengthens the sensitive tissues of the lower face and neck. In patients with substantial ageing, these surgical techniques produce the finest outcomes for establishing a well-defined jawline and chin. For a precociously renewed look, a face or neck lift will treat saggy skin, loosened muscle, and excess fat. The amount of fat removed determines the chin implant cost in Delhi.
Non-surgical options
Non-surgical options are recommended for those patients who require mild to moderate correction to improve the chin and jawline. Dermal filler, injectable treatments and Kybella are the major non-surgical options for a perfect jawline.
Dermal filler: Dermal fillers used along the jawline can help clarify the chin and jawline shape. This option is perfect for people who are nearly at their desired appearance but want to add a little definition.
Injectable treatment: Injectable treatments are intended to recover lost volume in the cheeks, reshape face features, and enhance the jawline. This non-surgical chin and jawline enhancement method produce long-term benefits.
Kybella: Extra fat behind the chin might appear nearly hard to eliminate, influencing the chin implant cost in Delhi. Kybella is an injectable modulation that permanently eliminates persistent fat cells beneath the chin. This procedure can modify the jawline contour without requiring surgery and enhance facial characteristics.
Surgical threads to tighten saggy skin: Surgical threads might be inserted around your jawline to strengthen your moderately saggy skin. You will most likely require 4-8 threads, based on the size of your jaw and the amount of loose skin you have. Surgical threads have a lifespan of 6-12 months.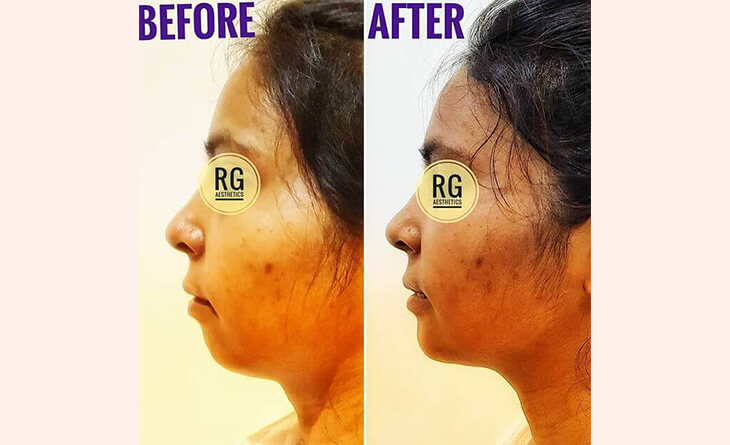 Have questions or want to get started? We are ready to help you with a smile!
Am I the Right Candidate for Chin Augmentation Surgery?
The chin augmentation procedure allows you to get the optimal chin form and projection, enhancing your entire look. If you want chin augmentation, Dr Rajat Gupta is the right individual for the job. If you have a somewhat weak chin and normal jaw function, chin augmentation with implants may be the procedure for you.
Chin augmentation with implants may be your choice if you have a weak chin and normal jaw function. Either you've employed temporary soft tissue supplements to get a stronger face or are looking for a long-term solution. As with any implant operation, you should be in good condition and have fully functional defensive mechanisms.
The following are the ideal patients for chin augmentation in Delhi surgery:
Rhinoplasty: Patients who have a rhinoplasty procedure to limit the size of their nose can enhance their facial contours by having a chin implant simultaneously. When combined with nasal reduction surgery, chin augmentation can have a significant effect and may lower the harshness of the nasal surgery.
Jawbone: Healthy patients with flawless skin and a strong bone structure are definitely better candidates for the procedure than those without because the jawbone offers a stable platform for the implant.
Shaped implant: Patients who want a firmer chin and a more squared or dimpled chin are suitable candidates for chin implants in order to achieve these aims.
Other signs of suitable candidates for chin augmentation procedure include possessing the following features:
Receding chin
Elongated chin
Congenital chin deformity
Sagging skin on the neck
Misaligned jaw
A consultation with a plastic surgeon will inform you about your candidacy for chin implant surgery and chin implant cost in Delhi.
Risks of chin implant surgery
The choice to undergo chin augmentation surgery is incredibly personal. You must consider whether the advantages will meet your objectives and if chin augmentation surgery's drawbacks and potential problems are tolerable.
Just like any other cosmetic procedure, chin augmentation has some risks and complications. However, Dr Rajat Gupta, a board-certified surgeon for chin augmentation in Delhi, takes extraordinary measures to plan for and avoid these potential issues, assuring his patients have an exceptionally safe and low-risk treatment.
The following are the risks associated with chin implant surgery:
Malposition of Implant
Implant displacement is a major adverse effect of the chin augmentation procedure. It happens when the surgeon's "pocket" for holding the implant in position is either too wide or too little, leading the implant to sit irregularly and seem outwardly crooked. Your surgeon must modify the operation, build a new pocket, and re-insert your implant to address this problem.
Infection
There is always the risk of infection while having plastic surgery. Several factors, including intraoral insertion, enhance your chance of infection during chin implant surgery, which is why Dr Rajat Gupta prefers an external method for chin augmentation in Delhi. Furthermore, he will put you on medicines before, throughout, and after the surgery to prevent infection.
Nerve Injury
The mental nerve provides sensations to the chin, lower lip, and specific teeth. It can be injured, punctured, stretched, or even cut during a chin augmentation, resulting in altered sensation in the region. To avoid this issue, your surgeon must carefully put the implant while protecting the nerve.
Extrusion
Extrusion occurs when your implant moves post-surgery. It can be prevented by appropriately placing and anchoring the implant at the lower edge of the jawline. Extrusion can be a persistent problem that necessitates a correction operation.
Muscle dysfunction
Muscle dysfunction, seen as a depression in the region, is a significant consequence of the chin augmentation procedure. It happens as a result of muscle damage during chin implant insertion. Luckily, most individuals can avoid irreversible harm by removing the implant early and having a revision treatment performed.
Bone resorption
Resorption happens when the bone behind your implant falls away, eventually resulting in asymmetry. It usually occurs when the surgeon inserts the implant too far on the chin bone or fails to anchor it properly. Dr Rajat Gupta will ensure that the implant is correctly implanted and positioned at the bottom border of the chin bone to avoid resorption.
Unwanted or retracted scar
If your chin augmentation procedure is done correctly, your scar should be hardly unnoticeable. If your surgeon does not correctly close the wound, you risk having an unattractive or prolonged scar that is apparent to the naked eye. Dr Rajat Gupta delicately seals each cut in stages to produce a discrete result.
These risks are thoroughly explained before your consent. It is critical that you immediately discuss all of your concerns with your cosmetic surgeon.
Wrapping Up!
The chin shapes the face significantly, and if you have a declining chin, you could be self-conscious about your weak jawline. Chin augmentation procedure can enhance facial proportions by reshaping the lower jawline and chin region, giving you more consciousness.
To guarantee the greatest outcomes, this treatment should be conducted by a board-certified cosmetic surgeon. A trained and skilled plastic will consider the structure of your chin, jaw, cheeks, and forehead to promote face symmetry.
Making an appointment with Dr Rajat Gupta is the first step toward better self-confidence. Dr Rajat Gupta offers stunning new techniques for treating and conducting surgery around the chin and neck. He will not only recommend the best cosmetic operations for you, but he will also ensure the natural-looking results of the procedure.

Dr. Rajat Gupta
MBBS, MS, DNB(Gen. Surg.),
DNB (Plastic Surgery)
Dr. Rajat Gupta is a board certified plastic surgeon in India with 13 years of experience to back his expertise in the domain of aesthetic surgeries.
Having completed his training from Maulana Azad Medical College and equipped with a thorough understanding of aesthetic needs of people, Dr. Gupta strives to offer the best remedies and cosmetic procedures outfitted with the latest technology to the aspirants in India and across the globe. To book an appointment, call: +91-9251711711 or email: contact@drrajatgupta.com