Complete Guide to Liposuction
Dr Rajat Gupta
Certain localised fats on your abdomen, arm, or other body portions won't go away, despite exercising hard and being on a calorie deficit. Even with all the physical activity and nutritious food, you can still be discouraged by the outcomes.
Unfortunately, these fat stores resist physical activity and a nutritious diet.
Even though everyone around you claims that you are perfect just the way you are, you are not persuaded when you look in the mirror. That might not be very pleasant. An individual's mental and emotional well-being can be greatly impacted by being in a body that does not make them feel comfortable. It makes sense to desire to undergo a fat removal procedure.
All of these problems, however, can be resolved with liposuction procedure. It is a cosmetic procedure by licenced plastic surgeons that eliminate extra body fat and leaves you with a smoother, better-contoured figure.
The effectiveness and safety of liposuction have improved with time thanks to technological and medical breakthroughs. The fat removal procedure has proven helpful for people who want a toned or fit body. A liposuction technique involves removing fat from certain body parts that you cannot eliminate with exercise.
The fat removal surgery improves the symmetry and curves of the body's uneven areas. Results are visible immediately and last permanently after a brief recovery period and maintenance. Above 18, both men and women in Delhi may have liposuction surgery.
What it can't do
Liposuction procedure removes fat cells, which can contour your body. Unfortunately, extra or sagging skin cannot be tightened by liposuction. Age, being overweight, and heredity all contribute to sagging skin. Skin can easily grow due to weight gain, but it can't always contract due to weight loss. If this happens, your skin can end up drooping. Liposuction may accentuate the issue if you already have loose skin on your body because it removes more fat cells.
It is advised for these individuals to combine liposuction with an extra procedure that will eliminate and tighten excess skin. When liposuction is combined with procedures like a tummy tuck or an arm lift, the skin on the arms or abdomen is tightened. These processes work together to deliver a thorough transformation.
Liposuction is not an option for weight loss
Liposuction suctions out undesirable fat cells using tiny, barely noticeable incisions. Liposuction can contour and remove fat from almost any body area, along with the abdomen, hips, thighs, buttocks, knees, back, chest, arms, and neck. Liposuction destroys fat cells, and fat cells are what cause extra weight, but it is not a weight loss procedure, and it should never be used as a substitute for losing weight.
A healthy lifestyle or conventional weight loss surgery can decrease the remaining fat cells; liposuction only removes a particular number of fat cells. Because of this, weight reduction with liposuction is usually minimal and barely evident on the scale. Patients close to their desired weight and who want body reshaping rather than weight loss are the best candidates for liposuction. Liposuction will shape your body; it won't eliminate several dress sizes.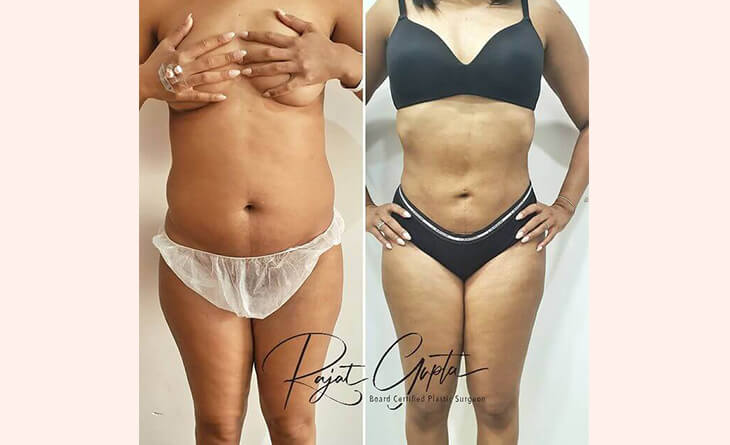 Have questions or want to get started? We are ready to help you with a smile!
Cost
A few different factors influence the total cost of liposuction procedure. When deciding whether or not to pursue liposuction, it is crucial to understand and consider these aspects.
Type of equipment used: There are several liposuction methods, including laser-assisted, water-assisted, twin-cannula, ultrasound-assisted, and power-assisted. The overall cost varies depending on your preference and the doctor's advice regarding the proper liposuction technique. Doctors use the most cutting-edge liposuction techniques at well-equipped clinics and affiliated hospitals to reshape the body.
Body region that needs to be reshaped: In addition to the abdomen, liposuction can be performed on the thighs, arms, neck, chin, hips, and other body areas. The cost can vary depending on the area because different approaches are taken to address each area. In comparison to the thighs, belly, etc., treating the area beneath the chin and neck is more expensive.
The amount of fat that must be removed: A person might need another sitting if they need to eliminate more than 5 litres of fat from their bodies. The number of sessions greatly raises the cost of the procedure.
Anaesthesia prices: The rates occasionally go above and above what is included in a package depending on the surgeon's expertise and the type of anaesthesia utilised. Consequently, the entire cost may rise.
Post-surgery care: Following liposuction procedure, the patient must take medications, consume medications, and wear compression clothing to recover more quickly. These are extra expenses that you should take into account.
Liposuction can be done on the abdomen, thighs, arms, breasts, buttocks, chin, and cheeks, among other body areas. The price of liposuction varies depending on the individual body part. Dr Rajat Gupta's team clarifies that more knowledge and experience are needed, the more difficult the location to treat is to remove the fat cells. The price may also rise if the patient has a second surgery, such as a tummy tuck or breast reduction.
How to choose surgeon
It is a safer way to alter the body's shape and is a highly common approach to fat removal surgery. Several medical professionals carry out this technique. You must carefully select an experienced plastic surgeon if you want to avoid scars after a liposuction procedure. For accurate results, the surgery centre should also have modern equipment.
It's critical to realise that liposuction carries some dangers, just like any surgical operation. Anaesthesia-related risks include bruising, nerve, blood vessel, and muscle damage delayed wound healing, uneven shapes, chronic swelling, an aggravation of cellulite, and asymmetries.
You can avoid these issues when a skilled and knowledgeable liposuction surgeon in Delhi completes the treatment. The outcome depends on the surgeon's ability and the facility where the cosmetic surgery is performed.
Dr Rajat Gupta, a board-certified plastic surgeon, is Delhi's best option for top-notch liposuction surgery. The doctor can offer you quick, safe, and aesthetically pleasing outcomes at a reasonable price. Dr Gupta guarantees the best results that are natural-looking and of the highest calibre by adhering to international care standards and using a patient-centric approach.
Dr Rajat Gupta has more than ten years of experience conducting fat removal surgery. He performed over 2000 liposuction treatments and is considered a pioneer of the PURE Contouring method. The liposuction technique he provides at his facility, RG Aesthetics, eliminates stubborn fat from popular treatment locations and difficult-to-reach places.
What to ask during consultation
You can ask your questions during a consultation with your liposuction surgeon in Delhi. But what queries do you need to pose? Here is a list of possible inquiries you ought to have answered before surgery.
Do you think I'd make an excellent liposuction patient?
Can I view the before and after pictures?
What kind of outcomes might I anticipate?
What has liposuction been like for you? How many legal matters do you handle annually?
Which anaesthesia kind will be applied?
What equipment or methods do you employ?
What must I do to prepare for my liposuction procedure?
How much time will the process require?
How long does rehabilitation take, and when can I start working again?
What will this cost me? What methods of payment are offered?
Knowing the answers to these questions can make it easier for you to have a positive experience and decide if liposuction is the correct choice.
Summing Up!
The cornerstones of getting your body into the shape you want should be a healthy lifestyle and a well-balanced diet. But no matter how hard you try, some stubborn locations won't alter despite how much care you pay there.
The liposuction surgeon in Delhi strives to understand the patient's expectations during consultation and offers practical treatment options. Any liposuction procedure in Delhi has patient safety as a top focus. In this outpatient procedure, anaesthesia will be given to the patient so they won't feel any discomfort and will remain still throughout the procedure.
The location of the suction-assisted lipectomy procedure has been indicated. A tiny cut is made in the designated area, and a pencil-sized cannula is inserted, which moves gradually back and forth under the skin in a straightforward manner. The fat is loosened and drained using a cannula attached to a suction device. This enhances the symmetry and shape of the body.
Depending on where and how much fat is being removed during the 30-minute treatment, the patient may need to be under observation for more than 24 hours. The length of time depends on the patient's weight and the kind of anaesthesia utilised.
When determining whether to get liposuction, there are numerous things to consider. Although we did our best to clarify the procedure, it is OK to have more questions.
Making an informed choice is always advised regarding invasive treatment like liposuction procedure. Many people trust Dr Rajat Gupta, one of the world's greatest plastic surgeons and a well-known gold medalist, for liposuction surgery.
He maintains up to date on the most recent developments in plastic surgery thanks to his understanding of cutting-edge cosmetic surgery technology.

Dr. Rajat Gupta
MBBS, MS, DNB(Gen. Surg.),
DNB (Plastic Surgery)
Dr. Rajat Gupta is a board certified plastic surgeon in India with 13 years of experience to back his expertise in the domain of aesthetic surgeries.
Having completed his training from Maulana Azad Medical College and equipped with a thorough understanding of aesthetic needs of people, Dr. Gupta strives to offer the best remedies and cosmetic procedures outfitted with the latest technology to the aspirants in India and across the globe. To book an appointment, call: +91-9251711711 or email: contact@drrajatgupta.com