Is Liposuction Good for Obesity?
Dr Rajat Gupta
Advances in technology and medical sciences have contributed to improving the liposuction procedure over time. The medical procedure has come as a boon for people who wish to have a toned or fit body. Most people, however, mistake liposuction procedure for a means of losing weight.
That is not the case. Let us understand why.
What is Liposuction Procedure?
Liposuction involves removing fat from various localised areas of the body that cannot be exercised away. A cannula connected to a suction apparatus is used during surgery, which is a thin tube used to loosen and drain the fat.
Among the areas which are treated are the chin, neck, arms, back, breasts, male breasts (gynecomastia), waist area or love handles, hips, thighs, calves, and ankles for a trimmer body profile.
This fat removal surgery takes about 30 minutes in an outpatient facility. You may be kept under observation for 24 hours before discharge. The recovery period depends on the area where the surgery is performed. Postsurgical care is very important, where the Doctor monitors the patient's recovery rate as each individual's physiology differs from others.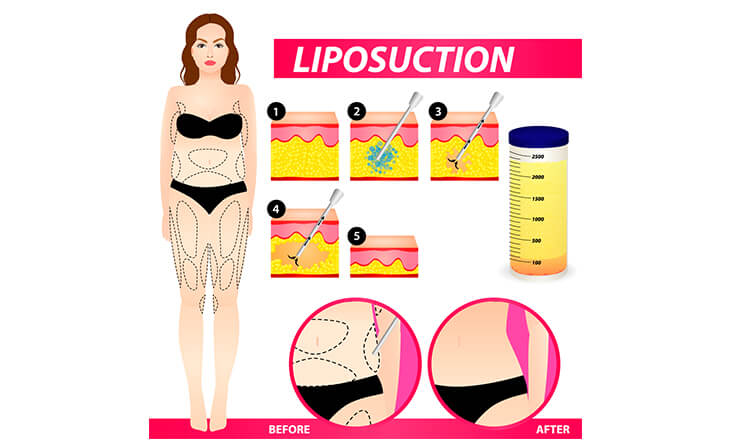 Have questions or want to get started? We are ready to help you with a smile!
Liposuction for Obesity
Obesity or being excessively overweight is not a cosmetic concern but a serious medical problem that may be genetic in nature.
While liposuction targets the localised fat deposits in the body, it does not significantly reduce weight. Only less than 10% of fat is lost during the surgery. It is not a fix for obesity as the high-density fat deposits near internal organs are not affected in this surgery.
Minor weight loss after liposuction surgery is reversible in nature if not complemented with proper medical intervention and exercise in due time. In other words, a liposuction procedure is not a cure for obesity.
Who is eligible for a liposuction procedure?
All genders above the age of 18
Non-smokers
Persons with a healthy lifestyle
Unusual fat deposits affecting body contour
Elasticity of skin
Realistic expectations from the surgery
The best results are achieved by people with localised fat bulges who are near 30% of their ideal weight range. If you are searching for a fat removal surgery, the liposuction procedure is the right option. It helps you attain a healthy body shape with the removal of localised fat pockets.
Dr Rajat Gupta is an experienced and board certified plastic surgeon based in Delhi. He is well regarded for his expertise in the field of aesthetic and liposuction techniques, among other cosmetic surgeries. Focussing on patients' well-being and requirements, Dr Gupta is known for his skill in providing natural looking results to a globally satisfied clientele.

Dr. Rajat Gupta
MBBS, MS, DNB(Gen. Surg.),
DNB (Plastic Surgery)
Dr. Rajat Gupta is a board certified plastic surgeon in India with 13 years of experience to back his expertise in the domain of aesthetic surgeries.
Having completed his training from Maulana Azad Medical College and equipped with a thorough understanding of aesthetic needs of people, Dr. Gupta strives to offer the best remedies and cosmetic procedures outfitted with the latest technology to the aspirants in India and across the globe. To book an appointment, call: +91-9251711711 or email: contact@drrajatgupta.com