Can Men Benefit from Full Body Liposuction Surgery?
Dr Rajat Gupta
Liposuction is a highly versatile procedure that is often, unfortunately, associated only with women. When it comes to men, people usually only think of gynecomastia treatment or 6-pack abs surgery. However, male full body liposuction is possible and is also widely practised. Men can also accumulate subcutaneous fat and desire removal.
Liposuction targets stubborn pockets of fat in the following areas:
Abdomen
Ankles
Arms
Back
Calves
Male breasts
Neck
Thighs
If male patients desire fat removal from any other region, liposuction helps with that, too. These are just some of the most common regions. Often, men have excess fat in numerous areas and may require liposuction for every place.
What does male full body liposuction entail?
Liposuction today is a highly refined procedure using state-of-the-art techniques and technologies. At well-equipped centres like RG Aesthetics, this surgery involves minimal invasion and a speedy recovery.
When men undergo liposuction at our centre, they get two high-quality devices – MicroAire and VASER. MicroAire is a power-assisted liposuction device whose cannula only needs a 3-4mm incision to access any pockets of fat. The cannula then moves back and forth rapidly, breaking up the fat cells before suctioning them out.
VASER is an ultrasound-assisted device that emulsifies any leftover fat to enable removal. VASER also releases heat, making the skin shrink from underneath. This heating mechanism ensures that no additional incision is needed for skin excision. In cases where VASER's heat is insufficient, patients undergo radiofrequency-enhanced contouring with BodyTite.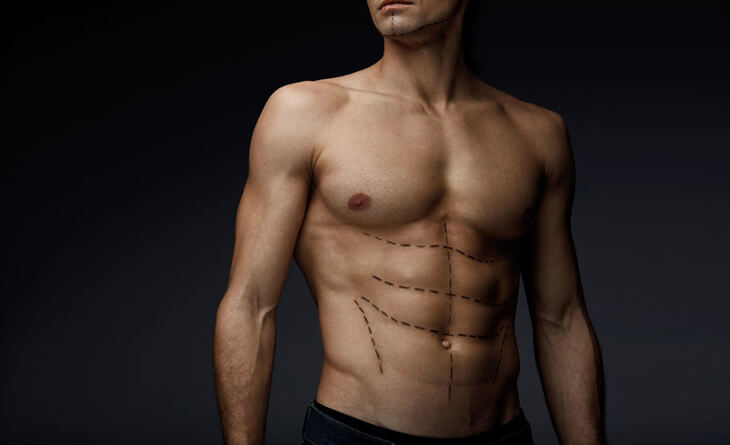 Have questions or want to get started? We are ready to help you with a smile!
PURE Contouring in Liposuction Surgery
As a board-certified cosmetic surgeon, Dr Rajat Gupta founded a new, more precise form of liposuction called the PURE technique. PURE stands for Power-assisted, Ultrasound-assisted, Radiofrequency-Enhanced Contouring.
This technique details the steps and technologies used in Hi-Definition Liposuction, i.e. 6-pack abs surgery. Hi-definition liposuction aims to carve out washboard abs through the strategic removal and placement of fat cells. Dr Gupta places extra fat on the mounds and removes fat from the valleys or depressions between muscles based on the patient's natural abdominal contours.
Simultaneously, any excess skin is also excised for more defined, athletic-looking results after the liposuction surgery. PURE Contouring can circumvent the need for excision by using advanced radiofrequency-based BodyTite technology. Using this, Dr Gupta can tighten the patient's skin over the new contours without requiring any additional incisions. This device negates the need for any extra trauma, and the patient has a much faster recovery.
Thus, there are several techniques in male liposuction that can significantly enhance results. Men should not feel like they cannot undergo this procedure for any reason. It is entirely safe and can help improve their self-image and self-esteem.
With a board-certified plastic surgeon in Delhi like Dr Rajat Gupta, full-body liposuction is an easy, comfortable procedure performed under general anaesthesia. Dr Gupta promises natural-looking results and a speedy recovery for all his patients using the modern provisions at RG Aesthetics. He manages this while keeping patient expectations realistic and ensuring international standards of patient care!

Dr. Rajat Gupta
MBBS, MS, DNB(Gen. Surg.),
DNB (Plastic Surgery)
Dr. Rajat Gupta is a board certified plastic surgeon in India with 12 years of experience to back his expertise in the domain of aesthetic surgeries.
Having completed his training from Maulana Azad Medical College and equipped with a thorough understanding of aesthetic needs of people, Dr. Gupta strives to offer the best remedies and cosmetic procedures outfitted with the latest technology to the aspirants in India and across the globe. To book an appointment, call: +91-9251711711 or email: contact@drrajatgupta.com