How Much Fat Can Liposuction Surgery Remove?
Dr Rajat Gupta
Liposuction is one of the most popular cosmetic procedures today. With many recent technological and technical advancements it has become increasingly safe. Many people who work out for months and see no results or fat reduction opt for this procedure. While looking up some key queries, many wonder about liposuction's amount of fat removed.
Prospective patients ask if liposuction can remove all the excess fat from various regions such as the abdomen, thighs, arms, etc. The answer is no. There are different kinds of fat – subcutaneous and deep fat. Subcutaneous fat is present right under the top layer of skin and is the most difficult to burn. Liposuction targets and removes this while leaving behind a healthy amount of fat for your body to function with.
How Much Fat Liposuction Removes
When it comes to liposuction, the amount of fat removed is usually less than 10%. Expert surgeons agree that removing anything more than 10% in one sitting poses a significant risk, making the procedure unnecessarily traumatic to the patient.
Considering the sophisticated technology available today allowing for minimally invasive procedures, such trauma is easily avoided. Additionally, 10% of fat means 10% of the person's body weight. This means that if a patient weighs 70kgs, the surgeon can safely remove 7 litres of fat.
Because of this removal limit, surgeons emphasise that liposuction cannot aid weight loss. If you are obese or looking to lose massive weight, liposuction surgery is not the answer. Only a dedicated diet and exercise regime can help with this goal. If you want liposuction, for this reason, you are setting yourself up for disappointment with unrealistic expectations.
However, if you are looking to contour and tone various parts of your body, this is the right procedure for you. The sophisticated power-assisted (MicroAire) and ultrasound-assisted (VASER) liposuction technology available today make this surgery more precise and effective than ever before. Thus, opting for this procedure with these considerations in mind promises more satisfying results.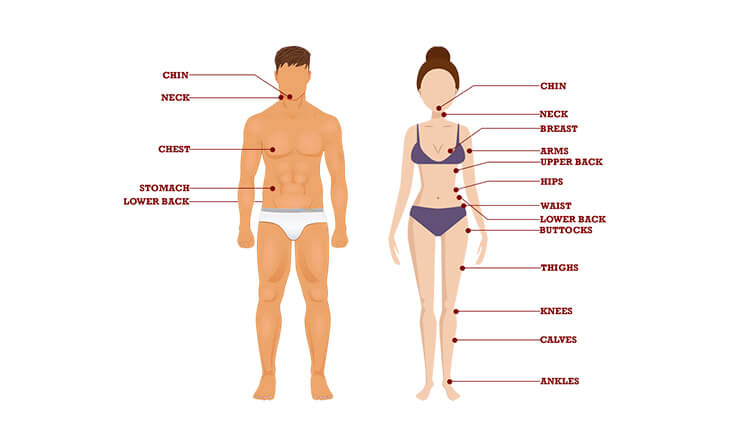 Have questions or want to get started? We are ready to help you with a smile!
Are you the ideal candidate for liposuction?
With liposuction, the amount of fat removed is only one of several conditions. While this is the perfect procedure if you have stubborn fat anywhere that you want to get rid of, it is only effective if you have stable body weight and are willing to maintain your results after the procedure.
Board-certified surgeons recommend being within 30% of your goal weight before opting for liposuction. If you reach a point with diet and exercise where your weight is no longer massively fluctuating, you are less likely to put on weight and regain fat after your procedure. Instead, you get long-lasting results after a minimally invasive and traumatic procedure.
As a board-certified plastic surgeon in Delhi, Dr Rajat Gupta specialises in many different liposuction techniques. Using the state-of-the-art technology at RG Aesthetics, Dr Gupta envisioned a future for liposuction that involves the PURE contouring technique, promising highly refined results. He focuses on ensuring natural-looking results from safe procedures that minimise downtime and maximise patient happiness!

Dr. Rajat Gupta
MBBS, MS, DNB(Gen. Surg.),
DNB (Plastic Surgery)
Dr. Rajat Gupta is a board certified plastic surgeon in India with 12 years of experience to back his expertise in the domain of aesthetic surgeries.
Having completed his training from Maulana Azad Medical College and equipped with a thorough understanding of aesthetic needs of people, Dr. Gupta strives to offer the best remedies and cosmetic procedures outfitted with the latest technology to the aspirants in India and across the globe. To book an appointment, call: +91-9251711711 or email: contact@drrajatgupta.com