How Long is the Recovery Time After Liposuction on Thighs?
Dr Rajat Gupta
The thighs are one of the most popular body parts for liposuction. Stubborn subcutaneous fat tends to collect on the thighs, refusing to burn away even with rigorous diet and exercise. As a result, people often have visibly large thighs, which can even seem disproportionate to the rest of their body. Hence, they turn to liposuction. Once they decide to get liposuction on the thighs, recovery time comes into the picture as one of their main questions.
Although recovery time usually refers to downtime, the minimally invasive liposuction technologies available today minimise this to a large extent. The advanced MicroAire and VASER liposuction devices use power-assisted and ultrasound-assisted technology, respectively, for improved precision and more natural-looking results.
Additionally, these devices are minimally traumatic, further speeding up recovery. Their tiny cannulas require 3-4mm wide incisions, and they can successfully access and remove excess fat. When you choose a well-equipped centre like RG Aesthetics that uses these devices, your recovery time is drastically reduced.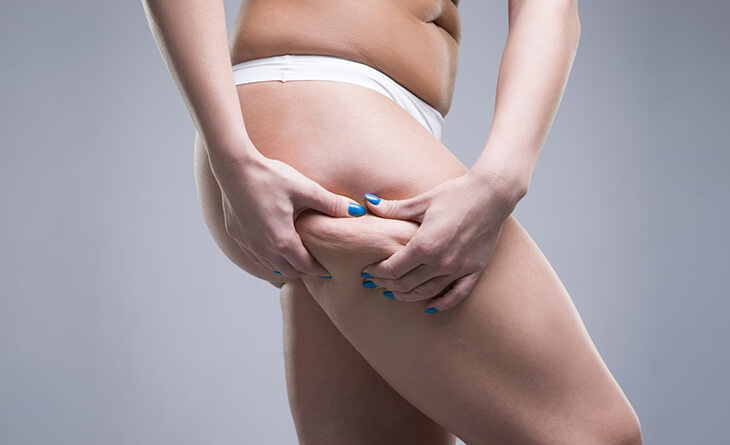 Have questions or want to get started? We are ready to help you with a smile!
Liposuction on Thighs – The Recovery Time
For thigh liposuction, the incision is often circumferential. This means that your surgeon incises around your thigh completely. Such an incision allows for much more even fat removal. Given the tiny size of the incision, the resulting scar is barely visible and heals beautifully. If you feel like the scar is too conspicuous, you can get also opt for laser removal.
However, given the advanced technologies and techniques, your recovery time after thigh liposuction is much easier. Some staples of your recovery timeline include:
Liposuction surgery is a daycare procedure – you can go home the same day after your surgery.
You may experience mild to moderate pain for the first 72 hours.
Your surgeon prescribes pain medication to manage this discomfort.
Your swelling gradually disappears in the next 2-3 weeks.
While most patients can return to a sitting job within 2-3 days, you may have some difficulty due to getting liposuction on your thighs.
You cannot engage in any strenuous activities for 3-4 weeks.
How long your surgeon advises you to rest depends on how much fat you had removed. Downtime could extend up to 14 days (2 weeks) if you got liposuction surgery on both the inner and outer thigh. Meanwhile, you may only experience a 7-day downtime if you got minimal fat removal.
You fully recover within 2-3 weeks, and your results continue refining, with more contoured thighs, as the swelling and bruising subside. You will see your results immediately after your procedure, and these only look more natural as you heal. Following your post-op instructions further ensures a comfortable, easy recovery.
You can glean the most benefits from your thigh liposuction under the care of a board-certified plastic surgeon in Delhi like Dr Rajat Gupta. Dr Gupta performs highly advanced and precise liposuction procedures on every patient using the unparalleled infrastructure at RG Aesthetics. He ensures international standards of patient care in every surgery, promoting safety and fast recovery with natural-looking results!

Dr. Rajat Gupta
MBBS, MS, DNB(Gen. Surg.),
DNB (Plastic Surgery)
Dr. Rajat Gupta is a board certified plastic surgeon in India with 12 years of experience to back his expertise in the domain of aesthetic surgeries.
Having completed his training from Maulana Azad Medical College and equipped with a thorough understanding of aesthetic needs of people, Dr. Gupta strives to offer the best remedies and cosmetic procedures outfitted with the latest technology to the aspirants in India and across the globe. To book an appointment, call: +91-9251711711 or email: contact@drrajatgupta.com