What Body Areas Can be Treated by Liposuction?
Dr Rajat Gupta
Liposuction is a cosmetic surgical procedure that removes excess fat deposits from specific body areas to improve body contour and proportion. It is a common surgery for those who have tried diet and exercise but have not successfully eliminated stubborn fat deposits. Liposuction can be performed on various body areas in both men and women, including the face, neck, arms, chest, abdomen, thighs, hips, calves, and more.
We must remember that the liposuction procedure in Delhi is not a weight-loss method but a way to reshape and sculpt certain body areas.
Let us take a complete and detailed account of all body areas that liposuction can treat, including the facial area, upper, middle, and lower parts.
Facial Liposuction
Facial liposuction removes excess fat from specific areas of the face and neck. It is commonly performed to enhance facial contours and create a more youthful and balanced appearance. Facial liposuction can target areas prone to accumulating excess fat, such as the neck, chin, and cheeks. Facial liposuction is also combined with other procedures to get a more contoured look.
Chin Liposuction: Many people, even those who are naturally slim or have worked hard to lose weight, are frustrated with fat accumulation beneath the chin. Traditional diet and exercise regimens may be ineffective against this persistent fat buildup. Chin liposuction treatment in Delhi is an effective way to deal with this problem by reducing chin size and improving the overall look of the chin, jaw, and jawline.
Cheek Liposuction: People who have chubby, puffy, or asymmetrical cheeks undergo cheek liposuction. This procedure removes the excess fat deposits from the facial area, resulting in improved facial shaping and contouring while providing a lasting solution.
Neck Liposuction: Neck liposuction is one of the most sought-after techniques to achieve a more refined, rejuvenated, and gracefully contoured neck or jawline. People between 20 and 50 are the best candidates because the technique reduces fat without affecting skin quality. A neck liposuction procedure in Delhi can seamlessly complement other facial procedures, like facelifts.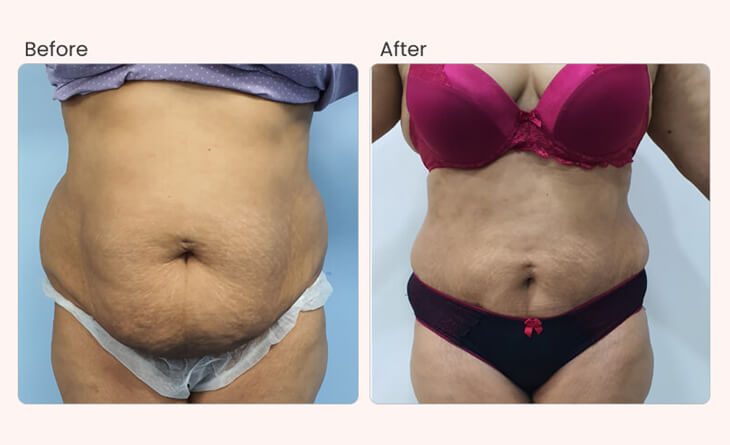 Have questions or want to get started? We are ready to help you with a smile!
Upper Body Liposuction
The upper body often presents challenges with regard to undesired fat accumulation in regions like the back, waist, arms, and love handles. Liposuction effectively eradicates these unwelcome fat deposits and helps to achieve the desired body contours.
Upper Arm Liposuction: Stubborn fat can accumulate in the upper arm area even if you maintain a healthy lifestyle. The condition often referred to as "batwing" arms can impact both men and women, but it tends to be more prevalent among women as they age. In such cases, liposuction treatment in Delhi effectively enhances the upper arm area, promoting a firmer and more youthful appearance by addressing excess fat and skin laxity.
Breast/Chest Liposuction: Many men are concerned about excess chest fat, a disease known as gynecomastia, also called man boobs. Genetic predisposition, significant weight loss, or medication use can all lead to the buildup of extra fat in this region. Chest liposuction reduces size and helps to achieve a more refined and sculpted chest shape.
Among women, chest liposuction is a common and effective way to reduce breast size, primarily for those dealing with persistent discomfort in the back, shoulders, and neck due to overly large breasts. The plastic surgeon in Delhi removes the excess breast tissue to give it a more aesthetic shape.
Back Liposuction: Back liposuction aims to reduce excess fat deposits in various areas of the back. Men often struggle with excess fat around the lower back, commonly referred to as "love handles," while women may find the "bra fat" on the upper back a source of frustration. Back liposuction can lead to a more contoured and streamlined appearance, improving body proportions and self-confidence.
Waist Liposuction: The waist liposuction procedure in Delhi is an exceptionally popular choice among people who desire a slim body. Stubborn fat accumulates in this region, making it challenging to attain through traditional weight loss efforts. However, the transformative power of liposuction can significantly reduce a patient's waist circumference by several centimeters, sculpting a sleek and well-defined waistline.
Abdomen Liposuction: Abdomen liposuction addresses stubborn weight around the stomach, which is resistant to diet and exercise. This transformative procedure often yields a smoother and shapelier abdomen, resembling well-defined muscles. People seeking the removal of fat deposits alone are ideal candidates for abdominal liposuction treatment in Delhi. At the same time, alternative procedures, such as a tummy tuck, are better suited for people with excess skin issues.
Flank Liposuction: The flanks, also referred to as 'love handles,' are the areas between the ribs and hips where many people are concerned about the accumulation of fat bulges or rolls. The plastic surgeon in Delhi creates a more contoured and streamlined appearance by targeting and reducing stubborn fat deposits in this region. Flap liposuction can be an effective way to achieve a slimmer waistline and enhance the overall body shape. Ideal candidates for flank liposuction are individuals who are close to their ideal body weight but struggle with localized fat deposits in the flank area that are resistant to diet and exercise.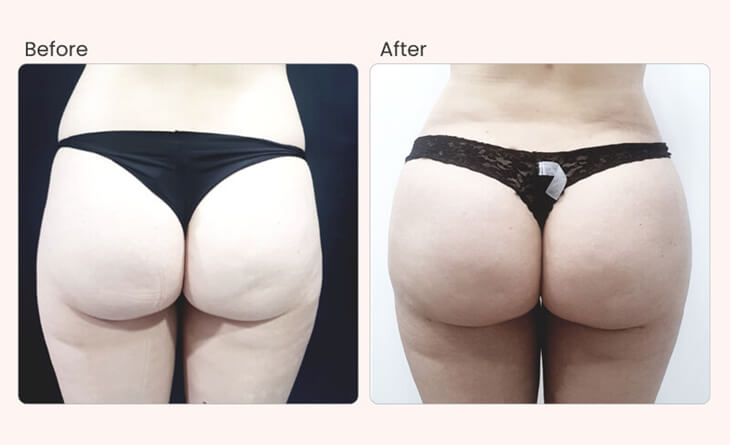 Lower Body Liposuction
Stubborn fat deposits frequently accumulate in the lower body regions, often proving resistant to traditional diet and exercise methods. Consequently, numerous individuals opt for liposuction procedures in Delhi as a solution, aiming to eliminate these surplus fat deposits. This procedure is chosen to redefine the contours of their legs, decrease overall leg dimensions, and potentially enhance their range of motion.
Hip Liposuction: Several people seek hip liposuction to attain a more aesthetically pleasing and balanced body shape. People often worry about excess hip fat due to genetic factors, pregnancy, or weight gain, which is challenging to lose. Hip liposuction helps those people shed excess fat, leading to a trimmer physique that harmonizes with the rest of their body. Some people opt to repurpose this extracted fat, typically through procedures like Brazilian Butt Lift (BBL) or Fat Transfer Breast Augmentation, to further enhance their ideal body contours.
Buttock Liposuction: Buttock liposuction treatment in Delhi focuses on removing excess fat from the buttocks to achieve desired aesthetic goals. People concerned about uneven fat distribution, bulges, or a lack of definition in this area choose this treatment. Buttock liposuction can enhance the contours of the buttocks by precisely targeting and eliminating undesirable fat deposits, resulting in a more sculpted look. People choose this procedure to improve the form and proportion of their buttocks and attain a more balanced overall profile.
Thigh Liposuction: The thigh liposuction procedure in Delhi addresses localized fat deposits in the thighs, creating a more proportionate and contoured lower body appearance. By precisely targeting and removing excess fat from specific areas of the thighs, thigh liposuction can help sculpt and reshape the legs, resulting in a smoother and slimmer contour. Those who desire more balanced proportions between their upper and lower bodies or those who wish to achieve a more streamlined thigh appearance, can opt for this treatment. Thigh liposuction can be an effective standalone procedure or may be combined with other cosmetic treatments to achieve comprehensive body-sculpting results.
Knee Liposuction: The knee liposuction procedure in Delhi is a specialized cosmetic procedure aimed at targeting and eliminating excess fat deposits around the knee area. Knee liposuction can improve contours and create a smoother transition between the thighs and lower legs by carefully addressing and removing unwanted fat from the knees. Those who wish to attain a more streamlined and harmonious knee region often seek this procedure. Candidates for knee liposuction typically have concerns about the appearance of bulges or pockets of fat around their knees.
Calf Liposuction: Calf liposuction removes extra fat from the calf region. People who desire a more proportional and defined lower leg appearance choose this treatment. During calf liposuction, the plastic surgeon in Delhi enhances leg shapes and provides a sleeker lower leg by carefully targeting and eliminating undesirable fat from the calves. Individuals who want more balanced calf proportions or a more streamlined appearance for their legs can go for calf liposuction. Thus, people with bulkiness or excess fat in their calf region are ideal candidates for calf liposuction.
Ankle Liposuction: Some people feel that they have "cankles,"  a term used to describe a lack of distinct definition between the calf and ankle due to excess fat or swelling. Various factors such as genetics, fluid balance, fat distribution, and muscle mass can collectively influence the size of the calves and ankles. An ankle liposuction procedure in Delhi reduces ankle size and contributes to reshaping the lower leg. This The procedure can prove particularly meaningful for individuals with lipedema, where excess fat accumulation triggers pain and impedes mobility. For such patients, ankle liposuction promises to improve their quality of life by addressing these physical discomforts.
Liposuction is an effective cosmetic procedure for men and women alike, targeting various body areas with stubborn fat deposits. Liposuction offers a solution for those seeking to reshape and redefine their bodies, whether it's achieving a flat abdomen, sculpting the thighs, refining the waistline, or enhancing the contours of other specific regions. While the procedure can lead to transformative results, it's essential to consult with a skilled and experienced plastic surgeon to determine the best approach for your individual goals.
If you are considering a liposuction procedure in Delhi to achieve your desired body contour, consult Dr. Rajat Gupta, a board-certified plastic surgeon. Dr. Gupta specializes in delivering exceptional results through personalized liposuction treatment plans.

Dr. Rajat Gupta
MBBS, MS, DNB(Gen. Surg.),
DNB (Plastic Surgery)
Dr. Rajat Gupta is a board certified plastic surgeon in India with 13 years of experience to back his expertise in the domain of aesthetic surgeries.
Having completed his training from Maulana Azad Medical College and equipped with a thorough understanding of aesthetic needs of people, Dr. Gupta strives to offer the best remedies and cosmetic procedures outfitted with the latest technology to the aspirants in India and across the globe. To book an appointment, call: +91-9251711711 or email: contact@drrajatgupta.com