What is breast augmentation vs implants
Dr Rajat Gupta
When you are not satisfied with your breast size, you consider enhancing them, or augmenting them. A question which comes to mind is – what is breast augmentation vs implants? Is one synonymous with the other?
Let me help you with an analogy. Consider the field of education. If you consider education as a set, then primary education, or secondary education, or graduation all form subsets of education. If you consider makeup, then lipsticks are a subset of makeup, even though makeup itself is composed of lipsticks, eyeliner, eyeshadow, kajal, blush and so much more.
Similarly, when it comes to understanding what is breast augmentation vs implants, then breast augmentation is the super set, and implants form a subset of that.
Let us look at this a little more in detail.
What is Breast Augmentation
In simple words, this is a set of procedures which help you achieve an enhanced breast size, which is more in sync with your body's proportions. You may be looking at going up half a size, one size or maybe even more – depending upon your requirement and case, you will be opting for a breast augmentation procedure or mammaplasty. There are basically two types of breast augmentation procedures – fat grafting and breast implants.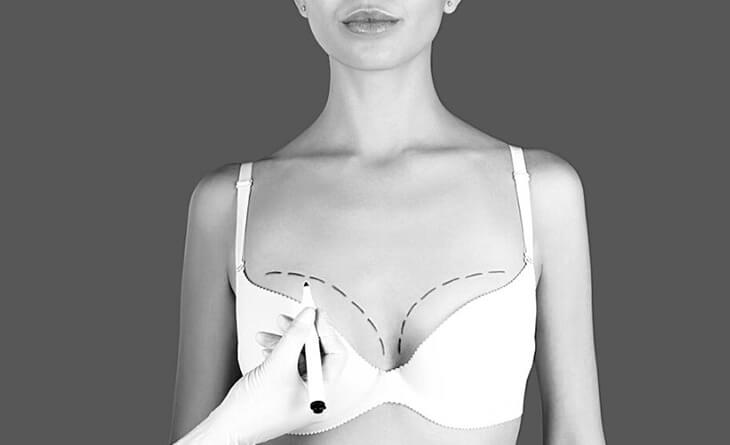 Have questions or want to get started? We are ready to help you with a smile!
Breast Augmentation Through Fat Grafting
Medically termed as Autologous, in this procedure, excess fat is extracted from one part of your body (such as the abdomen, outer and inner thigh, calves, arms, love folds etc) and moved to the breasts to increase their volume. The benefit of this procedure is two-fold – it enhances your breast to a better size, while also contouring areas of the body with excess fat. The excess fat from the body is removed using liposuction techniques. It is then treated and purified before placing it in your breast using EVL techniques. This procedure can be safely used if your desired breast size is up to one size more than your current breast size.
Breast Augmentation Through Breast Implants
As mentioned above, the use of breast implants is one of the procedures used for breast augmentation. This procedure makes use of silicone gel implants, with either a silicone gel or saline based filling, and can move you to any breast size you desire. These are artificial implants and can be customized to give you the look you want. You can choose from one of the following three types of implants –
Smooth Implants – these are entirely transparent and do not lose shape.
Nano Textured Implants – these are translucent and do not lose shape.
Textured Implants – These are opaque, remain rough in texture.
These days, board certified surgeons prefer to use either smooth implants or nano textured implants for the most natural look and feel of the breasts. The shape may be teardrop for a more natural look, or a round for a more ballooned up look, as per your desire.
Now you have the answer to your question – what is breast augmentation vs implants. Breast augmentation is a safe and harmless procedure when performed by a board-certified surgeon who uses the latest and best techniques. This procedure helps enhance your breast size for a more aesthetic look for your body and helps move towards a more confident you.

Dr. Rajat Gupta
MBBS, MS, DNB(Gen. Surg.),
DNB (Plastic Surgery)
Dr. Rajat Gupta is a board certified plastic surgeon in India with 10 years of experience to back his expertise in the domain of aesthetic surgeries.
Having completed his training from Maulana Azad Medical College and equipped with a thorough understanding of aesthetic needs of people, Dr. Gupta strives to offer the best remedies and cosmetic procedures outfitted with the latest technology to the aspirants in India and across the globe. To book an appointment, call: +91-9251711711 or email: contact@drrajatgupta.com