Should You Get Lipo or Tummy Tuck First?
Dr Rajat Gupta
This is a fascinating question without any standard answer. Whether you choose lipo or tummy tuck first depends on your needs and what you hope to get out of it. However, if you are considering this, you might also be aware of how a tummy tucks goes beyond liposuction. Tummy tucks are also called lipoabdominoplasty for a reason.
The tummy tuck or abdominoplasty refers to both fat removal and skin excision from the abdomen. The fat removal happens via liposuction followed by skin excision. Whether you need a complete or mini tummy tuck, the amount of excised skin is less, and no navel repositioning is necessary.
So, should I get lipo or a tummy tuck first?
This depends on whether or not you have excess skin. If you have a lot of fat in your abdominal region and have undergone multiple pregnancies, chances are your skin has lost its natural elasticity. Simply removing the fat will not make a difference. Instead, it leaves behind unattractive, hanging skin.
Apart from not looking very nice, this sagging skin also creates a ripe environment of heat and sweat for bacteria and fungal infections to thrive.
In such cases, you need a tummy tuck, i.e. skin excision. Even if you have just a little excess skin, you may require a mini tummy tuck. This version requires a much smaller incision, low on the abdomen. It is ideal in patients with minor excision that is still too much for radiofrequency-enhanced contouring.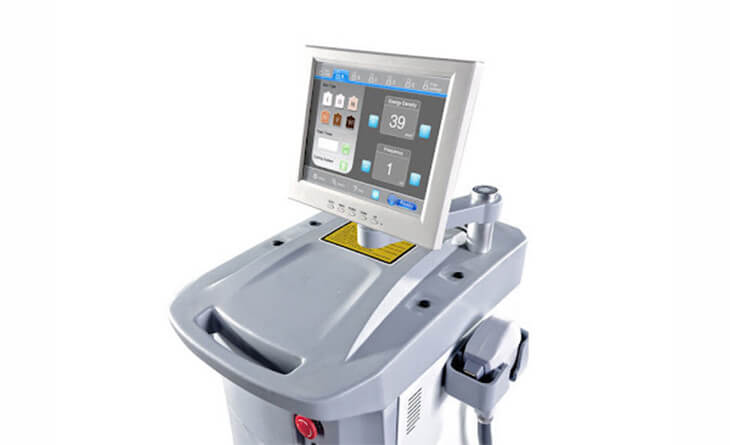 Have questions or want to get started? We are ready to help you with a smile!
What is radio frequency – enhanced contouring?
Radio frequency devices like BodyTite are used in conjunction with liposuction devices to tighten the skin without needing excision. This is a part of Dr Rajat Gupta's PURE Contouring liposuction technique, which combines Power-assisted (MicroAire), Ultrasound-assisted (VASER), Radio frequency-Enhanced (BodyTite) technologies for enhanced contours after liposuction surgery.
Dr Gupta invented this technique and uses it to effectively answer the question about whether to get lipo or a tummy tuck first. If your skin is not too loose and still has some elasticity, PURE Contouring can help you.
The procedure begins with using the minimally invasive MicroAire and VASER devices to remove excess fat. During this, VASER's ultrasound technology also heats the skin, making it shrink. However, it is not enough to effectively tighten the skin. Here, Dr Gupta introduces BodyTite, i.e. RF energy that emits enough heat to tighten the skin.
If you do not have too much excess skin and it's still somewhat elastic, Dr Gupta may recommend opting for liposuction instead of a tummy tuck. Liposuction is, anyway, the first step in the procedure – if the skin proves too loose, he can then determine how much excision is necessary. Hence, you get ideal results either way.
Therefore, consulting with a board-certified plastic surgeon in Delhi like Dr Rajat Gupta is critical before determining which procedure to go for. Using the advanced infrastructure at RG Aesthetics, Dr Gupta can determine which surgery would benefit you most and give you the natural-looking contours you desire!

Dr. Rajat Gupta
MBBS, MS, DNB(Gen. Surg.),
DNB (Plastic Surgery)
Dr. Rajat Gupta is a board certified plastic surgeon in India with 12 years of experience to back his expertise in the domain of aesthetic surgeries.
Having completed his training from Maulana Azad Medical College and equipped with a thorough understanding of aesthetic needs of people, Dr. Gupta strives to offer the best remedies and cosmetic procedures outfitted with the latest technology to the aspirants in India and across the globe. To book an appointment, call: +91-9251711711 or email: contact@drrajatgupta.com