Is There a Tummy Tuck Alternative for Excess Skin?
Dr Rajat Gupta
The simple answer to this question is no. Tummy tuck or abdominoplasty is known for targetting both excess fat and skin in the abdominal region. It removes subcutaneous fat through liposuction and then excises the remaining skin. This additional skin excision earns the procedure its "-plasty". Therefore, there is no tummy tuck alternative for excess skin.
That said, you may not have so much excess skin to warrant a tummy tuck. You only get an abdominoplasty if you have hanging skin. However, if your skin has retained some of its natural elasticity, you may not need a tummy tuck at all, and liposuction will suffice. Especially with the state-of-the-art devices available today, fat removal has become much safer and more precise.
Tummy Tuck Alternatives for Excess Skin
It is important to remember that these alternatives operate on multiple levels. Additionally, an abdominoplasty remains the most reliable method to safely and securely remove excess skin. If you have enough extra skin warranting a full tummy tuck, the following alternatives will not work for you.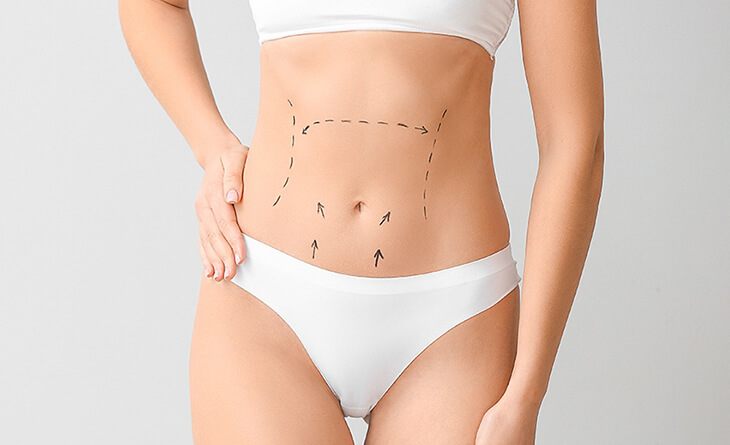 Have questions or want to get started? We are ready to help you with a smile!
Ultrasound-Assisted Liposuction (UAL)
UAL devices use ultrasound energy to emulsify fat. Once liquefied, your surgeon can easily remove the excess fat through the same cannula emitting the ultrasound energy. The latest advancement in this area is the VASER device – a minimally invasive UAL device that emits heat alongside fat emulsification.
These heat emissions are essential to understand how VASER helps with excess skin. The heat produced shrinks the skin over the new contours, creating natural-looking, toned results from the liposuction procedure alone. In such situations, you do not need tummy tuck surgery.
Radiofrequency-Enhanced Contouring
Radiofrequency (RF) devices like BodyTite can help with excess skin after fat removal when VASER is insufficient. In patients undergoing RF treatments, the abdominal skin still has sufficient elasticity for the controlled heat from the RF device to help it bounce back. This is usually the last step in the PURE liposuction or hi-definition liposuction technique invented by Dr Rajat Gupta.
However, these are the only two highly conditional instances where you may get tummy tuck alternatives for excess skin. That said, you should also note that the tummy tuck comes in two iterations – mini and full.
If you have too much excess skin for UAL or RF to make any dent but still some elasticity and a low amount of excess, you can undergo a mini tummy tuck. There is a smaller incision and a faster recovery time in this procedure. However, if you have too much excess skin, as is often the case after multiple pregnancies or massive weight loss, you will need a full tummy tuck. It is best to consult with a board-certified surgeon before making any such major decision.
Understanding all your options before undergoing any surgery is essential. As a board-certified plastic surgeon in Delhi, Dr Rajat Gupta aims to give you a complete overview of the procedure. Dr Gupta promises safe and natural-looking results from every tummy tuck under his reliable hand using ultra-modern infrastructure at RG Aesthetics!

Dr. Rajat Gupta
MBBS, MS, DNB(Gen. Surg.),
DNB (Plastic Surgery)
Dr. Rajat Gupta is a board certified plastic surgeon in India with 12 years of experience to back his expertise in the domain of aesthetic surgeries.
Having completed his training from Maulana Azad Medical College and equipped with a thorough understanding of aesthetic needs of people, Dr. Gupta strives to offer the best remedies and cosmetic procedures outfitted with the latest technology to the aspirants in India and across the globe. To book an appointment, call: +91-9251711711 or email: contact@drrajatgupta.com