Is It Safe to Do Tummy Tuck and Caesarian Section Simultaneously?
Dr Rajat Gupta
The tummy tuck is a cosmetic procedure involving the removal of excess fat and skin from the abdominal region. It creates a thinner and firm abdominal structure. The surgery involves the removal of abnormal fat and skin from the mid and lower abdomen. It also tightens the muscle fascia of the abdomen. Tummy tuck surgery is ideal for those with loose or droopy abdomen after childbirth or extreme weight loss.
Prospective women patients often share the concern of doing tummy tuck with caesarian section. Is it possible?  The answer is a clear-cut no. Now, let us analyses the reasons for the same.
Why tummy tuck and caesarean sections are not performed simultaneously?
The goal of tummy tuck is purely aesthetic. For a precise tummy tuck outcome and postoperative care, absolute physical health is necessary. Pregnancy alters physiological and anatomical changes both in your abdomen and uterus. They are distended. Its stance challenges your plastic surgeon in Delhi to evaluate the whole procedure of fat elimination and skin tightening. This can hinder the result of the tummy tuck surgery extensively.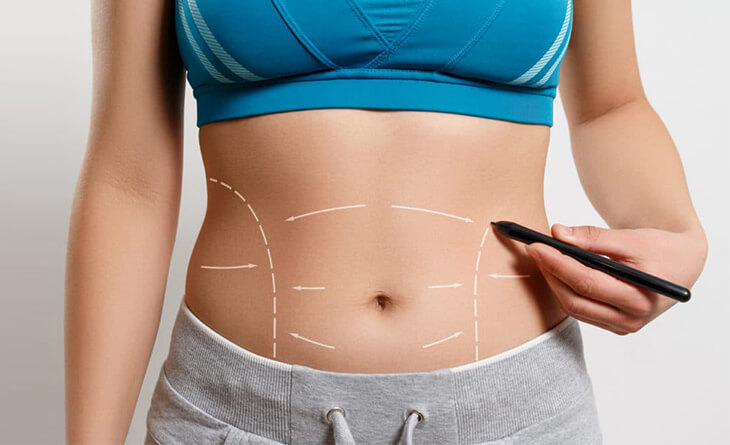 Have questions or want to get started? We are ready to help you with a smile!
How long should you wait after a caesarean section to get a tummy tuck?
 It is essential to retain your physical health and body weight for the best outcome before the surgery. Moreover, consider a tummy tuck only if you are not planning another pregnancy. Otherwise, you may not rule out the relapse of a saggy abdomen. Remember, the tummy tuck surgery includes aesthetics and medications. Therefore, sound health in all aspects is essential to prepare for a tummy tuck.
How long to wait for a tummy tuck after a caesarean?
Postoperative care is equally an important factor for a smooth and speedy recovery irrespective of any surgical procedure. Recovery from both tummy tuck and caesarean section simultaneously along with the postnatal care is complicated and exhausting. 
Your health vitals should be optimum with normal body weight for a tummy tuck. Thus, complete recovery and postoperative care from a caesarean are necessary.  Moreover, there are additional factors that hinder you to take up both surgeries simultaneously:
Complications:

Both tummy tuck and caesarean pose challenges. Combining both procedures can aggravate the complications. The possibility of blood clots and oedema during a caesarean cannot be ruled out. Moreover, the risks of infection to the uterus and abdominal cannot be ignored.

Medical Facility:

It is strenuous to find a surgeon to conduct both procedures simultaneously. However, it is their discretion due to the unprecedented risks during the procedures.
Choosing a board-certified and eminent plastic surgeon in Delhi like Dr Rajat Gupta at RG Aesthetics can guide you the best. His experience and profound knowledge in tummy tuck combined with state-of-the-art facilities and sophisticated techniques ensure treatment with utmost precision.

Dr. Rajat Gupta
MBBS, MS, DNB(Gen. Surg.),
DNB (Plastic Surgery)
Dr. Rajat Gupta is a board certified plastic surgeon in India with 12 years of experience to back his expertise in the domain of aesthetic surgeries.
Having completed his training from Maulana Azad Medical College and equipped with a thorough understanding of aesthetic needs of people, Dr. Gupta strives to offer the best remedies and cosmetic procedures outfitted with the latest technology to the aspirants in India and across the globe. To book an appointment, call: +91-9251711711 or email: contact@drrajatgupta.com