What You Need to Know About Your Tummy Tuck Procedure Recovery?
Dr Rajat Gupta
It's crucial to think about the recovery process if you're contemplating getting a tummy tuck or having one scheduled. Your age, health condition, and body weight are just a few variables that will affect how quickly you recover. Additionally, it will depend on the kind of belly tuck you get.
After surgery, it's normal to want to get back to normal, but it's crucial to give your body time to recover. After the surgery, you might just need to remain in the hospital for a few hours, or your doctor might insist that you stay for a night or more. The entire healing process then starts after you leave the hospital. Keep reading to learn about the recovery of the tummy tuck procedure.
Tummy Tuck Procedure Recovery Duration
Determine a recovery timeline, so you have enough time to recover and take regular breaks from some elements of your life. Make sure you are prepared for your recuperation period by making the necessary preparations.
After the procedure, your drips will be left in for a few days, and your surgeon will instruct you on maintaining and cleaning the drains. While your stitches are in place, you'll probably need to take an antibiotic and an anticoagulant.
For roughly six weeks, you'll wear a compression garment that keeps fluid from accumulating and supports your abdomen.
You still need to avoid excessive activity for a minimum of six weeks after a mini-tummy tuck, though the recovery time is typically shorter. Any strenuous workout or heavy lifting falls under this category.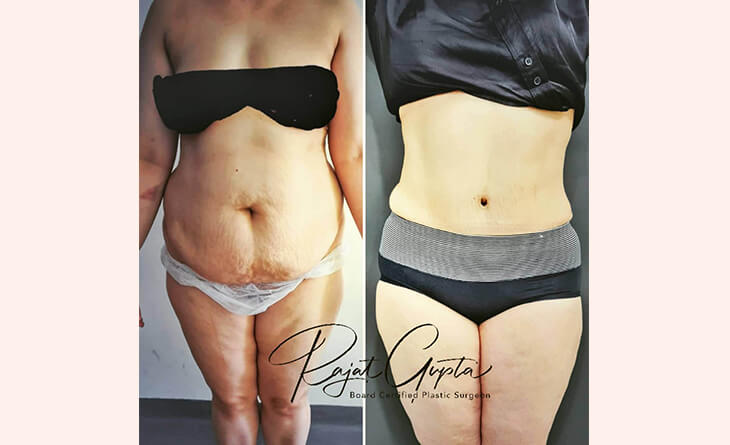 Have questions or want to get started? We are ready to help you with a smile!
What to Anticipate Post Tummy Tuck Surgery in Delhi?
You will receive a thorough explanation of how to heal at home from your doctor or nurse.
You'll be informed:
How to take care of drain tubes and cuts
Observations regarding infection prevention or general health
What to stay away from in terms of exercise that will harm your incision line for six weeks
If you require a second consultation with your plastic surgeon
How long should you wear the abdominal pressure garment
How much to sleep
The foods you can consume
You will require a caregiver for at least the first few days following your operation who can drive you home from the hospital and assist with your care. After removing your drainage tubes, you can take a shower 48 hours later. Until you can shower, you might wish to take a sponge bath. For a while, your cosmetic surgeon in Delhi might suggest that you use a chair when taking a shower.
Conclusion!
When recovering from a tummy tuck, there are many factors to consider, but everything is doable and manageable. You must think about and prepare for every facet of this healing process, especially the period.
To achieve your intended objective of complete recovery, keep your attention on getting healthier every day. If you have any issues or queries, speak with an expert cosmetic surgeon in Delhi like Dr Rajat Gupta. He ensures to facilitate the best results with the best advice post-surgery.

Dr. Rajat Gupta
MBBS, MS, DNB(Gen. Surg.),
DNB (Plastic Surgery)
Dr. Rajat Gupta is a board certified plastic surgeon in India with 13 years of experience to back his expertise in the domain of aesthetic surgeries.
Having completed his training from Maulana Azad Medical College and equipped with a thorough understanding of aesthetic needs of people, Dr. Gupta strives to offer the best remedies and cosmetic procedures outfitted with the latest technology to the aspirants in India and across the globe. To book an appointment, call: +91-9251711711 or email: contact@drrajatgupta.com