How Much Does Circumferential Tummy Tuck Cost?
Dr Rajat Gupta
A circumferential tummy tuck surgery concentrates on re-contouring and strengthening the abdomen and the elevation of the buttocks. It is attained by the removal of excess skin along with subcutaneous fat and tissues in the abdominal region and the lower back. It results in elevation of the buttocks, which enables a soft and youthful body shape. Thus, many patients question the circumferential tummy tuck's cost.
A circumferential tummy tuck is the ultimate and conclusive re-shaping procedure for the abdomen. It addresses every aspect of an extended abdominoplasty. It is advised for those who encountered an extreme weight loss due to bariatric surgery or dietary program. This incision extends circumferentially around your lower back like a waist belt, earning it its name.
Techniques for Circumferential Tummy Tuck Surgery
Tummy tuck surgery is a multi-level procedure. Fat removal is the initial phase of the process. Expert plastic surgeons in Delhi use the ultra-modern MicroAire and VASER liposuction tools at this stage.
MicroAire is a Power-Assisted Liposuction (PAL) technique that averts various risks during surgical excision of fat and enhances accuracy. The MicroAire tool makes a smooth alternating motion in the subcutaneous layer, permitting penetration through the fat tissues to break them apart. It also intercepts any injury to the adjacent blood vessels, speeding up recovery.
VASER is the minimally invasive Ultrasound-Assisted Liposuction (UAL) approach that is entirely painless and ensures rapid healing. It involves exposing stubborn fat deposits to high-frequency sound waves, leading to liquefaction and easy removal.
The second phase involves the removal of excessive skin. Simultaneously, board-certified plastic surgeons in Delhi like Dr Rajat Gupta also perform muscle plication, which tightens the abdominal muscles laterally and vertically. Additionally, Dr Gupta implements the precise and unprecedented hi-lateral plication tension abdominoplasty using the state-of-the-art infrastructure at RG Aesthetics. The technique allows the uniform distribution of muscular tension along the abdomen, rather than centralising along the incision line. Therefore, the recovery is much more comfortable for the patient, ensuring a heightened surgical experience.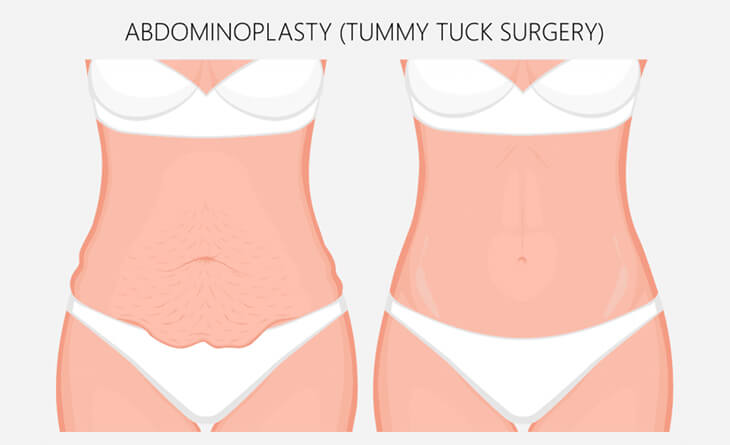 Have questions or want to get started? We are ready to help you with a smile!
How Much Circumferential Tummy Tuck Surgery Costs
There is, unfortunately, no industry standard for the cost of a circumferential tummy tuck. Thus, you need to analyse specific factors before finalising any surgical procedure to ensure the best treatment and care for a precise outcome.
Experienced Certified Surgeon
Selecting a board-certified cosmetic surgeon like Dr Rajat Gupta ensures desirable results. You can also analyse online reviews, comparing before-and-after photographs of patients who have experienced similar procedures. These reviews help you determine the surgeon's expertise.
The Hospital's Infrastructure
Selecting a centre like RG Aesthetics with the latest circumferential tummy-tuck procedure guarantees that their team are also equipped with the most advanced techniques to provide superior results. Therefore, the facilities in the centre are essential.
By taking such stringent quality checks, you ensure your circumferential tummy tuck cost is entirely worth it. After all, this is an invasive procedure, and you should ensure you get the best results. Looking for board certification and access to the latest technologies guarantees a natural-looking, gorgeous outcome.

Dr. Rajat Gupta
MBBS, MS, DNB(Gen. Surg.),
DNB (Plastic Surgery)
Dr. Rajat Gupta is a board certified plastic surgeon in India with 12 years of experience to back his expertise in the domain of aesthetic surgeries.
Having completed his training from Maulana Azad Medical College and equipped with a thorough understanding of aesthetic needs of people, Dr. Gupta strives to offer the best remedies and cosmetic procedures outfitted with the latest technology to the aspirants in India and across the globe. To book an appointment, call: +91-9251711711 or email: contact@drrajatgupta.com