Can You Get a Tummy Tuck and Caesarean Section?
Dr Rajat Gupta
Many women opt for a tummy tuck after giving birth since they usually find a lot of fat and excess skin on the abdominal area. The tummy tuck surgery is perfect for this since it tackles excess fat and skin in a single procedure, restoring an approximation of the pre-pregnancy body. Thus, many women also wonder if they can get a tummy tuck and caesarean section (C-section) simultaneously.
So, let us answer the question immediately: no, you cannot get these procedures simultaneously. Why? Read on.
Why are a tummy tuck and caesarean section not possible simultaneously?
The goal of tummy tuck is aesthetic. For successful surgery and postoperative care, sound physical health is essential. After pregnancy, both your abdomen and uterus are distended. It poses challenges to the surgeon to precisely assess the extent of tightening and plan the entire procedure, which can hamper the outcome of the tummy tuck surgery.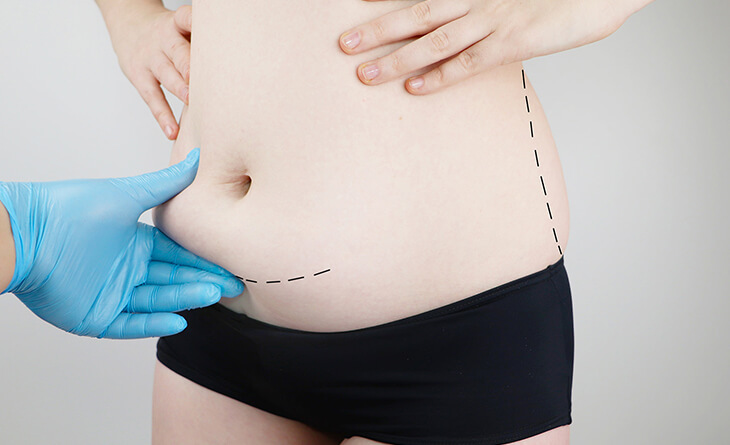 Have questions or want to get started? We are ready to help you with a smile!
How long should I wait after my caesarean section before getting a tummy tuck?
If you consider a tummy tuck after caesarean delivery, you should always consult with a board-certified plastic surgeon in Delhi like Dr Rajat Gupta.  It is essential to have sound physical health and body weight for the best outcome before surgery. A healthy body is a prime factor for the best result. Consider a tummy tuck surgery only if you don't plan for another pregnancy. Otherwise, you may encounter and exacerbate the expense, surgery and healing.
Additionally, you cannot rule out a relapse of the droopy abdomen. Remember, the surgery involves both aesthetics and medications. Therefore, being in the prime of your health and past breastfeeding guarantees excellent results.
Why wait this long?
Recovering from a tummy tuck and caesarean section depends on different factors. Postoperative care is one of the prime factors for smooth healing. Healing from both surgeries simultaneously combined with postnatal care is intricate and debilitating.
Your health parameters should be optimum with average body weight for a tummy tuck or any surgery. Therefore, complete healing and postoperative care from your caesarean are essential. Here are a few factors which hamper the possibility of undergoing both surgeries simultaneously:
Complications: Both surgeries pose risks. Clubbing a caesarean section and tummy tuck aggravate the probability of complications. The lady can encounter the likelihood of blood clots and oedema during a caesarean. Moreover, you cannot rule out the possibility of infection to the uterus and abdominal wall.
Surgeon Logistics: It's an arduous task to find a surgeon who can cater to your requirement to conduct both surgeries simultaneously or immediately. Moreover, it is their sole discretion to take a call for the procedure owing to the unprecedented risk factors during delivery.
Choosing an experienced plastic surgeon in Delhi like Dr Rajat Gupta at RG Aesthetics helps you benefit the best. His proficiency and profound knowledge can precisely guide you for the best results. Moreover, being equipped with ultramodern facilities and sophisticated techniques enables the delivery of accurate results.

Dr. Rajat Gupta
MBBS, MS, DNB(Gen. Surg.),
DNB (Plastic Surgery)
Dr. Rajat Gupta is a board certified plastic surgeon in India with 12 years of experience to back his expertise in the domain of aesthetic surgeries.
Having completed his training from Maulana Azad Medical College and equipped with a thorough understanding of aesthetic needs of people, Dr. Gupta strives to offer the best remedies and cosmetic procedures outfitted with the latest technology to the aspirants in India and across the globe. To book an appointment, call: +91-9251711711 or email: contact@drrajatgupta.com