Are There Any Effective Tummy Tuck Exercises After Pregnancy?
Dr Rajat Gupta
Pregnancy is considered a beautiful time in every woman's life. She has the soft pregnancy glow and is creating life within her. However, there is also no denying that pregnancy is an equally indulgent time. Many women eat heavily (eating for two) and give in to cravings they might otherwise refrain from. Thus, it is no wonder that they wonder about practical tummy tuck exercises after pregnancy.
The reality is that, since every body is different, the way your body changes during pregnancy – especially multiple pregnancies – may be irreversible. Many celebrities who snap back to their pre-pregnancy bodies do so due to diet and exercise during the pregnancy. Not every woman strives to look like a celebrity. However, there is no denying that going back to your pre-pregnancy figure would be a desirable change. Here, the tummy tuck or abdominoplasty helps.
Get a Tummy Tuck and Exercise After Pregnancy
An abdominoplasty or tummy tuck is a surgical procedure that removes excess fat and skin from the abdomen. Many times, post-pregnancy, women may be able to burn some amount of fat from their belly through exercise. However, due to their stomach expanding and the skin losing its natural elasticity, they may still have a considerable amount of sagging skin in the area.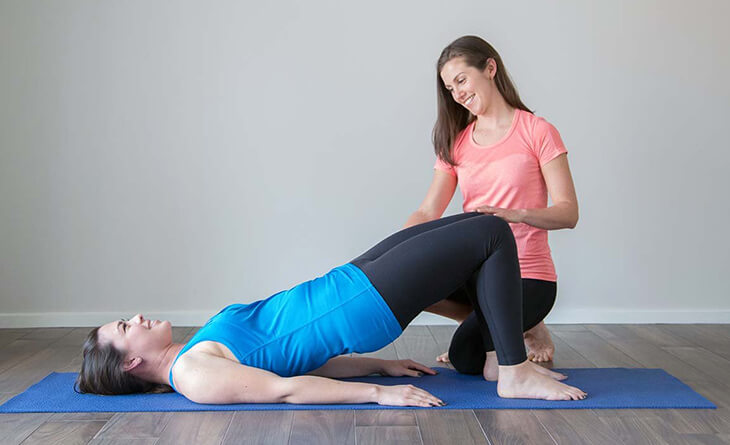 Have questions or want to get started? We are ready to help you with a smile!
A tummy tuck helps with this. Depending on the excess the woman has, she may choose a full or mini tummy tuck – the former involves navel repositioning.
Surgeons today have developed exceedingly advanced methods with modern technology for this procedure. The surgery happens under general anaesthesia, and an incision is made from one side of your abdomen to the other.
Your surgeon then removes excess fat through liposuction, with experts using the latest MicroAire and VASER technologies for this. These minimally invasive devices ensure significantly less trauma to the body and the fat cells extracted, promoting a faster recovery.
After this, your surgeon excises excess skin around the abdomen. When you visit a board-certified plastic surgeon in Delhi like Dr Rajat Gupta, you also get muscle plication. This refers to your abdominal muscles' simultaneous vertical and horizontal tightening, distributing the pressure and promoting a more comfortable post-op experience. The horizontal muscle plication has the additional benefit of tightening the waist for a pronounced hourglass shape.
It is important to remember that you can still regain this excess despite the fat and skin removal if you do not maintain it after the surgery. Here, exercise and workouts come in. Following a healthy diet with regular exercise after pregnancy ensures that your tummy tuck results stay intact and gorgeous.
Dr Rajat Gupta also corrects the divarication of recti muscles during abdominoplasties. This procedure brings together the separated rectus abdominus muscle to better tone the abdominal region. Additionally, while not a common complication, divarication can cause hernias, which the abdominoplasty also helps.
Using the advanced technology at RG Aesthetics, Dr Gupta employs his expertise as a board-certified plastic surgeon in Delhi to ensure completely natural-looking results for every patient under his care!

Dr. Rajat Gupta
MBBS, MS, DNB(Gen. Surg.),
DNB (Plastic Surgery)
Dr. Rajat Gupta is a board certified plastic surgeon in India with 12 years of experience to back his expertise in the domain of aesthetic surgeries.
Having completed his training from Maulana Azad Medical College and equipped with a thorough understanding of aesthetic needs of people, Dr. Gupta strives to offer the best remedies and cosmetic procedures outfitted with the latest technology to the aspirants in India and across the globe. To book an appointment, call: +91-9251711711 or email: contact@drrajatgupta.com