Complete Guide to Tummy Tuck in Delhi
Dr Rajat Gupta
Considering a tummy tuck procedure and have questions? This guide can help.
Tummy tuck surgery or abdominoplasty tones your abdomen by removing excess fat and skin from the abdominal area and tightening the muscles. It helps to make the waist appear more youthful and slimmer by toning it. 
Despite exercising and maintaining a healthy lifestyle, certain pockets of fat make our bodies look old and droopy. Many of us are unhappy with our belly and want to look athletic and toned in the mirror. But even if the exercise helps lose overall weight, certain pockets of fat remain unresponsive. As a flat tummy is considered youthful and fit, the best results you can find in India are achieved by tummy tuck surgery in Delhi performed by top plastic surgeons. 
Cosmetic procedures like tummy tuck surgery benefit mothers who have had multiple pregnancies as their skin loses elasticity and undergoes diastasis. Diastasis occurs when the rectus abdominis muscles stretch apart during pregnancy in postpartum females. The accumulated fat in this duration is mostly subcutaneous, and getting rid of it isn't easy. The fat is responsible for the eventual sagging of the skin. With abdominoplasty, weakened muscles are tightened up, bringing patients as close to their pre-pregnancy bodies as possible while maintaining an athletic shape that enhances their natural shape.
Liposuction refers to the removal of stubborn subcutaneous pockets of fat from various parts of your body. The procedure includes the abdominal region. However, sometimes liposuction leaves behind excess skin. Here, a tummy tuck is performed to remove the excess skin surgically.
The procedure makes the abdominal muscles stronger and decreases back pain. After a tummy tuck procedure, you will also have an improved posture due to the tightened muscles, giving more support to your spine. Additionally, there is no connection between having an abdominoplasty and being able to conceive. As long as you maintain a stable weight, the results of a tummy tuck are usually long-lasting.
The best cosmetic surgeon in Delhi, Dr Rajat Gupta, customises every tummy tuck procedure as per the patient's medical profile to ensure the best natural-looking results and a short recovery time. Let's take a look into potential complications associated with the surgery.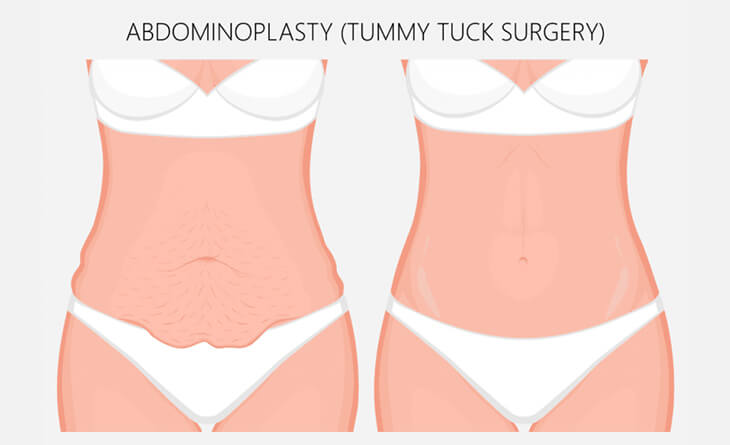 Have questions or want to get started? We are ready to help you with a smile!
What are the possible complications?
The tummy tuck procedure is a commonly performed aesthetic surgery. Approximately 800,000 people undergo abdominoplasty each year, making it the sixth most common cosmetic procedure. Abdominoplasty involves the excision of superfluous skin and fat tissue to reshape the abdominal wall.
As with any surgery, a tummy tuck also poses certain risks and complications. Knowing the risks associated with the surgery helps patients make an informed decision during the consultation with the plastic surgeon. Following are the potential complications which may arise in a tummy tuck surgery:
In male patients, serous fluid accumulation under the abdominal flap is the most common complication following an abdominoplasty. In order to reduce the risk of seroma formation, different surgical strategies have been proposed. Fortunately, seromas can be avoided if an expert plastic surgeon like Dr Rajat Gupta performs the tummy tuck procedure and knows how to mitigate the risks by making the right surgical decisions.
There is commonly inflammation in a defined region, characterised by erythema, oedema, discomfort, and an elevated local temperature. Most infections after abdominoplasties are caused by bacterial skin flora: particularly Staphylococcus epidermidis, Streptococcus pyogenes, and Staphylococcus aureus, which require second-line antibiotic therapy. Infections caused by bacteria are eliminated by sterile handling of the surgical environment.
Tummy tuck surgery may destroy fatty tissue deep under your skin in the abdominal area, which is essential for the body's physiology. Smoking cigarettes raises the risk of tissue damage or necrosis. Depending on the extent of the wound, the tissue may heal by itself or require corrective tummy tuck surgery in Delhi. Necrosis may begin with indicators of insufficient hydration, such as delayed capillary fill and decreased local temperature.
In tummy tuck procedures, haematomas occur less frequently than seromas or skin necrosis, with an incidence of 2%. Hypertension and unsuccessful haemostasis during abdominoplasty are risk factors for haematoma after abdominoplasty. The clinical presentation of a haematoma is determined by its size. If it is tiny enough, it may be asymptomatic; but if it is bigger, it will cause swelling, localised discomfort, and ecchymosis, generally within the first 24 hours.
Localised Numbness of Skin
The rearrangement of your abdominal tissues can cause nerve damage in the abdomen and, in rare cases, the upper thighs. You will most likely experience diminished feeling or numbness, which normally subsides in the months following the procedure, given that the recovery instructions are duly followed.
Incisions are made for better access to excess tissue and skin removal during the tummy tuck procedure. This may result in keloid or hypertrophic scars if the recovery period is not duly followed. The risk of scarring can be averted with a compression garment to ensure proper healing. 
If an experienced plastic surgeon performs the procedure and keeps up with the latest developments in abdominoplasty research, the majority of risks and complications can be avoided. Hence it is essential to choose the best cosmetic surgeon in Delhi when preparing for a tummy tuck.
What you can expect
Most tummy tuck surgeries in India are performed as outpatient procedures, and patients can go home the same day. Your plastic surgeon may advise a longer hospital stay, especially after a more extensive tummy tuck. The nurses can safely monitor you during the initial period of your recovery. Since a tummy tuck procedure focuses surgery on the abdominal muscles, recovery requires more time than other plastic surgeries.
The patient must understand the recovery process correctly before having a tummy tuck. The instructions ensure fading of scars and a reduced risk of complications. The recovery process after an abdominoplasty depends on several factors, including age, health, body weight, and the type of procedure. It is easy to want to get back to your normal routine, but the body needs rest and time to heal properly. Despite the initial period of recovery, it is still recommended to gradually return to your daily routine for the best long-term results. 
After a tummy tuck procedure, you can return to your job in 2 to 4 weeks. In case your job requires physically demanding activities, such as walking long distances, lifting heavy objects, or other strenuous activities, it is advised to ask for a longer leave of at least 6 weeks. Usually, a tummy tuck is scheduled shortly after childbirth, when the mother is medically fit. Child care becomes a concern as the patient needs rest and isn't advised to engage in strenuous activities, so having a caregiver will facilitate the process.
A tummy tuck surgery performed by the best cosmetic surgeon in Delhi will result in long-lasting, easy-to-maintain results. The abdominal muscles are tighter with a better contour, enhancing the patient's appearance. With a healthy lifestyle and staying fit, the results can be permanent. 
How a Tummy Tuck Is Done
Throughout the years, tummy tuck procedures have been perfected and made safer for different patients, with individual requirements. New developments in plastic surgery and the related biomedical fields have resulted in low-risk and complication-free procedures.
The tummy tuck procedure entails the surgical excision of extra fat and skin from the patient's belly region.  The surplus skin is measured, excised, and sutured back into place. This technique produces great, long-lasting results that appear natural. As a result, they are immensely coveted, particularly among those who want to witness quick alterations in body shape. A tummy tuck surgery in Delhi is done in a hospital or an outpatient surgical facility, depending on the plastic surgeon's patient evaluation.
Patients can choose from several types of tummy tuck surgery based on their needs. There are three main types of tummy tuck procedures:
Mini Tummy Tuck Procedure
A mini tummy tuck may be a good option for you if you have a small amount of excess belly fat and minimal-moderate excess skin. The abdominoplasty is less stressful to the body because it uses a minimal incision method, similar to one made in a caesarean section. 
The incision for this type of tummy tuck is low on the abdomen, generally concealed under the bikini line. When performed by a board-certified surgeon, the surgery is quite safe. Even when paired with liposuction, the surgeon has access to cutting-edge technology at well-equipped centres. Power-assisted and ultrasound-assisted liposuction technologies are the most advanced liposuction medical tools, ensuring a less intrusive process.
Full Tummy Tuck Procedure
The full tummy tuck improves both the upper and lower abdomen, and it is recommended for patients with excess skin in the belly region. A full tummy tuck surgery in Delhi enhances the contour of the stomach. It is common to make an incision over the pubic mound, either horizontally or U-shaped. This gives the surgeon better access to remove extra skin and tighten the abdominal muscles. An additional incision is made around the navel to address excess skin above the belly button for more severe cases.
Extended Tummy Tuck Procedure
Specifically, the upper and lower abdomen and the flanks will be improved with this approach. Dr Rajat Gupta advises the recovery time after an extended abdominoplasty is usually two weeks. Patients can resume their daily activities within 3 weeks and be able to move into their daily routine after 6 weeks.
Extended Tummy Tuck patients may benefit from liposuction during their surgery to obtain their ideal body contour, which is often performed on the hips, love handles, and flanks. This technique's scope is broader; this treatment necessitates a longer incision than a Full Tummy Tuck.
Before your tummy tuck surgery, consult with the best cosmetic surgeon in Delhi to establish if you should have a small, full, or extended stomach tuck. You will almost require a full tummy tuck if you have had numerous pregnancies. If you are a first-time mother who followed a balanced diet and exercise routine during pregnancy, you may not have too much extra skin.
It is important to remember that only a comprehensive pre-op consultation can provide you with appropriate insight into which surgery would benefit you the most. As a result, selecting a surgeon with a solid track record is critical before undertaking the treatment.
What's the recovery process like?
When an expert plastic surgeon does tummy tuck surgery, the patient's healing period is easier and shorter. Still, the patient must follow all recovery instructions for the best results after a tummy tuck surgery in Delhi. The surgeon will schedule follow-up visits, to examine the progress and make adjustments in the recovery plan accordingly.
The patient will be advised to sleep on an incline for the first few days. Your surgeon will suggest comfortable resting positions. Taking the prescribed medications and resting as much as possible will speed up the healing process and reduce complications. By wearing the compression garments as instructed enhances the results, and healing of the incisions is facilitated, so there are no visible scars left behind.
The recovery process will take several weeks.  As you won't be able to drive or travel for four to six weeks, prioritise taking care of yourself and eating a balanced, nutritious diet. It is advised to strictly limit intense exercise and demanding physical activity during this period. If your job requires too much physical activity, you can ask your doctor what activities you can do and what time you will need to take off.
A tummy tuck procedure is a plastic surgery that makes the abdomen look better when performed by an expert surgeon. Dr Rajat Gupta, has over 2 decades of experience in the field of plastic surgery, and is considered by many as the best cosmetic surgeon in Delhi. Patients of Dr Gupta around the world have always expressed how satisfied they were after their abdominoplasty surgery, and how the recovery period was easier with no permanent scarring. 
Contact us today to schedule your consultation with board-certified plastic surgeon Dr Rajat Gupta today!

Dr. Rajat Gupta
MBBS, MS, DNB(Gen. Surg.),
DNB (Plastic Surgery)
Dr. Rajat Gupta is a board certified plastic surgeon in India with 13 years of experience to back his expertise in the domain of aesthetic surgeries.
Having completed his training from Maulana Azad Medical College and equipped with a thorough understanding of aesthetic needs of people, Dr. Gupta strives to offer the best remedies and cosmetic procedures outfitted with the latest technology to the aspirants in India and across the globe. To book an appointment, call: +91-9251711711 or email: contact@drrajatgupta.com