What is the Circumferential Tummy Tuck Recovery Like?
Dr Rajat Gupta
A circumferential tummy tuck removes and reshapes the loose drooping skin of the lower abdomen, lower back, waist and buttocks. These conditions often result from significant weight loss or a bariatric surgery. Today, it is a relatively common procedure, leading many patients to wonder about the circumferential tummy tuck recovery.
A circumferential tummy tuck surgery is absolutely a safe procedure, primarily due to the sophisticated technology. Moreover, a well-experienced plastic surgeon ensures the accuracy and precision of the surgery with minimal risks and postoperative complications. Recovery after circumferential tummy tuck is entirely attained within two to three weeks.
Post-Operative Care after Circumferential Tummy Tuck Surgery
During your circumferential tummy tuck recovery, you may notice some discomfort in your abdominal region. This, along with the possible associated tightness, is entirely normal and does not signify complications. As long as you go to an expert surgeon with proven specialisation, you should have a wholly safe and marvellous transformation through this procedure.
Here are some staples of post-op care you need to keep in mind:
Follow all your plastic surgeon's instructions.
Initially, you may experience swelling, bruises, soreness, and pain, which regress within 48 You should rest for the first few days to avoid any wound irritation.
You will need antibiotics and analgesics to expedite the healing.
You will be given a compression garment, an abdominal binder to curtail the swelling, ward off the blood clots formation and brace your midsection. You will wear this for a period determined by your surgeon.
Thin tubes are inserted into the wound to drain any fluid or blood from the body and removed within three to ten days.
Regular and systematic follow-up is essential for a speedy recovery.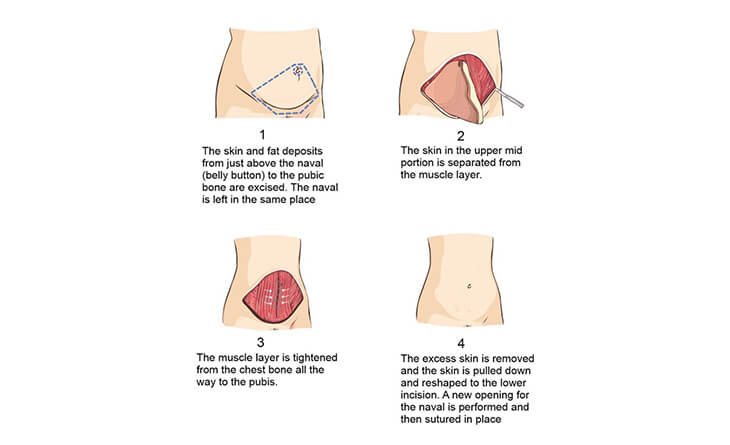 Have questions or want to get started? We are ready to help you with a smile!
Circumferential Tummy Tuck Recovery Phase
Like any surgery, you are likely to encounter few postoperative changes which completely subsides during the recovery phase, like bruises, inflammation, pain, uneasiness, which regress within forty-eight hours. You may sense pressure on the abdomen. However, this pressure is uniformly distributed due to the hi-lateral tension technique, ensuring a rapid recovery.
It is important to remember that the high-quality equipment like MicroAire and VASER used in this procedure further expedite recovery. These minimally invasive liposuction devices, combined with the suture plication technique that further narrows the waist and evenly distributes tension, promotes a more comfortable post-op experience.
Your transformation suitably to your expectations bestows a new outlook after the surgery. Your new attire results from your ardent emotional, physical and financial commitment to your new garment. It is essential to adhere to a healthy balanced diet and lifestyle to maintain your results.
At RG Aesthetics, Dr Rajat Gupta is transparent and proficient in every aspect of this cosmetic procedure. As a board-certified plastic surgeon in Delhi, he precisely meets every patient's need with the state-of-the-art infrastructure and equipment available at the centre. Implementing international standards of patient care, Dr Gupta creates a natural-looking, precise outcome for everyone under his capable hand.

Dr. Rajat Gupta
MBBS, MS, DNB(Gen. Surg.),
DNB (Plastic Surgery)
Dr. Rajat Gupta is a board certified plastic surgeon in India with 12 years of experience to back his expertise in the domain of aesthetic surgeries.
Having completed his training from Maulana Azad Medical College and equipped with a thorough understanding of aesthetic needs of people, Dr. Gupta strives to offer the best remedies and cosmetic procedures outfitted with the latest technology to the aspirants in India and across the globe. To book an appointment, call: +91-9251711711 or email: contact@drrajatgupta.com