What are the Different Types of Tummy Tucks?
Dr Rajat Gupta
Tummy tuck or abdominoplasty is a common cosmetic surgery that involves surgical excision or removal of the excess fat and skin on the abdomen. The surgery is also termed lipo abdominoplasty since it incorporates both removals of excess fat with skin. Depending on the needs of patients, different types of tummy tuck surgery are advised.
With the help of advancements in cosmetic and medical technology and renowned techniques, cosmetic surgeons have the desired outcome that aligns with the form of your abdomen. Remember, the goal of any cosmetic procedure is to give you completely natural-looking results. Expert surgeons work with your existing contours to ensure you look very aesthetic without visible surgical scars or aftermaths.
Different Types of Tummy Tuck Surgery
Based on your requirements and goals, the surgeon decides the type of abdominoplasty or tummy tuck surgery. You can get a full or mini tummy tuck, depending on how much fat removal and skin excision you need.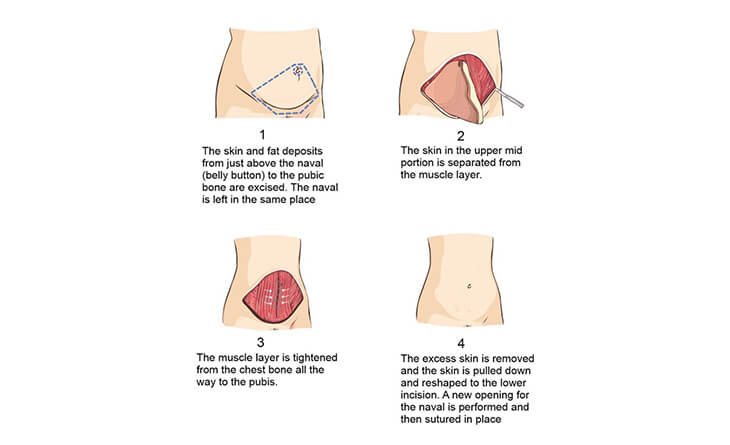 Have questions or want to get started? We are ready to help you with a smile!
Complete Abdominoplasty or Full Tummy Tuck
This is the common surgery that focuses on reshaping and vitalizing the lower abdomen. The surgeon begins with incising the abdomen above the pubic area from hip to hip, permitting excessive skin and fat tissue removal, followed by outlining the abdominal skin, tissue, and muscles.
It gives a flat and tightened look after the surgery. The surgery includes shifting your navel or belly button. After surgery, you may require drainage tubes until recovery. Your plastic surgeon in Delhi also repositions your navel in complete abdominoplasty to look natural and symmetrical.
Partial Abdominoplasty or Mini Tummy Tuck
It is done on patients whose fat accumulation is located below the navel. While this procedure also involves removing excess fat and skin tissue, the mini tummy tuck usually demands less skin excision and liposuction. This is ideal for patients with small paunches developed as a result of weight gain. It involves a smaller incision above the pubic area and does not involve navel repositioning. The small and low incision also ensures less scarring, while undergarments mask the resulting scar.
How are the different types of tummy tuck done?
Using the most innovative and sophisticated MicroAire and VASER technology, your plastic surgeon can precisely suction out excessive fat. Moreover, VASER technology creates heat that secures the skin without any extra excision. Expert surgeons also use the latest radiofrequency contouring technology, BodyTite, for enhanced results, particularly in the mini tummy tuck.
Using horizontal and vertical muscle plication procedures along the muscles enhances the appearance by narrowing the waist. Additionally, securing and suturing the lateral flaps of skin (hi-lateral tension abdominoplasty) aids in evenly distributing the tension across the abdomen. Such techniques ensure a more comfortable recovery while avoiding the possible muffin-top appearance created by skin collection around the hips.
Choosing a board-certified plastic surgeon in Delhi like Dr Rajat Gupta at RG Aesthetics gives you access to the latest technologies and techniques. The high-quality infrastructure available at the centre enables Dr Gupta to deliver precise results that adhere completely to patient expectations and desires.

Dr. Rajat Gupta
MBBS, MS, DNB(Gen. Surg.),
DNB (Plastic Surgery)
Dr. Rajat Gupta is a board certified plastic surgeon in India with 12 years of experience to back his expertise in the domain of aesthetic surgeries.
Having completed his training from Maulana Azad Medical College and equipped with a thorough understanding of aesthetic needs of people, Dr. Gupta strives to offer the best remedies and cosmetic procedures outfitted with the latest technology to the aspirants in India and across the globe. To book an appointment, call: +91-9251711711 or email: contact@drrajatgupta.com