The Different Kinds of Tummy Tuck – Which One is Right for You?
Dr Rajat Gupta
It is no secret that the tummy tuck or abdominoplasty continues to be one of the most popular cosmetic procedures today. It creates a beautiful, toned abdomen by targeting both excess fat and skin for enhanced contours. However, it is also a relatively more invasive procedure, leading many people to wonder about the different kinds of tummy tuck and their options. 
Therefore, the first thing to understand is that there are two kinds of tummy tuck: full and mini. The full tummy tuck removes a significantly greater amount of excess skin from the abdomen, often necessitating navel (belly button) repositioning in the process. Meanwhile, a mini tummy tuck removes less excess skin and does not involve navel repositioning. 
Are the different kinds of tummy tuck all surgical?
Yes, both kinds of the tummy tuck are surgical. However, the mini tummy tuck is less traumatic due to its smaller incision. While a full abdominoplasty's incision extends from one lateral side to the other, the mini tummy tuck has an incision placed low on the abdomen, usually hidden in the bikini line.
The resulting scar from a full abdominoplasty is also more conspicuous than that from a mini tuck. That said, both procedures are exceedingly safe when performed by a board-certified surgeon. Even when combined with liposuction, you get access to state-of-the-art facilities at well-equipped centres. The latest liposuction developments include power-assisted and ultrasound-assisted devices that ensure a minimally invasive procedure.
After removing the stubborn fat, your surgeon excises excess skin, completing the tummy tuck surgery. If you get a whole or circumferential liposuction procedure, this can also include using high-lateral tension suturing to evenly distribute the pressure across the abdomen. This technique contributes to a more comfortable recovery while simultaneously narrowing the waist since the lateral sides of the stomach are sutured together. Therefore, you get excellent results from both kinds of tummy tucks.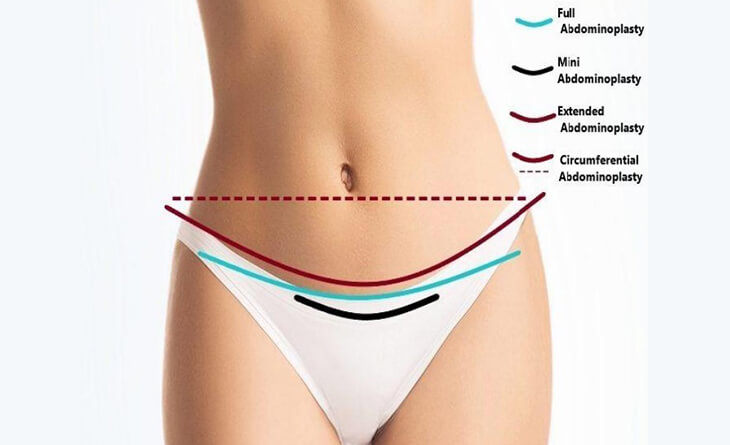 Have questions or want to get started? We are ready to help you with a smile!
How to Choose Between the Different Kinds of Tummy Tuck
Consulting with an expert surgeon before undergoing your procedure is the best way to determine whether you should opt for a full or mini tummy tuck. If you have experienced multiple pregnancies, chances are you will need a full tummy tuck. However, if you are a first-time mother who maintained a healthy diet and exercise during pregnancy, you may not have too much excess skin. Hence, you may benefit more from the mini-abdominoplasty.
You should note that only a holistic pre-op consultation can give you adequate insight into which procedure would benefit you most. A low-quality approach would compromise your body's natural contour, and a redo is much more challenging to correct than a first-time procedure. Therefore, choosing a surgeon with a proven track record is paramount before undergoing the procedure.
As a board-certified plastic surgeon in Delhi, Dr Rajat Gupta possesses extensive knowledge on every body contouring procedure, and abdominoplasty is no exception. With the latest infrastructure at RG Aesthetics, Dr Gupta performs effective and safe practices, consistently in line with patient expectations!

Dr. Rajat Gupta
MBBS, MS, DNB(Gen. Surg.),
DNB (Plastic Surgery)
Dr. Rajat Gupta is a board certified plastic surgeon in India with 12 years of experience to back his expertise in the domain of aesthetic surgeries.
Having completed his training from Maulana Azad Medical College and equipped with a thorough understanding of aesthetic needs of people, Dr. Gupta strives to offer the best remedies and cosmetic procedures outfitted with the latest technology to the aspirants in India and across the globe. To book an appointment, call: +91-9251711711 or email: contact@drrajatgupta.com