How to Know if You Need Lipo or a Tummy Tuck First?
Dr Rajat Gupta
Many people misunderstand the considerable difference between liposuction and tummy tuck. Liposuction refers to the removal of stubborn subcutaneous pockets of fat from various parts of your body. Yes, this includes the abdomen, home to some of the most stubborn fat. However, sometimes liposuction leaves behind excess skin. Here, a tummy tuck comes in to surgically remove the excess skin. Does this answer the question about lipo or tummy tuck first?
Let us simplify matters further. A tummy tuck or abdominoplasty involves the surgical excision of excess skin from the abdominal region. It is often combined with liposuction, i.e. fat removal, for enhanced results, earning it the name lipoabdominoplasty. This combination creates the toned, athletic abdomen coveted by many.
Which is worth the effort – getting a lipo or tummy tuck first?
The question is not about which one is worth more than the other, instead which one would benefit you most. If you are a person who has undergone massive weight loss recently, you may have less fat in the abdominal region but lots of excess skin. On the other hand, if you are a new mother, you may find more fat than the skin on your tummy from your pregnancy. 
The tricky part is knowing the difference. This is where consulting a board-certified plastic surgeon helps. An excellent pre-op assessment will help your surgeon determine which procedure will suit you more. This is important since there is no reason to undergo it if you do not need excision. Similarly, if you only require excision, fat removal is an unnecessary add-on.
A good surgeon understands your goals and determines if you need lipo or tummy tuck first. Many patients choose liposuction and then excise skin if necessary, with the patient's consent. However, given the advancement of liposuction technology today, surgical removal is not always needed. 
The ultrasound-assisted VASER liposuction device used at state-of-the-art centres emits heat during the fat emulsification process. This heat shrinks your skin over your new contours, eliminating the need for further excision. Similarly, radiofrequency-based devices like BodyTite are top-rated today to shrink the skin and avoid additional incisions. These measures contribute to more natural-looking results.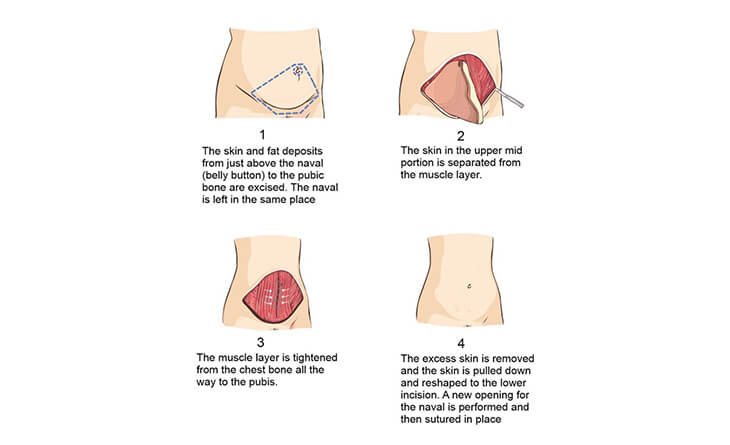 Have questions or want to get started? We are ready to help you with a smile!
If you need tummy tuck surgery, that usually means your surgeon cannot reduce the excess skin with heat-based devices alone. However, if your excess skin has some elasticity and is less, a mini tummy tuck will remove it effectively. If you have too much excess skin that hangs down, you will likely need a full abdominoplasty for the best results. 
Therefore, understanding your options is vital to determining which surgery to go through first. Depending on your aesthetic needs, you will need the minimally invasive liposuction procedure or the more invasive abdominoplasty. 
The good news is that you can undergo this procedure completely safely at a well-equipped centre like RG Aesthetics. You have the assurance of Dr Rajat Gupta, a board-certified plastic surgeon in Delhi, who uses the latest technology and techniques to ensure you get entirely natural-looking, gorgeous results from whichever procedure you undergo. 

Dr. Rajat Gupta
MBBS, MS, DNB(Gen. Surg.),
DNB (Plastic Surgery)
Dr. Rajat Gupta is a board certified plastic surgeon in India with 12 years of experience to back his expertise in the domain of aesthetic surgeries.
Having completed his training from Maulana Azad Medical College and equipped with a thorough understanding of aesthetic needs of people, Dr. Gupta strives to offer the best remedies and cosmetic procedures outfitted with the latest technology to the aspirants in India and across the globe. To book an appointment, call: +91-9251711711 or email: contact@drrajatgupta.com