How to Fix Uneven Breast Implants
Dr Rajat Gupta
You wanted your happy ending and went ahead for breast implants – these were your gift to yourself to look and feel good. You wanted your breasts to look a certain way, and after much deliberation, you finally got your procedure done.
Today when you woke up and looked at yourself in the mirror, your worst nightmare seemed to come true – your breasts were looking uneven. It seemed as if you had uneven breast implants, and suddenly your world came crashing down.
Take a deep breath. Relax. Let us work together on how to fix uneven breast implants. There is no problem in the world that does not have a solution. Why don't we go back to your procedure and take it step by step?
Did you get your breast implants only in the last 2 days? If that is the case, then the most likely scenario is that you are facing post-surgery symptoms. Some unevenness may be visible simply on account of the fact that your two breasts are experiencing different amounts of swelling, which is completely normal in this procedure.
Did you follow the post recovery protocols as advised by your doctor?
You need to exercise some restraint in physical activities that work the muscles of your breasts – no lifting of heavy objects or any sudden movements, at least during the first two weeks after your procedure and use of compression garments for about a month. If you are still in the first month post-surgery, then the swelling/bruising/discomfort is perfectly normal. Things will start to look and feel normal towards the end of this period.
Did you resume physical activities after 6-8 weeks, in consultation with your doctor? If you did, then relax. Your implants will continue to settle in their final position over the next few months. It is ok if they look just a little uneven in this duration.
Are you now in what may be called the stable implant phase post-surgery? Have a few months or even years gone by, and you are wondering how to fix uneven breast implants?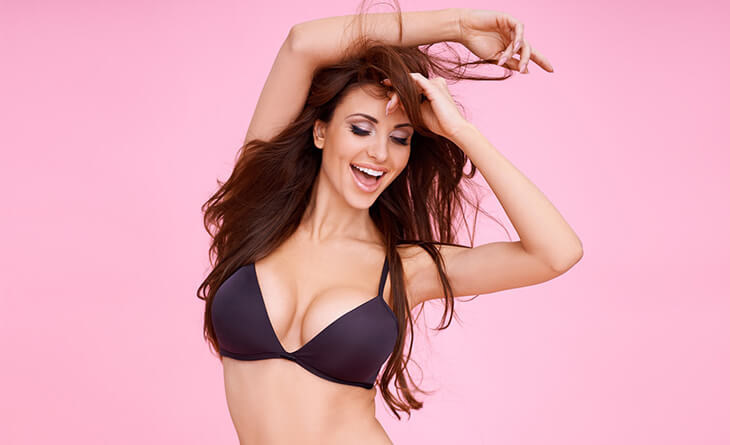 Have questions or want to get started? We are ready to help you with a smile!
If you are in this phase, and are concerned with uneven breast implants, then like any other medical issue, the first step is to visit your board-certified plastic surgeon. This is crucial. A certified professional in this field will be rightly able to diagnose the cause of uneven looking breasts.
An inadvertent error in your surgical procedure, damage to the implants from an injury to your breast, natural ageing of your implants causing them to lose their shape, or an unrelated medical issue – any of these could be the cause of your breasts looking uneven, or what you may address as uneven breast implants.
Pick up your phone, make an appointment, and go see your doctor. They are the trained and certified professionals who will be able to understand your problems, conduct the right set of tests to diagnose the actual issue at hand, and then guide you towards the right course of treatment to fix your problems.

Dr. Rajat Gupta
MBBS, MS, DNB(Gen. Surg.),
DNB (Plastic Surgery)
Dr. Rajat Gupta is a board certified plastic surgeon in India with 10 years of experience to back his expertise in the domain of aesthetic surgeries.
Having completed his training from Maulana Azad Medical College and equipped with a thorough understanding of aesthetic needs of people, Dr. Gupta strives to offer the best remedies and cosmetic procedures outfitted with the latest technology to the aspirants in India and across the globe. To book an appointment, call: +91-9251711711 or email: contact@drrajatgupta.com