Do I Get Back Pain After Breast Augmentation Surgery?
Dr Rajat Gupta
Breast augmentation surgery refers to the set of cosmetic surgery procedures to enhance a woman's natural breast size and volume. Medically it is termed mammoplasty. It implements breast implants to augment your breast. Artificial silicone implants or fat grafts are used to augment your breasts.  For fat grafts, abnormal fat from your body is suctioned to inject into your breasts.
It can be opted for by women with small-sized breasts disproportionate to your body, loss of breast volume due to drastic weight loss, breastfeeding, mastectomy or other treatments, asymmetrical and non-uniform breasts.
Is there a chance of back pain after breast augmentation Surgery?
Breast augmentation is an outpatient procedure where you can return home the same day after surgery. The procedure helps you with optimum and enhanced breast size and volume. When you choose to get breast augmentation with a board-certified plastic surgeon, you are assured of the best results. However, if the procedure is done through an unqualified surgeon, you may encounter adverse effects like anaesthesia risks, haemorrhage, infection, back pain; therefore, the choice of surgeon matters the most.
Prospective patients are apprehensive about the cause of back pain after breast augmentation surgery. Here we shall analyse the cause of back pain.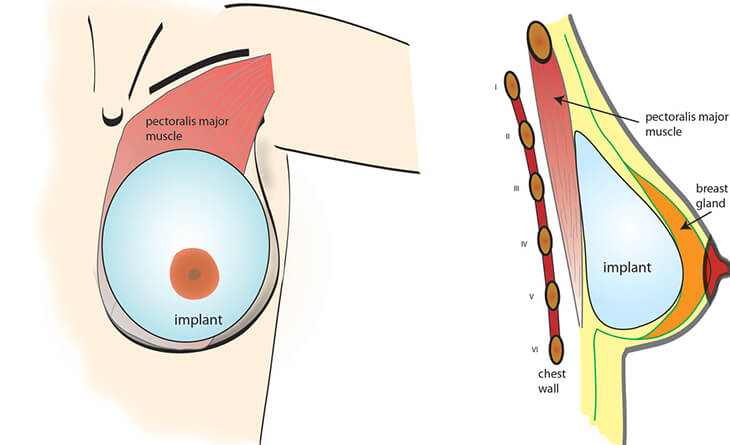 Have questions or want to get started? We are ready to help you with a smile!
How can you avoid back pain after breast augmentation surgery?
You must comprehend every aspect of the procedure in depth through the best plastic surgeon. Dr Rajat Gupta at RG Aesthetics, equipped with an international-standard facility, has accessibility to 3D simulations. This is an innovative technique to visualise the potential results preoperatively. It enables you to curate the size and appearance of your breasts for the desired outcome with natural aesthetics. Dr Rajat Gupta at RG Aesthetics is skilful in every nuance of breast augmentation surgery. Dr Gupta can walk you through to opt the best to avoid any postoperative complications, including back pain. Moreover, with the latest techniques and well-equipped infrastructure, a safe surgery with minimal scarring is assured.
Can breast implants cause back pain?
Breast implants that are abnormally heavy or large compared to your body proportion pull down on your frame. It results in a series of aches, discomforts and pains.  Moreover, the heaviness of the implants imparts poor posture.  Women with abnormally large natural breasts seek breast reduction to alleviate discomforts, pain etc. Similarly, women with extremely big sized implants encounter the same issues. It exacerbates shoulder pain, neck pain, chest heaviness and back pain after breast augmentation surgery.
In most cases, patients compromise their normal movements and positions. Moreover, routine activities like walking, lifting, and sleeping positions are to be consciously controlled. It contributes to muscle strain and uneasiness.
Choose the Right Breast Implant for Your Breast Augmentation at RG Aesthetics
It is undoubtedly true that breast augmentation surgery can be life-changing. However, selecting the appropriate breast implant is pivotal for the vitality of breast augmentation results. The majority of women are immensely content with their outcomes. They are reportedly more feminine, elegant and appealing after breast augmentation surgery.
Still apprehensive about back pain after breast augmentation surgery?
Board-certified plastic surgeon Dr Rajat Gupta at RG Aesthetics and his panel are committed to curating your body with perfect sized breast implants. Dr Rajat Gupta is an eminent and well experienced plastic surgeon in Delhi with finesse calibre in breast augmentation surgery. Moreover, Dr Gupta is well equipped with innovative techniques and world-class infrastructure.

Dr. Rajat Gupta
MBBS, MS, DNB(Gen. Surg.),
DNB (Plastic Surgery)
Dr. Rajat Gupta is a board certified plastic surgeon in India with 12 years of experience to back his expertise in the domain of aesthetic surgeries.
Having completed his training from Maulana Azad Medical College and equipped with a thorough understanding of aesthetic needs of people, Dr. Gupta strives to offer the best remedies and cosmetic procedures outfitted with the latest technology to the aspirants in India and across the globe. To book an appointment, call: +91-9251711711 or email: contact@drrajatgupta.com