Boob Goggles – Crisalix 3D Simulation
Dr Rajat Gupta
If you have been looking Crisalix 3D Simulation in, read on:
Boob Goggle! What comes to your mind when you first hear it?
No, it is not what you think it is! Boob Goggle is a name given to one of the most astounding technologies that science and innovation has offered to the mankind. It is called Crisalix 3D Simulation and RG Aesthetics is perhaps the only facility in India to use this technology for the highest benefit of women looking to enhance, downsize or lift their breasts.
This magical device helps women to visualize their before and after breast sizes, the feel and look before they decide to undergo the plastic surgery (boob job). It is like trying their new boobs on before they decide to buy!
With this latest and breakthrough technology, Dr. Rajat Gupta at RG Aesthetics is quite upbeat about the breast augmentation procedure as he feels that his women patients can now get absolute satisfaction before they make a decision for a breast procedure. He believes that this is a huge advancement in the field of reconstructive and cosmetic surgeries, as people invest a lot of money, time and effort in these procedures, and they must know beforehand what the results would look like. This assurance is extremely important; Dr. Rajat Gupta believes.
Without boob goggle it was tough for women to make a decision as they were not too sure of the results. However, with Crisalix 3D Simulation software, women can even have an exact idea whether they should go for a teardrop implant or a round one. They can actually see it on themselves to make a choice!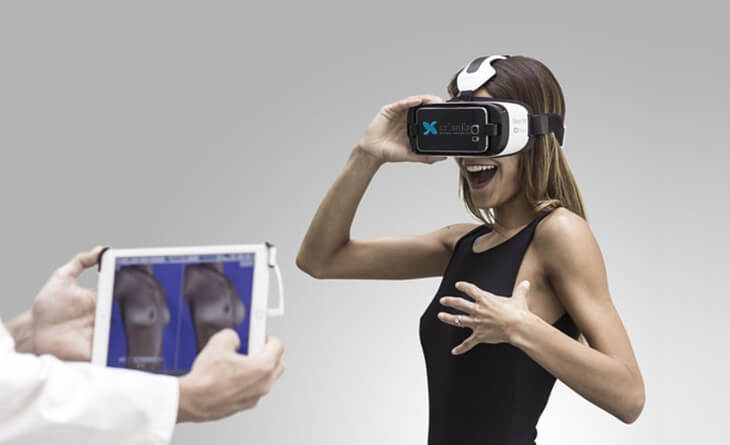 Have questions or want to get started? We are ready to help you with a smile!
The simulation offered by boob goggle is so precise that post surgery the breasts look exactly the same as they appeared in the simulation. This is what makes women happy because it is not giving false hopes.
Crisalix 3D or boob goggle is also being effectively used for corrective surgeries at RG Aesthetics. Women who have had bad surgeries at other facilities and are looking for correction, can also come and have a look at how the breasts would appear post a correction surgery. This is majorly helpful. Things gone wrong once makes one quite susceptible about doing it again. Thus, a reduction in volume, or removing an implant, moving the areola down, visible scars, or putting different size implants; all the corrective surgeries can also be simulated and aspiring patients can foresee the results.
There is no reason to get doubtful or distressed about boob job anymore! Because you can try before you undergo the procedure, and that is the right thing to do!

Dr. Rajat Gupta
MBBS, MS, DNB(Gen. Surg.),
DNB (Plastic Surgery)
Dr. Rajat Gupta is a board certified plastic surgeon in India with 10 years of experience to back his expertise in the domain of aesthetic surgeries.
Having completed his training from Maulana Azad Medical College and equipped with a thorough understanding of aesthetic needs of people, Dr. Gupta strives to offer the best remedies and cosmetic procedures outfitted with the latest technology to the aspirants in India and across the globe. To book an appointment, call: +91-9251711711 or email: contact@drrajatgupta.com