Complete Guide to Mommy Makeover
Dr Rajat Gupta
A mommy makeover is a procedure for cosmetic surgery created especially for new mothers. The new mother typically finds that her body has drastically changed from how it was previously because of the changes occurring that the body experiences throughout pregnancy.
However, the surrounding narrative of pregnancy and parenting leaves new mothers feeling uncomfortable with their post-baby bodies and awkward about it. This suggests that the unpleasant emotions exacerbate the mental strain brought on by physical displeasure.
You have many questions if you're thinking about getting a mommy makeover surgery now or in the future. The following information in this blog will assist you in understanding anything from deciding on specific goals to surgery and recovery schedules, and everything in between:
What to expect
The risks of a mommy makeover procedure
The Price of a Mommy Makeover
A lady can return to her pre-pregnancy shape using the Mommy Makeover procedure. After giving birth, women notice many changes in their body shape and appearance, especially in their breasts, bellies, genitalia, and buttocks. A mommy makeover can target specific body parts, and the procedure can be performed all at once or in stages as desired by the patient or recommended by the plastic surgeon.
What to Expect
As you plan your objectives for a mommy makeover surgery, remember that the word "makeover" is the most important component of the phrase. As that all-inclusive term implies, a mommy makeover entails several procedures, including a tummy tuck procedure, breast augmentation, or breast lift procedure. The range of therapies allows for a holistic healing process.
The Initial 48 Hours Following Surgery
When it comes to a mother makeover, this typically entails having child care, cosy clothes, and food in the refrigerator. Patients can concentrate on spending the essential first few days after surgery in comfortable recovery after the pre-planning has been taken care of.
The first 48 hours following surgery will see most of the pain and swelling. Your pain medicine and recommended antibiotics should already be prepared and waiting when your caregiver gets you home following surgery.
Pain Control Post Surgery
Many of her patients manage without prescription painkillers (think: Tylenol and Motrin). Patients who have young children, who "usually prefer to have their wits about them," are especially affected by this. They often take OTC medications on schedule, which may be sufficient to maintain comfort through the initial stages of pain and swelling.
Depending on your operations, your doctor may advise a different approach to pain management. Labiaplasty is frequently regarded as the most unpleasant mommy makeover procedure due to the combination of an existing sensitive area and the requirement for patients to use the bathroom and maintain the site.
Getting Back to Regular Routines
Mommy makeover surgery patients are moms; childcare is a key factor in post-surgery preparation. The physician advises hiring a second caregiver to help you with the kids for roughly ten days if you have children under five. It's challenging to pick up your kids because you risk jeopardizing the outcome of your surgery and even endangering your health.
The physician advises three to four extra days of childcare if your kids are older than five. You should be able to (gently) resume your regular activities after about two weeks. Remember that a mommy makeover may result in a more intense or varied psychological recovery than other operations. "Especially for mothers of young children, it might be challenging to choose to prioritize oneself and [temporarily] delegate some of the childcare duties,
After surgery, it's not uncommon for people to experience a brief period of depression in which they feel guilty or nearly remorseful that they choose to prioritize themselves above their child. The caregiver should be aware of the gravity of the surgery like tummy tuck procedure and be ready to provide the patient with unrestricted support to alleviate any of these emotions.
Final Effects
The way you seem when you leave the hospital has minimal impact on the outcome, just like with other treatments. Results from a mommy makeover can emerge at various points because it typically entails many surgeries.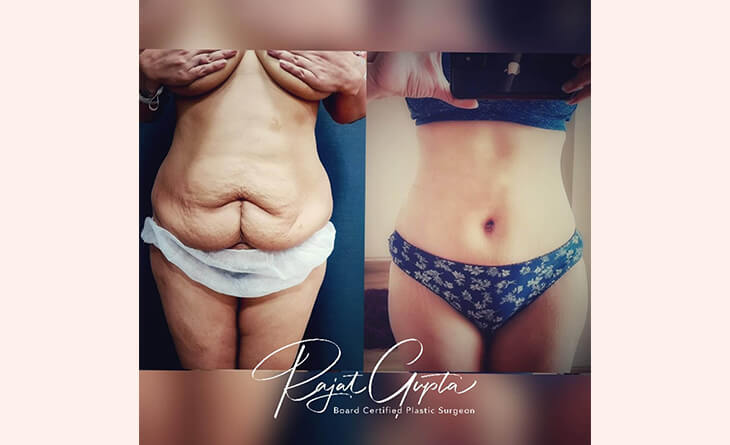 Have questions or want to get started? We are ready to help you with a smile!
What is the Risk of Mommy Makeover Surgery?
The choice to undergo mommy makeover surgery is quite individual. You must determine whether the risks and potential drawbacks outweigh the benefits of achieving your goals.
Your plastic surgeon and staff will thoroughly explain the dangers of surgery. You will need to sign consent paperwork to show that you are aware of all the risks and consequences associated with the treatments you will be undergoing.
Infection, bleeding, hematoma, seroma, loss of nipple sensation, inability to breastfeed, implant leak, capsular contracture, anaplastic large cell lymphoma, unfavourable scarring, recurring skin looseness, fat necrosis, deep venous thrombosis, cardiac and pulmonary complications, asymmetry, physical discomfort, contour deformity, anaesthesia risks, and anaplastic large cell lymphoma are just a few.
Note: The complications mentioned above are not something to worry about if you get your mommy makeover surgery done by an experienced surgeon.
By carefully following your surgeon's recommendations, you can minimize these complications, which only sometimes occur.
Nipple numbness and the inability to nurse are two additional breast-specific hazards that the surgeon will address during your consultation. You and I review a lengthy list of potential issues as part of the preoperative operation consent form.
Feel comfortable knowing that your surgeons are experts in plastic surgery and will try to assist you during the procedure and recovery if you experience a complication after surgery.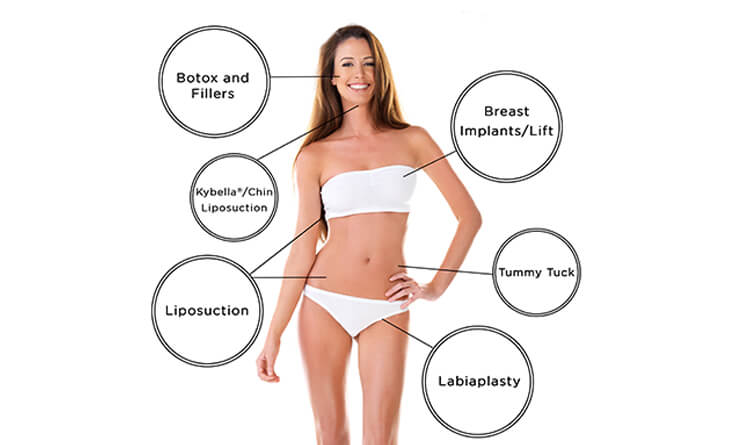 How Much Does a Mommy Makeover Cost?
Surgeons individually tailor each mommy makeover treatment plan for each patient, so the ultimate cost varies appropriately. Most mothers who are considering this treatment hope to restore their breasts' natural form, reduce excessive abdomen skin and fat, and repair any abdominal muscles that may have been stretched or damaged during pregnancy and childbirth. However, the precise steps that make up a mother makeover will vary from patient to patient.
Common elements include liposuction, belly tucks, breast lift procedure, and augmentations. To have a relaxed, rejuvenated appearance, some patients decide to include non-surgical facial rejuvenation in their treatment regimen. The mommy makeover price will change depending on the patient's chosen procedures.
The complexity of each treatment performed is the key variable that can affect the cost of a mommy makeover. The total cost may also be influenced by the plastic surgeon's level of experience, and the practice's location also influences the treatment price.
Surgeon's Cost
The price of a mommy makeover surgery may vary depending on the surgeon you select. This is because some surgeons' fees may be more due to their reputation, experience, and level of expertise. Additionally, they might be more in demand in some areas.
Facility Fees
You'll also need to factor in facility fees when estimating the cost of a mommy makeover. The cost of the facility varies depending on the surgical facility of your choice because some facilities offer more deluxe packages while others offer more basic ones. The length of time you are in inpatient care will also affect how much you pay in costs.
The surgical centre you choose can greatly affect your comfort and safety and support your convenience. Ensure your mommy makeover surgery is carried out at an authorized surgical facility to lessen the risk of infections and other associated health problems.
Equipment Used by Surgeon
The surgeon and the facility are the most important factors in determining the outcomes. Many individuals decide to choose subpar operations as a way to save money. Sometimes the results of these procedures appear fake, necessitating corrective surgery.
Utilizing cutting-edge equipment like VASER, BodyTite, and MicroAire during liposuction treatments is essential to achieving minimal scarring that fades over time and natural-looking aesthetic outcomes – For optimal satisfaction, using a 3D simulation programme before breast surgery allows you to visualise the surgery's outcome.
Is it covered under Insurance?
Mommy makeovers are frequently intended to enhance your beauty rather than your health. Thus many health insurance companies do not cover them. Some facilities may, however, provide special financing so you can spread out the cost of the treatment rather than paying for it all at once.
Final Thought!
It is straightforward to assert that the surgeon lacks the necessary skills. However, you should expect more from plastic surgeons. After all, having the required skills alone can result in standard liposuction as a first step. Additionally, traditional liposuction is a painful surgery in today's society.
It's more crucial to choose a surgeon who has access to the most recent MicroAire and VASER technology and knows how to use it to achieve the best results.
Additionally, skilled surgeons can complete each procedure without discomfort or scarring. They don't leave any visible scars since the incisions they make are so small.
Women considering a mommy makeover surgery can freely discuss their concerns with board-certified plastic surgeon Dr Rajat Gupta. He feels that a meticulously planned and expertly carried out mommy makeover surgery can help you achieve the body of your dreams.

Dr. Rajat Gupta
MBBS, MS, DNB(Gen. Surg.),
DNB (Plastic Surgery)
Dr. Rajat Gupta is a board certified plastic surgeon in India with 13 years of experience to back his expertise in the domain of aesthetic surgeries.
Having completed his training from Maulana Azad Medical College and equipped with a thorough understanding of aesthetic needs of people, Dr. Gupta strives to offer the best remedies and cosmetic procedures outfitted with the latest technology to the aspirants in India and across the globe. To book an appointment, call: +91-9251711711 or email: contact@drrajatgupta.com