Complete Guide to Mommy Makeover
Dr Rajat Gupta
Motherhood comes with it an abundance of new feelings and joys to your family. However, it causes undesirable physical changes in your body, including a drooping lower belly, stretch marks, unattractive fat pockets, and larger breasts. Diet or strenuous workouts alone may not be enough to alleviate these concerns.
So is it somehow possible to regain your pre-pregnancy body and be the slender and shapely new mommy that you always dreamed of having?
Yes, you can with a little help from mommy makeover surgery in India!
A Mommy Makeover is a customised conjunction of cosmetic surgery procedures designed to help restore, re-shape and contour those body areas after dramatic changes brought on by pregnancy, childbirth, and breastfeeding.
When can you go in for a Mommy Makeover?
You can opt for a Mommy Makeover after at least six months have passed since you stopped breastfeeding your baby. This will allow your breasts to soften and return to their normal size.
When it comes to achieving the safest and most satisfactory results from your mommy makeover procedure, you must fully understand what it involves and what steps you must take before your surgery.
Here are certain things you must consider:
One of the key things towards getting the desired results from your mommy makeover is adopting a healthy lifestyle which includes following a nutritious diet and exercising regularly.
Before you can undergo a mommy makeover, you must make sure that you are fully recovered from childbirth. In most fameless, it usually takes around six months to return to its natural form and shape.
One of the other importnant things to consider is to quit smoking if you are into the habit. Smoking affects your blood circulation, delays healing times, and increases the occurrence of surgical risks. You must quit smoking for at least four to six weeks before you plan to undergo this cosmetic surgery.
Have questions or want to get started? We are ready to help you with a smile!
What if you are planning to have more children?
In case you are planning for another delivery in the future, it is better you wait till then because pregnancy, childbirth, and hormones acting again, will essentially erase all the results of the makeover. Lifestyle modifications, a healthy diet, and regular exercise are key factors here. Before you have a Mommy Makeover, Dr. Rajat Gupta and his experienced team will ensure that you have begun routine exercise and are following a nutritious diet plan. This is because Mommy Makeover does not entail a weight loss procedure.
Am I an ideal candidate for mommy makeover surgery in India?
Mommy makeovers are sculpted to reverse the changes resulting from childbearing and ageing. If you are facing the following problem areas after childbirth, then consider a mommy makeover:
You have drooping, uneven and decreased volume breasts with sagging nipples and stretched areolas (the dark skin surrounding the nipple).
Your breasts have become out of proportion with the rest of your body after childbirth, and they cause back pain.
Your abdomen possesses loose skin with stretch marks, and your waistline tends to be thick and undefined.
You had undergone a C-section, and now you have areas of fat drooping over a depressed surgical scar.
You have pockets of fat in the love handle area and the hips and thighs (saddlebags).
 You have typical signs of ageing in your face, neck and around the eyes.
A Mommy makeover is a series of cosmetic procedures that will refresh and renew your body. In general, if you are in good health and have a positive attitude and realistic expectations, you are a good candidate for this cosmetic plastic surgery.
What are the different Mommy Makeover procedures?
A mommy makeover can encompass a combination of the following: Tummy Tuck, Breast Augmentation, Breast Lift, Liposuction, and Vaginal Rejuvenation Surgery. Traditionally, the standard Mommy Makeover entails a tummy tuck and breast augmentation.
1- Tummy Tuck
Pregnancy frequently results in a significant weight change over a short span of time- 9 months. The uterus's size may be substantial enough to cause irreparable expansion of the Linea Alba, a connective tissue structure that runs through the centre of your six-pack muscle. Diet and exercise alone are frequently insufficient to reverse the increasing girth. A belly tuck, also known as abdominoplasty, is required to address this problem.
The skin, along with the underlying fatty tissue of your lower abdominal area, is removed during an abdominoplasty, which is where the bulk of pregnancy-related stretch marks appear. Following a stomach tuck, you may notice a considerable reduction in the number of prominent stretch marks on your belly.
2- Breast Augmentation
Your breast skin may expand during pregnancy and nursing due to variable hormone levels and weight changes, resulting in slightly deflated breasts compared to before pregnancy. During the surgical procedure of breast augmentation, silicone or saline implants are inserted into your breasts to improve their size, fullness and symmetry.
3- Breast Lift
Mastopexy is another name for breast lift surgery performed to elevate sagging breasts. A woman's breasts droop and lose their youthful appearance for various causes, including ageing, pregnancy, nursing, or weight loss. A breast lift will not completely alter the size of your breasts; however, women can get attractive and proportional breasts by combining operations like breast augmentation or breast reduction.
4- Liposuction
Liposuction is one surgical procedure that removes the excess or unwanted fat between the skin and the muscle beneath it.
Liposuction gets rid of the undesirable fat and gives you the physique you want. However, it is up to you to keep it that way after that. The fat that is eliminated helps improve the shape of the target area without necessarily requiring significant weight loss.
5- Vaginal Rejuvenation Surgery
This technique, also known as female genital rejuvenation, entails tightening the vagina and giving it more visually pleasing appearance. It's frequently done after childbirth to get the vagina back to normal. The vulva and labia, or the outer and inner lips of the vagina, are reshaped with vulvaplasty and labiaplasty, accordingly. These operations are designed to restore soft tissue structures that have caused you distress and inconvenience.
6- Face Related Skin Procedures
Peels for healthy skin, skin lasers, and skin rejuvenation Oxy Facials can help restore your facial radiance and treat skin discolouration and dark spots induced by hormone fluctuations.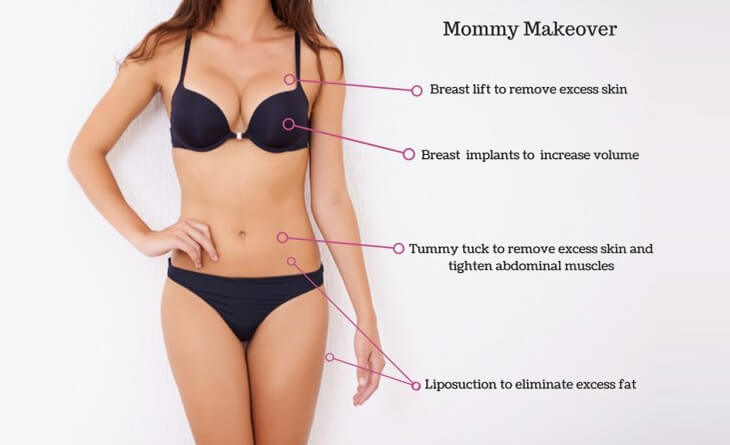 How do I prepare for a mommy makeover?
Regardless of the type of surgery to be performed, hydration and frequent ambulation are the key before and after surgery for safe recovery and desired outcomes. Since mommy makeover places heavy demands on your body for wound healing, there are special recommendations given by Dr. Rajat that need to be followed:
How to prepare for mommy makeover surgery beforehand?
Irrespective of the nature of surgery to be conducted, nourishment and regular ambulation are essential for a safe recovery and desirable outcomes before and after surgery. Because a mommy makeover puts a lot of strain on your body's ability to repair wounds, Dr Rajat has made certain specific suggestions that you must follow:
To start with, achieve your desired weight, but not in the month just before surgery
 Make sure to exercise at least 30-35 minutes every day
Be sure you are on a healthy diet that includes a variety of multivitamins, nutrients, and antioxidants
Limit alcohol consumption – not more than three drinks every week
Prohibit smoking 7-8 weeks before undergoing surgery to promote better healing
Avoid taking aspirin, nonsteroidal anti-inflammatory medications and high dose vitamins/homoeopathic regimens as it can increase the chances of bleeding
 Build a dependable support structure for the duration of Dr Rajat Gupta's recommended recovery period. This is important for your healing period. If you have little children, you must arrange for someone to look after them for two weeks. Lifting heavy things, driving, doing laundry, and cleaning are all activities you should ignore.
What are the benefits of a Mommy Makeover surgery in India?
Some of the unparalleled benefits of opting for this surgery include:
Lower costs- When you opt for a mommy makeover in conjugation with other related procedures, you'll only have to pay the associated fees once. This includes the anesthesiologist, surgeon, and facility fees, so you'll enjoy a lower overall mommy makeover cost in India for the same great results.
Lesser downtime – One of the biggest advantages of a mommy makeover is that it combines a number of procedures into a single surgery. For working moms, this is absolutely important as it means you'll only have one recovery period to schedule.
Fewer risks- By undergoing one combined procedure instead of multiple procedures separately, you'll significantly lower your surgical risk. In addition to this, you'll only have to undergo one round of anesthesia, which will significantly reduce your risks associated with going under the medication.
More dramatic results- Sometimes a combination surgery is recommended because certain cosmetic procedures compliment others. For example, by combining a breast lift with a breast augmentation or a tummy tuck with breast surgery, you'll be able to get a more dramatic and comprehensive overall impact.
Mommy makeovers tend to improve the areas that don't respond well to exercise. At the time of pregnancy, your skin, tissue, and abdominal muscles stretch to accommodate the growing baby inside. Where diet and exercise can help you lose those extra kilos after childbirth, your skin and tissue may not bounce back.
Confidence boost – Many women who have just undergone delivery struggle with pregnancy and breastfeeding changes. You can be an ideal candidate for a mommy makeover if you have loose skin, sagging breasts, or stubborn fat deposits, as it can help you look and feel like your earlier self.
What to expect after a Mommy Makeover?
You will be recovering from anesthesia during this time, and someone must drive you home from the clinic and stay with you for one-day post-surgery. It is advisable to have someone nearby for the first few weeks following your surgery. You will appreciate a helping hand to a great extent!
Give your body proper rest for at least two weeks by taking off from work and avoiding rigorous exercise for at least 6 weeks. You will be on pain medication and unable to drive for at least one week post your surgery. Try sleeping on your back or side, with your upper body and feet elevated.
Your recovery time will depend greatly on the exact procedures you have undergone and your body's ability to recover. You should anticipate being uncomfortable and swollen for up to six weeks following surgery, and you can expect to recover for up to three months.
How much does a mommy makeover cost in India?
Your mommy makeover costs will depend on the complexity of your procedure, your plastic surgeon's level of experience, their practice location, and any additional costs, like post-op appointments, prescriptions, and medical supplies.
A deciding factor in the overall cost of your operation is what all procedures it includes. No two women are alike, so the procedures administered and the cost will be customized depending on the woman. Some plastic surgeons define a breast augmentation and lift plus a tummy tuck (abdominoplasty) as a mommy makeover. Therefore, the price has a significant range depending on these factors.
Choosing a cosmetic surgeon
Who will execute your treatment is the most important decision you will make. Since mommy makeovers generally entail many surgeries, you'll want to be sure the cosmetic surgeon you choose has expertise with each one you're contemplating, as well as executing them in conjunction with one another. When speaking with a qualified cosmetic surgeon, inquire about the number of mommy makeovers he has completed. Examine many before and after images, paying special attention to the patient's body types and difficulties comparable to yours.
Furthermore, be certain that the cosmetic surgeon you select is board qualified. Dr Rajat Gupta is a board-certified plastic surgeon with 13 years of experience. He has received extensive training in all parts of cosmetic surgery and has completed a series of rigorous examinations confirming his skills. He believes in delivering the best and safest outcome asked by his patients.

Dr. Rajat Gupta
MBBS, MS, DNB(Gen. Surg.),
DNB (Plastic Surgery)
Dr. Rajat Gupta is a board certified plastic surgeon in India with 13 years of experience to back his expertise in the domain of aesthetic surgeries.
Having completed his training from Maulana Azad Medical College and equipped with a thorough understanding of aesthetic needs of people, Dr. Gupta strives to offer the best remedies and cosmetic procedures outfitted with the latest technology to the aspirants in India and across the globe. To book an appointment, call: +91-9251711711 or email: contact@drrajatgupta.com