What is the best age for Microtia Surgery?
Dr Rajat Gupta
A congenital disease known as microtia causes an individual to have an undersized or underdeveloped ear at birth. It varies in severity from moderate to severe and can affect one or both ears. The ear may be entirely absent or only partially developed in some people. Hearing loss may result from microtia, which can also change how the ear looks.
This blog will help you understand the different and ideal age group to undergo Microtia surgery in Delhi.
Although the exact origin of microtia is unknown, it is thought to be the result of abnormal ear development. Although it is not a hereditary disorder, some families may experience it more frequently.
Ideal Age & Different Type of Microtia Surgery in Delhi
Children with microtia may experience feelings of insecurity, particularly once they begin school and are exposed to other kids. Parents frequently want their kid to have microtia surgery as soon as possible because of this.
Surgery to rebuild the ear is usually required for microtia treatment. Depending on the condition's severity and the patient's age, a particular surgery will be performed using a particular method. Surgery aims to produce an ear that is both functional and aesthetically pleasing and is as similar to the patient's natural ear as feasible.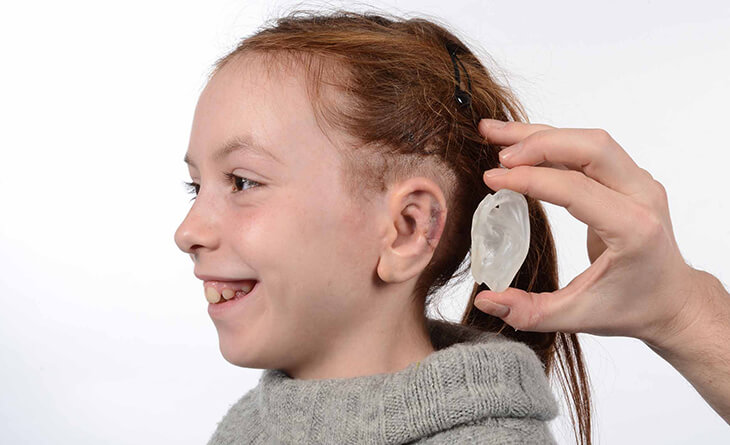 Have questions or want to get started? We are ready to help you with a smile!
7 – 10 Age Group for Rib Cartilage Reconstruction
Children must first have enough rib cartilage to make an adult-sized ear before rib cartilage reconstruction can be done. This occurs for the majority of kids between the ages of 7 and 10. Reconstruction of the rib cartilage is another surgical choice for treating microtia. The child's own rib tissue is utilised in this method to construct the ear framework.
An incision is made in the child's chest to harvest cartilage from several ribs, which is the first of two to five surgical operations that make up rib cartilage reconstruction. The ear-like form of the cartilage is created by piecing it together and sculpting it.
The ear structure is then surgically positioned beneath the cranium. After the wound has mended, additional operations are carried out to realign the earlobe and other structures as well as move the newly created ear away from the scalp.
Ideal Age Group for Otoplasty
Surgery called otoplasty is used to reduce the prominence of the ears. From the age of 8 years and up, it can be done on a kid. Adult patients can also undergo the procedure.
Some patients have less severe cases of prominent ear, where the antihelix form is present but the antihelix at the centre is not more pronounced. In order to rebuild that anti-helix, suturing is used.
Choosing the Correct Age for Ear reconstruction surgery in Delhi
A child might be prepared for microtia surgery once they reach 3. The kid must wait until they are at least 7 years old if they decide to have rib cartilage reconstruction. A child might be mature enough for surgery, but they might not be prepared.
As rib cartilage reconstruction is more invasive, typically necessitates a hospital stay, and is more painful, this is particularly of concern. The optimal decision on when to start treatment will be made by you and your child's doctor.
Dr Rajat Gupta is known for facilitating satisfactory results to his patients. Schedule your consultation today to get your queries resolved!

Dr. Rajat Gupta
MBBS, MS, DNB(Gen. Surg.),
DNB (Plastic Surgery)
Dr. Rajat Gupta is a board certified plastic surgeon in India with 13 years of experience to back his expertise in the domain of aesthetic surgeries.
Having completed his training from Maulana Azad Medical College and equipped with a thorough understanding of aesthetic needs of people, Dr. Gupta strives to offer the best remedies and cosmetic procedures outfitted with the latest technology to the aspirants in India and across the globe. To book an appointment, call: +91-9251711711 or email: contact@drrajatgupta.com