Vampire Vs. Silhouette Facelift
Dr Rajat Gupta
Do you feel it's time to go for a facelift? With so many choices available, you may be unsure whether a surgical or non-surgical option would be best for you. So, let's see how the two options – vampire facelift and the Silhouette facelift– stack up side by side.
What is a Vampire facelift?
A Vampire facelift is not as scary as it sounds: it's actually a revolutionary procedure that uses PRP or platelet-rich plasma drawn from your own body to achieve smoother, younger-looking skin. The Vampire facelift is currently one of the most advanced skin regeneration treatments available in the Indian cosmetic industry.
While a Vampire facelift will improve the overall condition of your skin by stimulating the body's own natural healing process, it is especially recommended for patients who want to address the following conditions:
Dark circles under the eyes
Crow's feet at the corners of the eyes
Sun damage
Acne scars
Stretch marks
Wrinkles and fine lines
Thin, sagging skin on the neck and chest or around the eyes
Rough, dull, ashy, or uneven skin texture
The Vampire facelift procedure typically lasts about 1 to 2 hours and should have minimal downtime. You'll notice immediate smoothing, which is a result of the filler. In about 2 to 3 weeks; time, you should see improved skin texture and glow, which can last for a few months up to a year.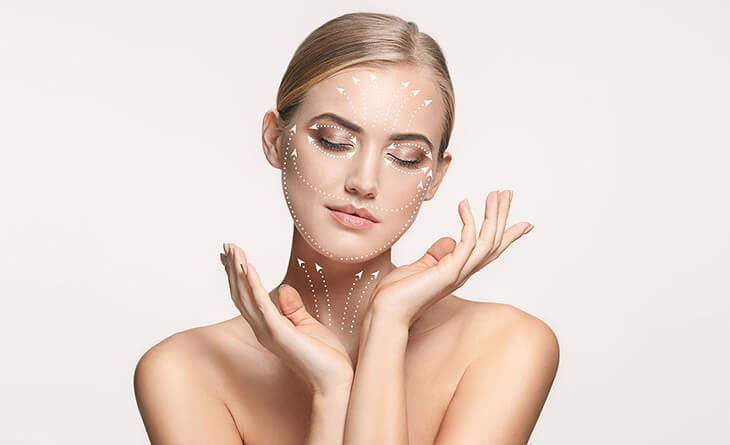 Have questions or want to get started? We are ready to help you with a smile!
What is a Silhouette Facelift?
The Silhouette facelift procedure, on the other hand, the Silhouette facelift procedure is more flexible and gives a completely tailor-made result. Because it's performed entirely with sutures that can be placed wherever needed, the procedure can precisely target the specific areas of the face that will give you the best result. But the treatment is particularly effective at lifting sagging cheeks and jowls.
Silhouette facelift surgery will tend to remove excess skin on the lower to midface while significantly tightening the muscles. It will restore a more youthful appearance while noticeably improving sagging jowls, vertical banding on the neck, and volume loss in the midface.
Silhouette facelift in Delhi is a non-invasive procedure requiring no incisions, only small entry and exit points for the sutures, leaving no permanent scars. It's carried out under local anesthesia with your consciousness throughout and takes only around 30 minutes.
How long do the results last?
As with any treatment, this depends largely on your genetics, lifestyle, diet, and skincare regime, as well as the skill of your surgeon or practitioner. You can expect an immediate lifting effect that is noticeable while also discreet. Typically, the vampire and silhouette facelift results tend to last for around 12-18 months, after which the treatment can be repeated.
Infuse your face with renewed health and vitality with a Sillhouette Facelift in Delhi, led by board-certified facial plastic surgeon Dr Rajat Gupta. For more information about the silhouette facelift procedure and procedures for plastic surgery India-wide, contact Dr Rajat Gupta.

Dr. Rajat Gupta
MBBS, MS, DNB(Gen. Surg.),
DNB (Plastic Surgery)
Dr. Rajat Gupta is a board certified plastic surgeon in India with 12 years of experience to back his expertise in the domain of aesthetic surgeries.
Having completed his training from Maulana Azad Medical College and equipped with a thorough understanding of aesthetic needs of people, Dr. Gupta strives to offer the best remedies and cosmetic procedures outfitted with the latest technology to the aspirants in India and across the globe. To book an appointment, call: +91-9251711711 or email: contact@drrajatgupta.com