Liposuction – For All Those Who Are Tired of Stubborn Fat!
Dr Rajat Gupta
Why?
Because it is the most effective solution to long-staying, stubborn fat.
With a lot of people making an attempt to regain their body-shape, liposuction has stepped in as a medical boon which is helping people to meet the aspiration of a fit and fatless body.
Liposuction, as we understand is a type of cosmetic surgery which removes fat from body with the help of suction method. Today, it is most commonly done surgery for fat removal, provided the body the healthy enough and skin is elastic enough to receive the treatment.
At RG Aesthetics, Liposuction is performed on various aspirants under the expert guidance of Dr. Rajat Gupta who offers expert consultation on various fat loss and body contouring surgeries. As per him, when people gain and lose weight, certain areas of the body tend to develop deposits of unwanted fat that can be difficult to get rid of through diet and exercise. Liposuction surgery can offer permanent removal of these fatty cells. Hence it is proving to be most effective and in-demand surgery.
Age for Performing The Surgery
It can be performed on adult patients of any age, but the pre-requisites are to have a healthy body with achieved target weight and elastic skin. Elasticity in skin helps the area to regain the shape as soon as the fat is removed, otherwise, the skin may hang loose in the treated area.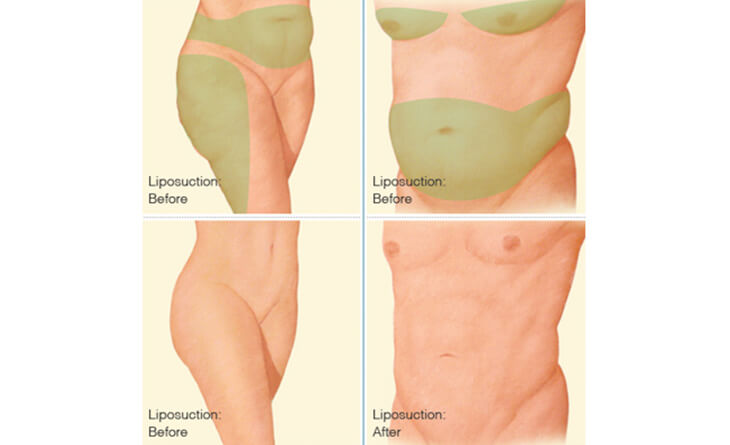 Have questions or want to get started? We are ready to help you with a smile!
What are the areas that can be treated with liposuction?
Localized areas in the body with stubborn deposits of fat can be treated. These area can be:
Cheeks, Jowls and Neck
Upper Arms
Breast Or Chest Areas
Back
Abdomen And Waist
Hips and Buttocks
Inner and Outer Thighs
Inner Knee
Calves and Ankles
Your Liposuction Surgical Experience At RG Aesthetics
At RG Aesthetics, the goal of the team of board certified plastic surgeons and the entire medical staff is to make the absolute experience as easy, comfortable and stress-free, as possible. Therefore, before the surgery you are mentally and physically prepared to get the best benefits. If you are a smoker, you will be asked to stop smoking well in advance of surgery. Smoking damages the skin cells which results in slowing down the healing process after the surgery. You will be also be counseled by experts at our outset to prepare you mentally and to tend to all doubts and queries in your mind. Post surgery, the surgeon will provide detailed information about what medications can or cannot be taken, as well as what to eat or drink the day of surgery.
Post the liposuction surgery, you will be advised to wear a pressure garment that is specially designed and customized for each patient. The liposuction surgeon will tell you how long you need to wear the liposuction garment and will instruct you on how to remove it when you shower or bathe.

Dr. Rajat Gupta
MBBS, MS, DNB(Gen. Surg.),
DNB (Plastic Surgery)
Dr. Rajat Gupta is a board certified plastic surgeon in India with 10 years of experience to back his expertise in the domain of aesthetic surgeries.
Having completed his training from Maulana Azad Medical College and equipped with a thorough understanding of aesthetic needs of people, Dr. Gupta strives to offer the best remedies and cosmetic procedures outfitted with the latest technology to the aspirants in India and across the globe. To book an appointment, call: +91-9251711711 or email: contact@drrajatgupta.com