How Long Does the Mini Tummy Tuck Recovery Swelling Last?
Dr Rajat Gupta
During your mini tummy tuck recovery, swelling, bruising, and discomfort usually persist for a few months. They can last up to six weeks for some patients. However, you should note that this is entirely normal and should not deter you from the procedure. A mini tummy tuck is, after all, an invasive procedure that not only removes excess fat but excess skin as well.
Luckily, with the technological advancements available today, you can easily manage both swelling and pain. The minimally invasive liposuction devices, MicroAire and VASER, promise high precision and enhanced results. However, as a significant bonus, they also reduce trauma. Therefore, the resulting swelling is much less, especially when compared to a full tummy tuck.
Mini Tummy Tuck Recovery's Swelling Depends on Several Factors
One of the main differentiating features between a full and mini tummy tuck is the extent of incision. While a full tummy tuck requires incisions from one lateral side to the other, the mini-abdominoplasty is more contained. It involves an inconspicuous incision low on the abdomen, hidden in the bikini line.
Patients opt for mini tummy tucks for excess fat and skin that liposuction alone cannot combat. They need some amount of skin excision, but not enough to warrant a full tummy tuck. This also means that they do not require navel, i.e. belly button repositioning.
Such differences significantly reduce swelling after your mini tummy tuck surgery. While it is still major surgery and invasive, it is much less intense than its full counterpart. The measured approach it takes reflects in the quickly diminishing swelling post-surgery.
Of course, you should also remember that only a board-certified professional can guarantee such results and recovery timelines. How much swelling you incur after your procedure depends on your surgeon's expertise, the centre's infrastructure, and the kind of techniques used.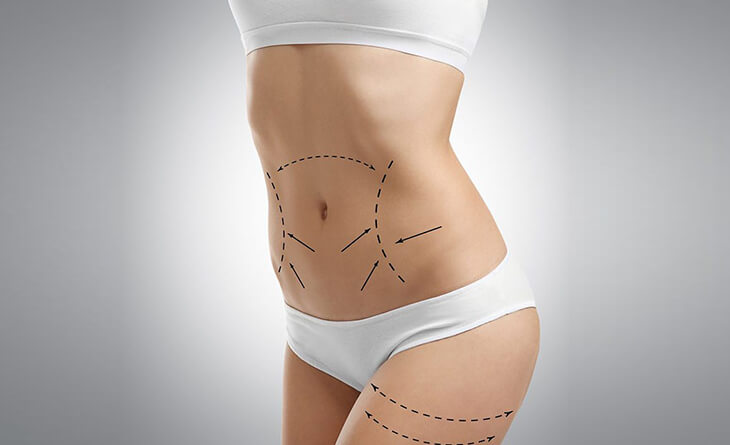 Have questions or want to get started? We are ready to help you with a smile!
Mini Tummy Tuck Recovery – Swelling and Other Features
Like its full abdominoplasty counterpart, the mini tummy tuck is an outpatient procedure. All significant swelling and bruising dies down within the first 48 hours and continues diminishing with time. As long as you wear your customised compression garment for a month, all discomfort should remain entirely manageable.
You can also resume your daily activities the day after surgery and resume a desk job within three days. Therefore, if you opt for the procedure on a Friday, you should be fit to return to work by Monday. However, you can only go back to the gym after two weeks or longer, depending on your surgeon's discretion.
Therefore, you can see how straightforward recovering from a mini tummy tuck becomes. It is even more comfortable given the decreased trauma. Thus, it promises equally enhanced results as its complete alternative, but with a fraction of the pain and discomfort.
As a board-certified plastic surgeon in Delhi, Dr Rajat Gupta can offer such guarantees about his mini tummy tuck recovery timeline. Using the latest, state-of-the-art liposuction technology at RG Aesthetics and advanced techniques like hi-lateral suturing, he maintains international standards of patient care with desirable results and minimal downtime!

Dr. Rajat Gupta
MBBS, MS, DNB(Gen. Surg.),
DNB (Plastic Surgery)
Dr. Rajat Gupta is a board certified plastic surgeon in India with 12 years of experience to back his expertise in the domain of aesthetic surgeries.
Having completed his training from Maulana Azad Medical College and equipped with a thorough understanding of aesthetic needs of people, Dr. Gupta strives to offer the best remedies and cosmetic procedures outfitted with the latest technology to the aspirants in India and across the globe. To book an appointment, call: +91-9251711711 or email: contact@drrajatgupta.com