Complete Guide to Rhinoplasty
Dr Rajat Gupta
The nose's appearance is among the most prominent cosmetic issues for men and women of all ages. Your nose is frequently the main point of your face, and it can profoundly change your look.
Asymmetry, a visible bridge hump, or an extended nasal tip can deform the look of your face and produce an unattractive illusion.
Many people seek a rhinoplasty procedure to address these issues and create a nose that matches the rest of their facial structure.
A rhinoplasty treatment transforms the shape of your nose to enhance its look. This might include removing or adding bone and cartilage to achieve a more appealing contour.
Dr Rajat Gupta, the best rhinoplasty surgeon, performs rhinoplasty procedures on individuals who are disappointed with the appearance of their noses. Continue reading to discover more about rhinoplasty and how to set/manage your rhinoplasty expectations.
Post Operative Care
Rhinoplasty is a cosmetic surgical procedure that improves the look of your nose and helps you breathe better. After your surgery, you should follow all directions to recover correctly and have a successful rhinoplasty procedure. Here is the list of post-operative care tips:
1 week after the surgery:
A splint may be placed across your nose to safeguard and support nasal tissues as you recover. Do not remove the splint, and keep it dry. Stay in your house and relax; prevent doing anything that will result in sweating. If the dressing falls off, please contact the surgeon.
Lie on your back with your head lifted 30-45 degrees during the first 48 hours to reduce swelling.
For the first 48 hours, use iced gauze pads on the eyes and cheeks to reduce swelling and discolouration. Do not use any form of the ice pack.
Avoid blowing your nose for the next two weeks after the rhinoplasty procedure. You may softly sniff back, but no nasal blowing. Sneeze with your mouth open.
Keep the lining of your nose moistened with saline nasal spray; 2 puffs each nostril 4-6 times a day or more will improve recovery and relaxation.
Avoid meals that need prolonged chewing and extensive face motions.
Brush your teeth carefully with a gentle toothbrush. Avoid using your upper lip to restrict your nose from moving.
Prevent sun exposure, fluorescent lights, and tanning beds for at least six weeks after surgery. Your nose may enlarge as a result of the heat.
Dr Rajat Gupta, the best rhinoplasty surgeon in Delhi, advises patients to avoid wearing conventional glasses or sunglasses that sit on the bridge of the nose for at least 6 weeks.
2 Weeks after surgery
Apply vaseline ointment to the sutures inside your nostrils and the skin sutures using a cotton-tipped swab. Avoid using your fingertips to touch the regions.
Once the plastic surgeon removes the cast, wash the skin on your nose carefully with gentle soap.
Take only prescribed medication.
Don't be worried if the nose, eyes, and upper lip swell when the dressing is removed; this normally disappears within 7 to 14 days. It may take six months for all swelling to go away in some people.
If you have any makeup-related questions, please contact Dr Rajat Gupta, the best rhinoplasty surgeon in Delhi.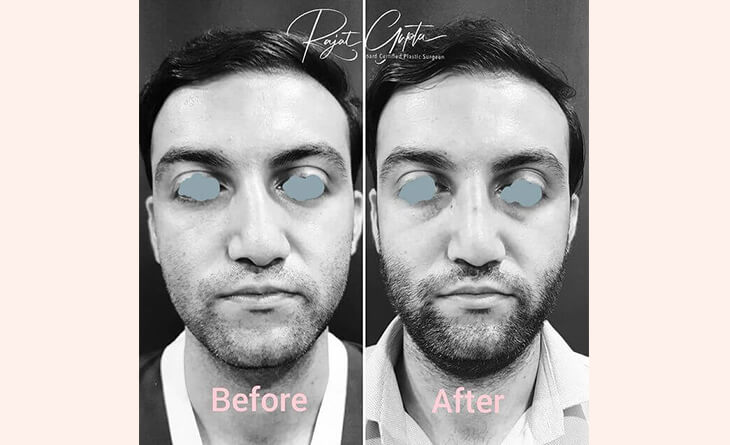 Have questions or want to get started? We are ready to help you with a smile!
How to Set/Manage Your Expectations
The process of planning the rhinoplasty is simpler. You have a problem with your nose and want to meet with a facial cosmetic surgeon, and a date is entered on your schedule. It sounds simple enough, but it isn't, particularly for you as the patient.
When considering plastic surgery, another key element is your surgical expectations. You chance an unsatisfactory outcome if you do properly communicate your intended objectives with your surgeon. The first step is determining what you truly want from your rhinoplasty procedure.
Realistic results:
While exploring treatment options digitally is a crucial step in patient education, depending too much on Instagram's amazingly before and after photos might lead to unreasonable expectations.
Instead of basing your expectations on the images of superstars or your favourite influencers, request before and after pictures of the patients to better grasp their style.
Consultation with surgeon:
It is critical to keep in touch with your plastic surgeon. It is suggested that patients speak with at least two specialists before proceeding with any cosmetic surgery or treatment. Many patients choose the surgeon who allows them the most time to pose questions and acquire the required knowledge, including nose reshaping surgery cost, to feel confident moving ahead.
Consider safety:
Whether considering your first cosmetic operation or revising the outcomes of previous surgery or therapy, your surgeon will always emphasise the patient's safety and well-being.
In the case of non-surgical cosmetic procedures, a board-certified cosmetic surgeon should be capable of guiding you through any possible dangers. It should also be emphasised that doctors may refuse to conduct a patient's requested procedure for multiple reasons.
Trying to achieve perfection with a rhinoplasty procedure is not only impossible, but it may also become a harmful fixation for many people. In reality, many people have had revision procedures after having their nose reshaped since their objectives were not realised after the first treatment. The issue with reoperation is the risk of irreversible deformity after many alterations.
Consulting with a board-certified professional will assist you in better comprehending the best therapeutic decisions for your unique difficulties while ensuring that your expectations are handled and satisfied throughout the process.
How to Choose A Surgeon for Rhinoplasty
An internet search might be a fantastic place to start when looking for the best rhinoplasty surgeon in Delhi. The research takes a few seconds and returns the sites and contact details for thousands of rhinoplasty specialists in your area.
Along with an internet search, it is beneficial to read rhinoplasty surgeon evaluations. These evaluations might give you an idea of what it's like to deal with a nose job surgeon. Consider the following facts while choosing a surgeon to conduct your rhinoplasty.
Confirm the surgeon is board-certified
The first step when choosing a rhinoplasty surgeon should be to ensure that the surgeon is board-certified. The certificate ensures credibility, expertise, skills, and certifications, and it also provides the surgeon high marks for clinical competence and aesthetic value. It will also affect the nose reshaping surgery cost.
Assess the experience and expertise of the surgeon
A surgeon's expertise in conducting rhinoplasty is important in determining whether or not they are a good option for your nose procedure. It is critical to study the surgeon's experience and the number of nose procedures they have conducted over their rhinoplasty career.
Ensure to conduct some online or offline research on the professional backgrounds of potential surgeons. Surgeons that have performed thousands of nose procedures are more skilled and tend to be more proficient than inexperienced surgeons just starting in their careers.
Check out the before and after images
The outcomes of the best rhinoplasty surgeon in Delhi demonstrate their skills and experience. A rhinoplasty surgeon's before and after images are a portfolio of his expertise and an excellent method to examine a nose surgeon's abilities and approach.
More significantly, by reviewing the before and after images, you may see the operation's outcomes on noses comparable to yours – in size and shape – and obtain a good idea of your nose following your future surgery with that specific specialist.
Patient's review
Seeing and evaluating the patient reviews who had surgery with the surgeon you picked for your rhinoplasty procedure may help you decide which is the best. You may access the website review part directly by visiting the selected surgeon's website or searching numerous review sites. As a result, a patient's evaluation or recommendation may help locate the greatest rhinoplasty surgeon.
Consultation
Schedule at least two to three appointment meetings with your cosmetic surgeons before deciding on the ideal one. You will feel at ease sharing your goals with plastic surgeons during your one-on-one appointment. You will also have the chance to thoroughly examine the surgeon's credentials, training, abilities, and results with previous patients. A good consultation can make the difference between rhinoplasty surgeons and determine the nose reshaping surgery cost.
Academic standing
Academic standing is the point at which you must double-check the criteria indicated previously. The academic standing broadening guarantees the surgeon's acknowledgement, expertise, and performance excellence in the specific surgery by engaging in academic circles, associations of cosmetic procedures training, hands-on practise, and faculty positions at higher educational institutions, awards/medals, and papers in peer-reviewed journals.
Wrapping Up!
Every person has a unique nose and face. The muscles, cartilage, bone, and even the thickness of the skin in your nose all influence what may be accomplished during rhinoplasty.
If you are dissatisfied with the appearance of your nose or want to address specific nasal issues, you may be a  good candidate for a rhinoplasty procedure. Rhinoplasty can change the bone and cartilage in your nose structure to give you a more attractive appearance.
Dr Rajat Gupta is board qualified in nasal surgery and has received recognition for successful rhinoplasty procedures. Make an appointment with a renowned facial cosmetic surgeon to get the greatest rhinoplasty outcomes.

Dr. Rajat Gupta
MBBS, MS, DNB(Gen. Surg.),
DNB (Plastic Surgery)
Dr. Rajat Gupta is a board certified plastic surgeon in India with 13 years of experience to back his expertise in the domain of aesthetic surgeries.
Having completed his training from Maulana Azad Medical College and equipped with a thorough understanding of aesthetic needs of people, Dr. Gupta strives to offer the best remedies and cosmetic procedures outfitted with the latest technology to the aspirants in India and across the globe. To book an appointment, call: +91-9251711711 or email: contact@drrajatgupta.com