In a world obsessed with external beauty, one is often left envying those who are naturally gifted with striking features. We have always been told that good looks are a gift by nature, and man has no control over her/his looks; makeup being the only help we can use. And of everything that matters to us when it comes to good looks, the shape and size of the nose plays a very significant role in defining the overall appearance of the face. But no amount of cosmetics can ever change its basic structure.
A fat or crooked nose will remain as it is, subjecting you to a lifetime of hating your nose and hence your appearance, whenever you look into the mirror. The only solution comes in the form of surgery; i.e. correction of the shape using a surgical technique called Rhinoplasty or more commonly known as a 'nose job'.
Since nose forms the centerpiece, it is very important for the overall aesthetic appeal of your face. Your sharp features may be ruined because of a broad or blunt nose; a round, bulbous nose, might make your face look fat; or a tilted (deviated) nose might lead to difficulty in breathing. Similarly, a thick, broad, bulbous or drooping tip might not be of your liking too. Rhinoplasty rectifies all these shortcomings and gives you a whole new altered and desirable look.
Rhinoplasty is a cosmetic surgery conducted on the nose to reshape or resize the nose, and also to correct the breathing problems. This procedure helps to make the nose appear better, and improves any functional disorders. It is a safe method to alter the nose size in relation to the rest of the face. It also can change the width of the nose bridge and reduces the appearance of humps or depressions on nose. Other corrections that can be done through this procedure are the position of the nasal tip, the size of the nostrils, and the symmetry of both nostrils.
Who can go for Rhinoplasty?
Anyone who wants to change the appearance of their nose or those having breathing troubles or other medical issues can opt for Rhinoplasty Surgery.
Septoplasty
Patients suffering with breathing problems like snoring, deviated septum, or inferior turbinate hypertrophy, can opt for a functional nose surgery.
Broken Nose
Patients who have sustained a nasal fracture due to any accident or trauma in a car or due to playing any sport can consider Rhinoplasty which can be performed to straighten the nose and also to achieve a beautiful shape.
Rhinoplasty is done under general anesthesia during which the plastic surgeon will add or remove the bones and cartilage from the nose. This is done to change the form or functionality of the nose.
The other options to enhance the aesthetics are adding a cartilage graft or remodeling of the tip to make it look younger and fitter. Fillers or fat grafts can also be put in to increase the volume and give that youthful look. Some patients prefer silicone, but it comes with its risks of infection.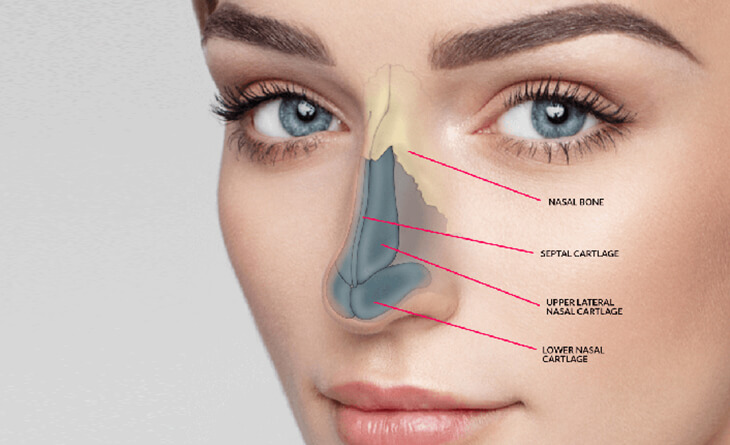 Have questions or want to get started? We are ready to help you with a smile!
What is Ultrasonic Rhinoplasty?
RG Aesthetics has added a new tool to its armamentarium…PIEZOTOME to perform more precise rhinoplasties, and correct issues caused by traditional rhinoplasty tools. In traditional rhinoplasty, surgical instruments known as rasps and osteotomes are used to reshape the nasal bones by removing the hump and/or narrowing the nasal bone width. These tools are relatively imprecise and their use can lead to contour irregularities, etc. if not used in the proper manner. Piezotome allows surgeons to make precise bone cuts andcorrect minor irregularities and asymmetry, and major deformities without damaging the underlying structures.

Dr. Rajat Gupta
MBBS, MS, DNB(Gen. Surg.),
DNB (Plastic Surgery)
Dr. Rajat Gupta is a board certified plastic surgeon in India with 10 years of experience to back his expertise in the domain of aesthetic surgeries.
Having completed his training from Maulana Azad Medical College and equipped with a thorough understanding of aesthetic needs of people, Dr. Gupta strives to offer the best remedies and cosmetic procedures outfitted with the latest technology to the aspirants in India and across the globe. To book an appointment, call: +91-9251711711 or email: contact@drrajatgupta.com